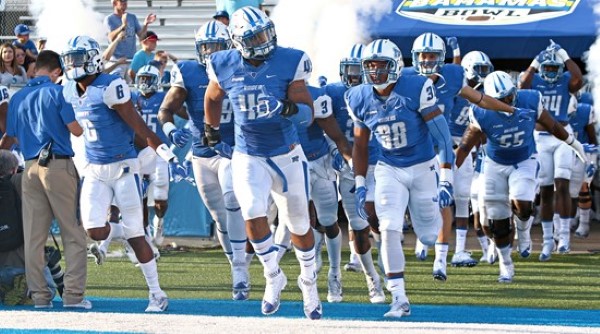 After a dominant win in their season opener, the Blue Raiders will get their first true test of the season, and it is one for which the fans have been waiting nearly a year.
MTSU and Vanderbilt meet again for what many fans on both sides perceive as a budding rivalry. Vandy leads the all-time series between the two programs 13–3. However, a bulk of those wins came before the 1960s. After a 45-year hiatus, the two teams met again for the first time in 2001. The Blue Raiders claimed victory in that game and then two more victories when the teams met in 2002 and 2005.
When Vanderbilt came to Floyd Stadium last season they narrowly escaped a loss in what was a sloppy, but tightly contested game. The Blue Raiders led the entire way, but two late scores in the final six minutes of the game proved costly as the Commodores walked away with the 17–13 victory.
Ralph Webb ran wild to the tune of 155 yards in last year's match-up, and, with a quarterback situation that looked very shaky in their opener, he is expected to be greatly utilized once again. If MT hopes to come out of this game with a win this season, they will have do a better job of containing Webb. Junior strong side linebacker DJ Sanders knows that will not be an easy task.
"It's a challenge for us. We just have to gang tackle him. We have to swarm to the ball. If he gets the ball all 11 guys have to be there to make the tackle," said Sanders.
Webb is not the only challenge the Blue Raiders will face, however. Last year, Vandy's defense showed drastic improvement from coach Derek Mason's first season, shrinking their points allowed per game from 37 to 21. That defense is expected to be even more improved this season, and coach Rick Stockstill knows just what he's up against.
"They do a good job of disguising their coverages. They move people around late. They play to their strengths, and they do a lot of things right before the snap of the ball to try to confuse you," Stockstill stated. "A lot of teams have struggled against them because they do such a good job."
That Vandy defense is lead by Zach Cunningham. After a breakout 2015 season, Cunningham was named first-team All-SEC. He is now touted as not only one of the best linebackers in the conference, but in the country.
Last year, that defense held MT to just 30 yards rushing, a number that could not be ignored by Blue Raider quarterback Brent Stockstill.
"You're not going to win games when you rush for just 30 yards. I think we can run it a little bit better with I'Tavius (Mathers) and those other guys and our offensive line will do a great job," Brent Stockstill said. "Hopefully we move the ball and put some more points on the board."
Stockstill and company will get the chance to do that this Saturday, Sept. 10, when the two teams meet at Vanderbilt Stadium. Kickoff is scheduled for 3 p.m.