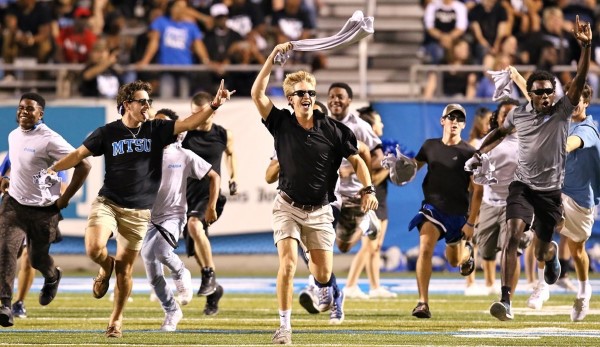 The Blue Raiders opened their conference schedule against the Louisiana Tech Bulldogs on Saturday Sept. 24, and the game did not get off to the start for which they had hoped.
MTSU received the opening kick, but struggled to get in rhythm early. While their opening drive seemed to have some promise after the first two plays, the offense stalled before reaching the 50-yard line.
Despite starting deep in their own territory, it didn't take long for LA Tech to draw first blood. After a few big gains, a disastrous play quickly turned into a fortuitous one. When a snap bounced off the hands of LA Tech quarterback Ryan Higgins, the entire MT defense responded to the fumble, but Higgins was able to recover and find a wide open Carlos Henderson for a 70-yard touchdown.
After several fruitless possessions on both sides, the Blue Raider offense finally showed signs of life. Richie James caught a long gain of 36 yards to put the Blue Raiders in LA Tech territory for the first time of the night. A couple plays later, I'Tavius Mathers broke loose for a 38-yard run, breaking the ankles of a LA Tech defender with a smooth juke move in the process.
The touchdown evened things up 7–7, but the next several minutes belonged to the Bulldogs.
LA Tech scored 13 unanswered points before halftime. Higgins, who had averaged 240 passing yards per game coming in, had 290 yards passing at halftime.
With the Blue Raiders down 13 at the half, and the offense looking its worst since the Stockstill-James era began, several in attendance left Floyd Stadium in disappointment.
To make matters worse, LA Tech got the ball to open the half and scored another touchdown while taking nearly six minutes off of the game clock.
Trailing 27–7, the Blue Raider offense mounted a comeback that those fans who abandoned Floyd Stadium will regret they missed.
Mathers opened up the drive with 16 rushing yards on the first two plays. Stockstill then found Dennis Andrews for a 24-yard gain to put the Blue Raiders in LA Tech territory once again. Two plays later, Stockstill connected with Mathers for an electrifying 37-yard touchdown catch and run.
After the defense forced a three-and-out, Stockstill and company went back to work. Chunk plays by Andrews, CJ Windham and Lee aided the Blue Raiders in getting into the red zone, but that is where they stalled. However, Canon Rooker's 33-yard field goal split the uprights to put MT within 10 points.
LA Tech was threatening to score on their next possession, but the ball popped out of the cocked back throwing hand of Higgins under defensive pressure. The fumble killed all momentum for the Bulldogs as they were forced to punt two plays later.
The next possession for the Blue Raiders was just big play after big play. Starting on their own 14-yard line, Stockstill found Patrick Smith for 29-yard gain. That play was followed by a 13-yard Mathers run. Facing third-and-nine just a few plays later, Richie James came up with a timely 10-yard reception, which was soon followed by a 24-yard reception by Andrews. The Andrews reception set-up a touchdown run of 7 yards by Mathers. Suddenly, the LA Tech lead was cut to only three.
The defense again came out swinging to force another three-and-out, and then it was the Stockstill-Mathers show. Brent hit I'Tavius for a 20-yard gain on this first play of the drive. Facing third-and-six a few plays later, Stockstill picked up the first down by foot for a gain of 9 yards. Mathers rushed for 4 yards on each of the next two plays, and a pass interference call against LA Tech on the next play set Mathers up for a 3-yard touchdown run to give the Blue Raiders their first lead of the game, 31-27.
That lead would be short-lived, however. The Bulldogs responded with an eight play 82-yard drive which was capped off by a Kam McKnight touchdown run on the goal line to move the Bulldogs back ahead 34-31.
A team comprised of less sturdy men may have folded after fighting back to take a lead only to lose it on the next possession, but, on this night, the Blue Raiders were sturdier than most.
Middle opened the next possession with a 19-yard run by Mathers. Stockstill then found Richie James for a 33-yard gain to put the Blue Raiders at the LA Tech 23. On the next play the Bulldog defense snuffed out Mathers for no gain, and then forced an incomplete pass to bring up third-and-ten.
With Floyd Stadium in a frenzy, and the fate of the game riding on this one play, Stockstill looked to find James. However, with James well covered, Stockstill found true freshman Ty Lee open. Lee, a day away from his 19th birthday, who stands at 5 feet 9 inches and only 155 pounds, turned to run to the end zone, breaking through what seemed like 100 tackles to score the go-ahead touchdown.
However, the Bulldogs still had 2:36 left on the clock to go back ahead. The defensive possession did not start well for the Blue Raiders. The kickoff went out-of-bounds, giving LA Tech the ball at their own 35, then a 28-yard pass to Rashid Bonnette put them in MT territory. Higgins later converted a third-and-ten via a 15-yard completion to Craft, which was soon followed by a 13-yard reception by Taylor to advance LA Tech to the MT 9.
Sophomore linebacker Chris Melton, who earned his first career start, had been huge all day, but no moment was bigger for him than this one. As Higgins rushed for the end zone, it was Melton who stopped him at the six. On the ensuing play, it was Melton again who broke up the pass to an open Jarred Craft to bring up third-and-six.
As big as Melton was, it was Mike Minter who came up with the biggest play of his own career. Higgins targeted a seemingly open Rashid Bonnette for the would-be game-winning touchdown, but Minter recovered to bat the ball away and force the turnover on downs.
MTSU, who had trailed by 20 in the third quarter, mounted an improbable comeback to win the game 38–34.
"The toughness that we showed; the guts to stand in there to throw it, or make the catch, or make the run; we continued to impose our will and we never gave up. That's what makes this win special," Coach Stockstill stated.
I'Tavius Mathers made a great case for him to once again be named Conference USA Offensive Player of the Week. For the second week in a row Mathers gained more the 200 all-purpose yards, and once again found the end zone four times.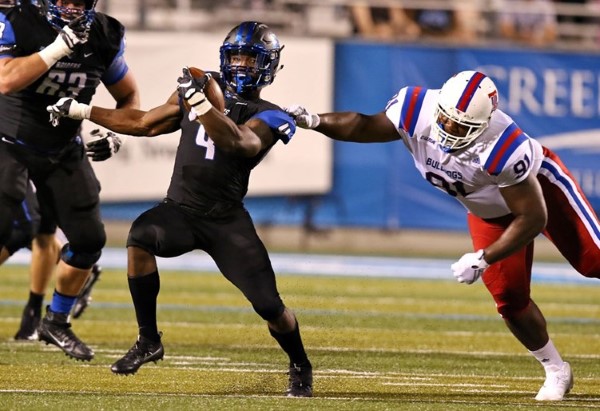 Brent Stockstill looked like an entirely different quarterback after a shaky first half. After starting out 12–27 for 102 yards, he completed 15 of 19 for 254 yards and two touchdowns in the second half.
"It was a tough first half. We were struggling to find a rhythm. There was some miscommunication with me and a couple of the receivers, but that's football," Stockstill stated. "You've got to play four quarters, and we didn't play two good quarters early, but we came back and finished like I've never seen before."
The Blue Raiders hit the road again next week as they visit North Texas.