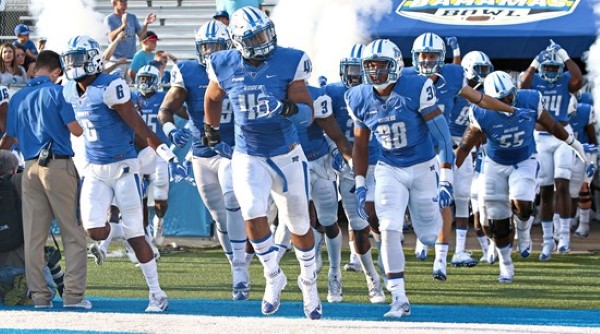 Last week, the Blue Raiders traveled a short distance to take on Vanderbilt. The True Blue faithful showed their support in droves for the away game, but one has think not quite so many will make the trip this week. MT will seek redemption from their loss to Vandy when they play in Bowling Green, Ohio.
Bowling Green State is 8–2 in home games versus non-conference opponents since 2010. The two losses came in a one-point loss to Wyoming in 2011 and a three-point loss to Memphis in 2015.
The Falcons clearly make the most of their home-field advantage, so MT will have their work cut out for them.
"When you go on the road you've got to be mentally tough," stated coach Stockstill. "All we can do is prepare to play our best, play better than we played last week. And that's going to be our goal and motivation this week."
Bowling Green will be looking for redemption as well. They opened their season at Ohio State where they were on the wrong end of a 77–10 blowout. The Falcons followed that up by just squeaking out a 27–26 home win against FCS opponent North Dakota. However, as Coach Stock would tell you, the only game that matters is the one about to be played. You better believe Bowling Green will be looking to show that they are better than their previous two games have implied.
Coach Stockstill anticipates seeing a spread offense that will utilize the screen pass and crossing patterns to get their playmakers in space. The defense's tackling will need to be much improved from where it was last week if they hope to limit explosive plays by the Falcons.
Bowling Green also brings a linebackers unit many consider the best in the MAC conference. "Fast" is the word most commonly used to describe the unit, which should create challenges in both the running and passing game. However, Brent Stockstill is more worried about his offense than the other team's defense.
"I really do think it's about us. If we just do us and perfect us I think we don't really need to worry about anything else right now. We're the only thing that matters," said the MTSU quarterback.
The Blue Raiders will get the chance to perfect themselves the morning of Sept. 17. Kickoff is scheduled for 11 a.m., and the game can be seen on ESPN3.