When the Blue Raiders traveled to Bowling Green, Ohio, to play the Bowling Green State University Falcons, they didn't knew they would find a second opponent once the game started. However, to be fair, the Falcons faced that same opponent—the rain.
"I had never seen anything like that. There was standing water on the field, and right when the ref set the ball down the ball was soaked. So, it was tough conditions, but both teams had to play in it," quarterback Brent Stockstill said of the harsh weather during the game.
The weather resulted in a decreased workload for Stockstill, who completed 18 of his season low 30 passes with three going for scores, however, I'Tavius Mathers was there to deliver the type of game for which Murfreesboro has been waiting.
Not only did Mathers bust loose for 157 yards on 27 carries, but he also caught four passes for 103 yards. Mathers is the first Blue Raider to both rush and receive for 100 yards since Don Calloway accomplished the feat as a freshman against Louisiana-Lafayette in 2000. Like Calloway, Mathers also saw the endzone four times while accomplishing the milestone.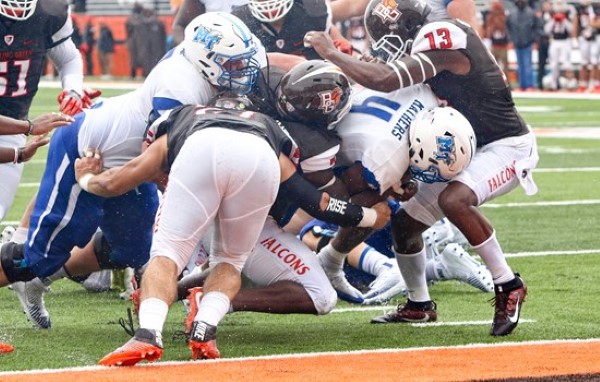 Through the game's first 17 minutes, it looked as though it would have taken even more to give MT the victory. The Falcons got off to a quick start as they held the 21–14 advantage early in the second quarter, but the Blue Raider defense responded by not allowing another score for the rest of the game.
The Blue Raiders came home with the 41–21 victory.
Conference USA showered the Blue Raiders with accolades Monday by naming Mathers conference offensive player of the week. Middle received accolades on the other side of the ball, as well. Shaq Huff, who recorded eight tackles, two tackles for loss, one sack and one forced fumble, was named conference defensive player of the week.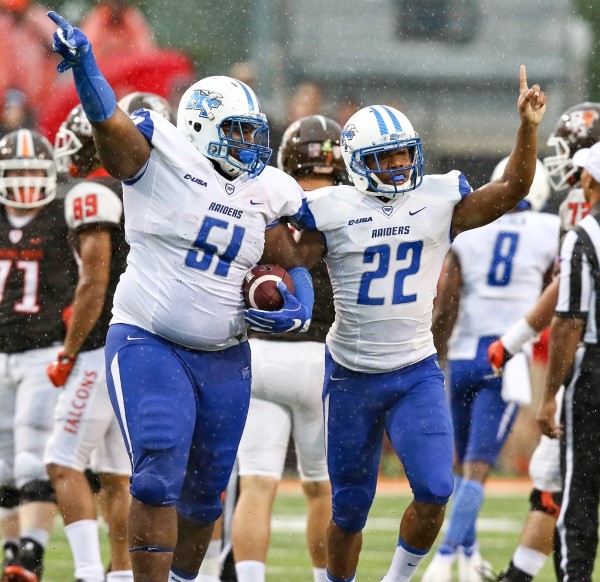 The Blue Raiders will need to get similar production this week as they get their first conference test of the season.
Floyd Stadium will host the Louisiana Tech Bulldogs this Saturday, Sept. 24.
While the Bulldogs' 1–2 record doesn't look very impressive, one must consider the schedule to see that all is not what it seems.
LA Tech opened their season against a strong Arkansas team, and fell by just one point. The other loss came last week to Texas Tech. The Bulldogs, however, did produce 572 yards and 45 points in their losing effort.
When MTSU and LA Tech met last October, the Bulldogs came away with a one-sided victory by a score of 45–16. However, LA Tech has had several losses on their roster from a year ago, including quarterback Jeff Driskel and running back Kenneth Dixon, who may be the starting running back for the Baltimore Ravens this Sunday.
Yet, LA Tech has not struggled to find players to adequately fill those roles. Quarterback Ryan Higgins has proven to be highly efficient as he has completed 64 percent of his passes while averaging 240 yards per game.
Though Jarred Craft had the largest shoes to fill, he's been more than adequate. Craft is averaging 100 yards per game over LA Tech's first three contests, and has proven to be a threat in the passing game as well.
When speaking of the comparisons and contrasts of Craft to Dixon, coach Rick Stockstill stated, "(Craft) maybe faster (than Dixon), he looks to be more explosive. He looks like he's just as dangerous out of the backfield catching the ball. They utilized Dixon a lot in the passing game, and it looks like they're doing the same with Craft."
The Bulldogs also appear to be very strong at the safety position. Free safety Xavier Woods was a pre-season C-USA First Team selection, and has played up to billing thus far. Strong safety Secdrick Cooper leads the team in tackles, tackles for loss and sacks, which suggests that he blitzes often, a strategy that could be exploited by Stockstill's quick release.
Not only will this Saturday's game mark the annual Hall of Fame game, but it will also be a blackout. Make sure to wear your black shirt to dress accordingly. Kickoff is set for 6 p.m. in Murfreesboro.