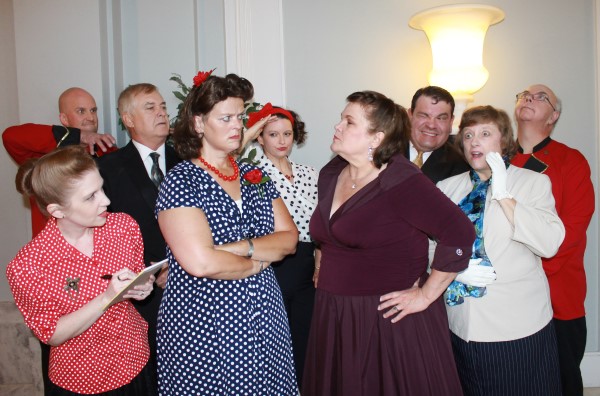 The Center for the Arts presents the hysterical farce Suite Surrender this month, running Sept. 16–25. It's 1942, and two of Hollywood's biggest divas have descended upon the luxurious Palm Beach Royale Hotel—assistants, luggage and legendary feud with one another in tow. Even with members of the Navy diving out of the fourth floor windows into the swimming pool and running maneuvers in the lobby, everything seems to be in order for their wartime benefit performance . . . that is, until they are somehow assigned to the same suite. Mistaken identities, overblown egos, double entendres, and a lap dog named Mr. Boodles round out this hilarious riot of a love note to the classic farces of the '30s and '40s.
Director Vickie Bailey, who has directed numerous shows across Middle Tennessee, is excited to be directing her first show at The Center for the Arts.
"I am so enjoying directing this beautiful cast in this beautiful building," she stated, "Everyone has been great to work with and we are having so much fun every night, it never feels like work."
Called "A rib-tickling good time" by the Palm Beach Post, Suite Surrender is certain to keep audiences laughing from beginning to end. The Center's cast is filled with familiar faces of the Murfreesboro theater community. The Palm Beach Royale Resort is hosting a USO War Bond Benefit, sponsored by the city's society matrons, most importantly Mrs. Everett P. Osgood (Margo Ford). The event features Claudia McFadden (Cyndie Verbeten), and Athena Sinclair (CathyJean D. Spencer), two celebrities with towering egos, who hate each other. Their assistants, Murphy Stevens (Mandy Ray-Jones) and Mr. Pippet (Sean Richardson) frantically struggle to keep the feuding stars apart. The hotel's General Manager Bernard S. Dunlap (Robert McAdams) and his two bellhops Francis and Otis (Michael Jones and Mike Spencer) meanwhile are also coping with a nosy reporter Dora Del Rio (Jess Townsend), romantic complications, and occupation by the U.S. Navy.
Performances of Suite Surrender will be at 7:30 p.m. on Friday and Saturday evenings, Sept. 16, 17, 23 and 24, and at 2 p.m. on Sundays, Sept. 18 and 25.
Tickets can be purchased at boroarts.org, by calling 615-904-2787, or by stopping by the Center's box office at 110 W. College St. in downtown Murfreesboro.