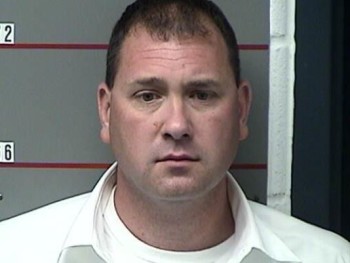 The oddest thing wasn't seeing indicted Sheriff Robert Arnold handcuffed and led out of federal court by U.S. marshals after a judge revoked his $250,000 bond.
We saw him and two cronies come into court this May in handcuffs and leg shackles. Four months ago he hid his cuffs with paperwork. This time, he seemed quite comfortable putting his hands behind his back.
Besides that oddity, though, the strangest thing about going to federal court for Arnold's bond hearing after he allegedly whipped up on his wife during a Labor Day of drinking and drugging was this: the talk about pinching nipples, titty twisters or whatever you want to call it. Has anyone heard about that since high school? An unwritten rule somewhere clearly says, after age 18, twisting nipples is not allowed or simply not done.
When you go to federal court in Nashville, where everyone's going through metal detectors, walking on eggshells and prohibited from using electronic devices—no cellphones or recorders in court—it's just plain weird when the first thing you hear is: she pinched his nipple before they had a hard-core wrestling match.
But that's about what we've been reduced to in Rutherford County—a twisted titty.
Even worse, Arnold called Sgt. Todd Hammond to their house after the Labor Day match to tell Megan that "a person could go to jail for pinching a nipple." Maybe so, but it's more likely they could go to jail for 10 years and be fined $250,000 for tampering with witnesses, coercing people and retaliating against people who testify against them, which was all explained to Arnold, according to the judge's order.
Now, we're in the midst of ouster lawsuits, with lawyers getting paid a lot of money to take these cases. A citizens group, Oust Sheriff Arnold, filed an ouster on Sept. 29, and the Rutherford County Commission was considering it in early October.
Maybe, though, just maybe, someone should have thought better six years ago.
In 2010, Republicans, after holding a caucus instead of a primary, put Arnold in office over longtime Democratic incumbent Truman Jones, even though Arnold wasn't qualified after a few years as jailer and school resource officer—and not a very good one at that—to handle the job of top law enforcement officer in Rutherford County.
Education Questions
When Arnold ran against Jones, the POST Commission tried to remove him from the ballot because members didn't feel he had a valid high school diploma.
Arnold, who said he was dyslexic, received a certificate of attendance, a special-education type of diploma, from Oakland High School.
The Republican Party, including then-Rutherford County Chairman Rick Womick, now a state House member; State Executive Committeeman Tim Rudd, who is running for Womick's post; and Lt. Gov. Ron Ramsey's office intervened on Arnold's behalf to force the state and POST Commission to put him back on the ballot.
Womick said, "This is a despicable and pathetic attempt to destroy a man's integrity and deny him his constitutional right to run for office."
Arnold, at the time, said, "I will not quit, I will not back down and I will not be intimidated. Rutherford County deserves better."
This is not to make light of people with learning disabilities, many of whom overcome mental deficits and prove their ability to excel. But serving as the sheriff of the fifth-largest county in Tennessee requires a good deal of administrative skill and paperwork. There's more to it than strapping on a gun and going to ham breakfasts.
Some official documents have shown Arnold misspelling his own name, and, according to federal court testimony, when Pretrial Services officers asked him to make a statement about his wife's statement to the TBI and conversations recorded by her boyfriend, Arnold said that he was not good at writing and would have his press secretary draft a statement that he would sign, again invoking the power of his office.
Sheriff's office spokeswoman Lisa Marchesoni should not be put in the position of writing a statement for Arnold that has nothing to do with law enforcement but rather would be used to cover his rear end.
It must be noted, too, that dyslexia should have no effect on a person's ability to decide between right and wrong.
Yet he was re-elected in 2014, even though he showed obvious signs of immaturity, taking extradition trips to vacation destinations, hiring his family members and buddies despite questionable actions and increasing spending by the millions every year.
So it wasn't shocking when the FBI and TBI raided the sheriff's office in late April 2015 to investigate a scheme Arnold allegedly hatched with Chief Administrative Deputy Joe Russell and his uncle, John Vanderveer, to sell tens of thousands of dollars' worth of e-cigarettes to jail inmates and conceal the business, without giving the county any portion of the proceeds.
What followed the investigation was more than a little odd, though, with Arnold putting Russell on paid leave for several weeks and then suspending him for only two before bringing him back to work. Meanwhile, according to federal court statements, Arnold intimidated and retaliated against sheriff's office personnel called to testify before a federal grand jury, conducting his own little witch hunts into whether they turned on him, as if they had any choice but to tell the truth.
He fired Deputy Chief Virgil Gammon, who wound up collecting $350,000 in a settlement after filing a whistleblower lawsuit against the county. In the last couple of years alone, Arnold has cost Rutherford County more than $1 million in lawsuit payouts.
Meanwhile, he's been living off the fat of the land with a $127,000 salary, taxpayer-funded vehicle and plenty of trips to places such as Gatlinburg, Washington, D.C., Orlando, Fla., Austin, Texas, and the list goes to infinity and beyond.
Arnold was supposed to be in San Antonio for more FBI leadership training the week he was tossed in a Kentucky jail to be held until his February 2017 trial. And he was set to go to San Diego this month for an international police chiefs' gathering with Chief Deputy Randy Garrett, even though they aren't police chiefs. (It must be noted Garrett has his own habit of using the sheriff's office to take care of personal problems, such as handling a rowdy son at his home in February.)
Mother-Daughter Relationship
When Jo Ellen Sandifer testified for Arnold during the bond revocation hearing, she acknowledged that her daughter, Megan, and son-in-law Arnold were both self-centered and had gone through a "stormy relationship" from day one.
She denied that a meeting she and her husband had with Arnold and wife Megan, when her daughter returned from a cruise in mid-September, was an "intervention," as Megan described it to TBI and to her boyfriend, former Eagleville Police Chief Eli Stuard, in phone conversations he secretly recorded. Instead, Sandifer said the meeting was designed to help the couple's marriage move forward.
Even after a U.S. attorney read her Megan's statement to TBI agents about a serious physical confrontation following the pinched nipple incident, Mrs. Sandifer said, "I don't know what to believe anymore."
But considering she admitted working part-time at the sheriff's office archives and discussing the situation with Arnold two or three times before appearing in court, her testimony probably didn't hold much weight for the judge. At least it shouldn't have.
It was hard to tell, but U.S. attorney Mark Cipolletti might not have known Sandifer was a sheriff's office employee because he turned incredulously toward Arnold, pointed his finger and said, "You work for this guy?"
Up and Running
Former Sheriff Truman Jones, who suffered a heart attack and underwent surgery in late September, said he bounced back quickly. In fact, Jones said he almost got kicked out of the hospital for making a ruckus while watching the Tennessee Vols come back from a 21-point deficit to beat nemesis Florida 38-28 to break an 11-game losing skid against the Gators.
Other than an artery blockage, Jones said he was in good health before the attack, which enabled him to get through it without significant damage.
Jones, who is feeling stronger daily, said he is also thankful for prayers and backing from people across the county. "I can't tell you how much it meant to me," he said, noting he didn't know how fortunate he was to have so many friends until after the attack. "I'm so happy to be here and have so much support from the community."
Getting Connected
Middle Tennessee Electric Membership, which serves much of Rutherford County, is surveying its members to see how they feel about the utility offering high-speed, broadband internet service.
More than likely, the responses will be positive for these internet gaps and those unsatisfied with the current service. But strong survey results don't necessarily mean MTEMC will be able to start spreading fiber optics across its four-county area.
This will probably wind up in a fight with AT&T and Comcast in the state Legislature in its 2017 session. To this point, private companies have prevailed in most of these debates, because even though they can spend thousands of dollars donating to politicians, they don't want to hang a line if you're a mile outside their connection. Until the Legislature deems otherwise, they'll keep getting away with it.