You've heard the phrase "Remember the Alamo," the battle cry of the Texas Revolution that served as the turning point in the war after the Texans were decisively defeated at the ill-fated fort.
When MTSU and WKU met last season at Houchens Industries-L.T. Smith Stadium in Bowling Green, the Hilltoppers scored a decisive 58–28 victory. If the Texans used "Remember the Alamo" as the turning point in their war with Mexico, "Remember the Houch" should become the battle cry of redemption for the Blue Raiders.
MTSU and WKU renew their rivalry once again, and though it isn't his usual modus operandi, Brent Stockstill confessed that this one means a little more than usual.
"For a game like this you find an edge. You find something else to play for, kind of inner motivation. For me, last year not leading our team to a victory against a rival, as you say, it kind of eats at me a little bit. So, I'll prepare the same, but when I step out there it will be a little added motivation for me to lead us to a win this week."
This is not quite the same Hilltopper team from a year ago. WKU had only one loss when the Blue Raiders traveled to Bowling Green last season, and were led by C-USA MVP Brandon Doughty.
Doughty is gone, and the Hilltoppers will be visiting Floyd with a 3–3 record Saturday, Oct. 15. WKU has yet to log a win against a FCS team that has won a game, but when it comes to rivalries, records are thrown out the window. This is still a Hilltopper squad that cannot be overlooked.
Western returns all five starters on the offensive line, as well as running back Anthony Wales who rushed for 111 yards against the Blue Raiders last season. Wales is off to another strong start this season, as is his back-up Quinton Baker. With a defense that has been up and down against the run all season, Coach Stockstill knows this will be no walk in the park for MT.
"Their backs are good. They're downhill runners, they're physical, they run hard," Coach Stock stated. "Then their offensive line—all five of them are returning starters off of a championship team, so you know they're good players. They do a good job up front staying on defenders, and we have to do a good job as defenders getting off blocks."
The Hilltoppers also return their two most prolific receivers in school history in Taywan Taylor and Nicholas Norris. Taylor and Norris currently rank first and second in school history in receiving yards, while Taylor also holds the school career mark for receptions and touchdowns. Norris currently ranks in the top five historically in those categories.
There is no question the Hilltoppers have a lot of weapons offensively, but so do the Blue Raiders. With a defense that currently ranks 60th in the nation in yards allowed per game, it is reasonable to question if WKU can stop Stockstill and company.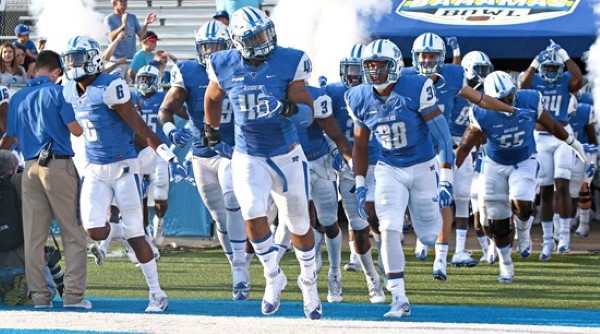 The Blue Raiders are much stronger in the backfield this season, and WKU didn't exactly shutdown the run game last October. Couple that with a home atmosphere and it's entirely reasonable to assume Middle will fare better this season than last.
However, they need you to bring that home atmosphere! Attendance is up from a season ago, but there are still plenty of seats to be had at Floyd Stadium.
"I'd love to see this place packed-out. It's a great opportunity. It's Saturday afternoon, the weather is going to be nice," said coach Stockstill. "Hopefully all the students will come and fill up (the student section) . . . It inspires players, it inspires athletes when they come out and they got their home crowd cheering behind them. That's why they call it a home-field advantage, and hopefully we can make it a home-field advantage."
Kickoff is slated for 1:30 p.m. Saturday, Oct. 15. It is homecoming, so be sure to bring your friends and family to enjoy the special festivities, and to cheer on the Blue Raiders.