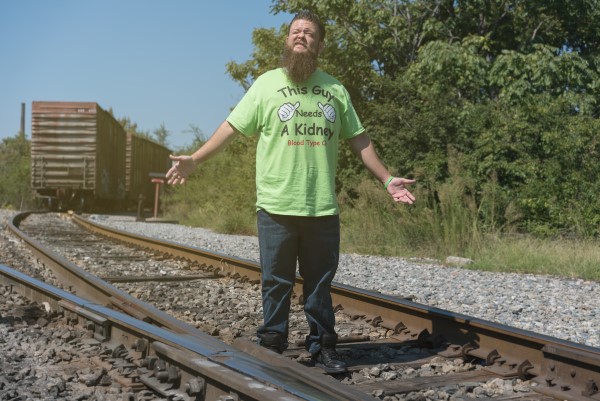 At the age of 21, in 2009, Josh Surovey was diagnosed with a chronic kidney disease.
During what would normally be a simple biopsy to see what exactly his kidney was doing, things went wrong. Twice, he nearly died, and six blood transfusions were required. The kidney problems were still there.
In 2012, Surovey started dialysis and worked hard to get healthy, losing 160 pounds along the way. He was also told that he needed a kidney transplant, news that is often devastating.
Surovey said that the journey has been mentally exhausting. His first thought was, "Why me?"
"I was down on myself," he said.
However, those feelings of depression soon changed even though the kidney is still needed today. After the initial shock, it was as if a fire was lit underneath Surovey, sparking a newfound passion to live.
"God brought me through this, man. Honestly," Surovey said. "I'm looking forward to life, I'm living life!"
Lebanese-American artist, poet and writer Kahlil Gibran (1883–1931) once stated, "Out of suffering have emerged the strongest souls; the most massive characters are seared with scars." Some would suggest that Surovey is on track to stand strong in the near future, while others would agree he is already stronger than most.
While he is happy to be alive, 12 hours of dialysis every single night is quite cumbersome. He has to go through about three bags of fluid nightly.
"Every night, there's no breaks," Surovey said.
The fluids needed for undergoing dialysis at home are shipped to Surovey. Two bags of fluids come packed in a box that weighs 35 pounds. Keep in mind, he uses three bags nightly. So, if the 28-year-old heads out of town for five nights, he has to bring with him a little over 260 pounds of fluids to use in the dialysis machine. In other words, Surovey says that travel is "troublesome."
Right now, Surovey is not married and does not have children, but that is one of his long-term goals.
"Everything that I'm doing I'm trying to better myself so I can be there for my family in the long run," Surovey said. In further discussing the idea of starting his own family, he said, "I don't want to be in a situation where my health is going to decline and I can't provide for them, so I'm trying to get myself to where I can have a good career at the end of this and start a family."
Surovey confirmed that he is in need of a Type O donor and noted that the donor will be able to live a normal, healthy life after donating. Reports also indicate that the donor's medical bills are fully covered by the insurance of the kidney recipient. If something should go wrong for the donor in the future, their name is automatically placed at the top of the kidney donor list.
The National Kidney Foundation reports that many people who need a kidney fail to receive one due to a lack of donors. Right now there are over 101,000 Americans in need of a kidney, but only 17,000 people receive one each year. Furthermore, 12 people die daily while waiting on a kidney to be donated.
Once a kidney is located for Surovey, who currently lives in Clarksville, Tenn., the procedure will be done at Vanderbilt Medical Center in Nashville. Vanderbilt has one of the oldest and most experienced kidney transplant programs in the United States, having performed over 4,000 transplants since its inception in 1962. According to the Vanderbilt Division of Kidney and Pancreas Transplantation, "The Division was also the first transplant program in Tennessee to introduce the minimally invasive technique of laparoscopic donor nephrectomy for living donor kidney transplants, and now performs the largest number of living donor kidney transplants in the state."
If you would like to learn how you can donate or to see if you are a match, visit mc.vanderbilt.edu today. You can also call the Vanderbilt Kidney Transplant Center for more information, at (615) 936-0695.