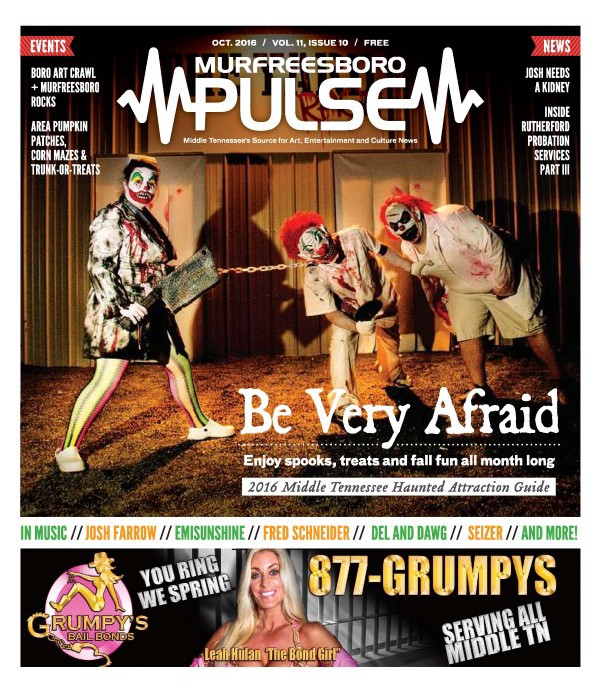 Features:
Josh Farrow
Former resident set to release album.
Art Rocks!
Art initiative encourages rock painting and drop-off.
Haunted Attraction Guide
A round-up of Middle Tennessee's Haunted houses; mazes and more.
Most Haunted in the 'Boro
The most active paranormal sites in Rutherford County.
Josh Needs a Kidney
Area man searching for matching donor.
Lewis Elrod
Area gem collector helped make Murfreesboro museum a reality.
In Every Issue:
EVENTS
Friday Star Parties; Firefly Supper and more!
SOUNDS
Local Concerts
The Cosmic Collective; Ying Yang Twins and more!
Album Reviews
Count Bass D
Seizer
Music Notes
EmiSunshine
Charlie Daniels
Del and Dawg
Art Events
Boro Art Crawl Turns One
LIVING
Gardening:
Harvesting Pumpkins in Tennessee
Carving and cooking pumpkin seeds, pumpkin soup, pumpkin pies
FOOD
Restaurant
The Block
Movies
Central Intelligence
31
Living Room Cinema
Silent Halloween
NEWS
Navigating the System
Part III—County still charging monthly supervision fees.
Spotlight on Business
Brothers & Sister's Boutique
Boro Business Buzz
Blackberry House, Bluecoast Burrito and more…
OPINIONS
Living Exceptionally … Well
What If?
The Stockard Report
Just when you thought the Sheriff saga couldn't get any weirder
SPORTS
MTSU Sports
Mathers helps lead Blue Raiders to 4-1 record to open.
Sports Talk
Protests may be costing the NFL.