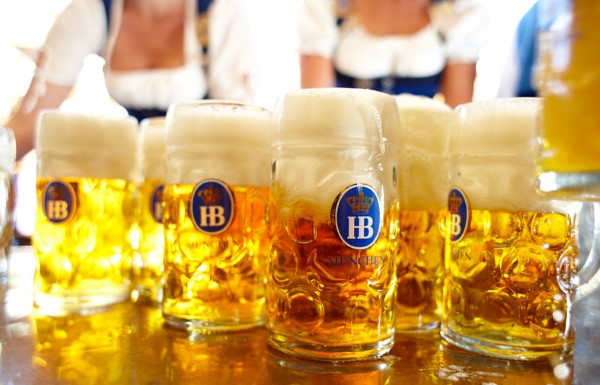 Autumn is upon us! As the temperature starts to change, so do your beer cravings. If you select your beer styles by the season, as many of my friends do, the summer heat had you drinking pilsners, IPAs and wheat beers. Now, the chill of October will likely have you craving something with a little more body.
However, jumping straight from pilsner to porter may be a bit of a shock to your senses. I suggest a more gradual transition, and there is no better one than an Oktoberfest.
Oktoberfest beers combine the dry crispness of the summer beers with the sweet maltiness you'd get from a stout or a porter, without being as heavy on the tongue as a dark beer.
The ground floor of the style was laid by brewers of the medieval times. Back then brewers noticed the beers they fermented in the cooler months tasted far better than the ones they were drinking in the summertime. To combat this, they brewed double-time in the last few months of winter (probably wrapping it up in March), and stored those casks in cool cellars and icy caves. As the winter months started rolling around again, the brewers needed empty casks to start brewing again, and therefore the poor souls dutifully increased their beer consumption to empty those vessels.
Having been given more time to age, those last few casks, which likely were consumed around October, had a different, more satisfying flavor profile than ones consumed in earlier months. Yet, these beers underwent one more evolution to get to the style that we find in stores today.
In 1840, the brewer at Dreher Brewery of Vienna and his friend Gabriel Sedelmayr Jr., the head brewer at Spaten, worked together to form the Oktoberfests that we know today. The brewers experimented with different malts to lighten the beer. Dreher used what we now call Vienna malt, which was more pale than the malt used by Sedelmayr. We now call Dreher's version Vienna lagers (Sam Adams Boston Lager is a popular example of one), while Sedelmayr's version is what has commonly become the standard for the Oktoberfest style—a standard that tends to be realized on the tongue through big caramel notes and toasted bread.
Since then, the Oktoberfest style has continued to evolve, making expectations somewhat unpredictable. However, the Märzen style, which has been used interchangeably with Oktoberfest tends to hold more true to Sedelmayr's vision.
Today, Oktoberfests and Märzens are widely available, even year-round. Yet, it never seems more appropriate to enjoy one than in October.
You've surely heard of Sam Adams Oktoberfest, and I'm willing to bet it is the first of its kind you've tried. It is certainly a good jumping-off point if you haven't ever tried an Oktoberfest, but if you'll branch out you might find something even better.
I recently branched out myself, and I found some pretty quality examples in the process.
Hofbrau Oktoberfestbier
Far closer to a pilsner than any of the others I tried, this beer is much lighter in color than you would expect from an Oktoberfest but still darker than a pilsner. It is only slightly maltier than a pils, and the caramel flavor that is characteristic of the style is very subtle. This is probably also one of the more hopped ones I tried. If you like pilsners, but aren't sure how you feel about Oktoberfests, this is probably a good starting point for you. If you are looking for something more along the intersection of summer and winter beers you should move on to one of the others I'm about to describe.
Black Abbey Chronicles
Full confession: I did not take notes on this one, I just simply enjoyed it. However, it has been a few weeks since I had it, so I am doing this entirely from memory. This offering possesses a much deeper color than the Hofbrau, a color that is more appropriate for the style. The caramel notes are evident, while the hops subtly balance it out. This may be hard to find, as, at the time I had it, I was at the only place in Rutherford County that carried it. If you've ever had Black Abbey Chapter House, it's somewhat similar. Both styles carry the same, really clean finish.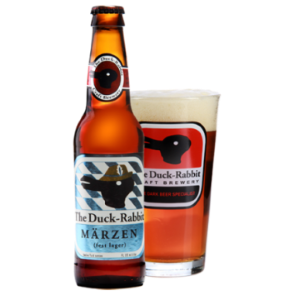 Duck Rabbit Märzen
One of the few occasions when a American brewer outdoes a German one–this is what I think about when I think Oktoberfest! This one presented me with those big caramel notes that you should expect from the style. Also true to style, the presence of hops is not strong but is enough to deliver balance. This might be my personal favorite of the bunch.
Singin' River Oktoberfest
Brewed just about an hour and a half from Murfreesboro, in Florence, Ala., you can find some of these beers in stores around town. I tried this one at Deep South Growlers here in Murfreesboro when Singin' River was invited for a tap takeover. This one carried all the appearance of an Oktoberfest, but the taste could have packed a bit more of the caramel notes that are expected in Oktoberfest beers. It was a little higher in floral hops than some of the others, but still stayed true to the style in that respect. I didn't regret drinking it, but if I had to choose among this, the Duck Rabbit, or Black Abbey, this would be my last choice.
Paulaner Oktoberfest
Another German original, I much preferred this one to the other German selection, Hofbrau. The flavor notes here are more akin to toffee than caramel, but still very nice and surprisingly balanced. Despite the very low 2 IBUs (International Bittering Units), I still detect a little bitterness, which keeps this from being a total malt bomb. Paulaner should be available wherever you get your beverages. I got mine at Total Beverages on Thompson Lane.
These are obviously just a handful of selections. Though I haven't had it in a couple years, I also highly recommend Spaten Oktoberfest. Some other highly popular selections that you may be able to find in the area include Hacker-Pschorr, Great Lakes, Ayinger and Augustiner.
Let us know your favorites below.
Happy drinking, and, most importantly, drink responsibly.