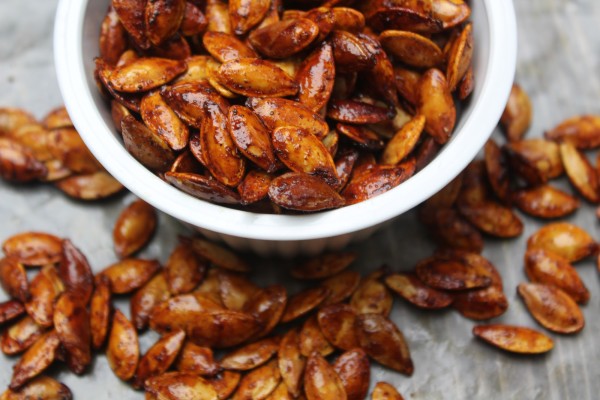 The pumpkin, the big orange symbol of fall, can be fun for carving and decorating, but it is also delicious and nutritious to eat.
Don't be intimidated by that huge piece of produce. Get into it and enjoy the fruit and seeds.
The big pumpkins serve nicely for carving large, glowing jack-o-lanterns, but even a nice volleyball-sized pumpkin can yield a good amount of flesh.
For eating, rather than the massive orange guy, try a Long Island cheese variety, a Cinderella or a sugar pie pumpkin. These are easier to dissect, and contain fewer strings to have to pull and scrape out.
At the farmers market or at a local garden center, pick out a nice pumpkin that piques your curiosity regarding what's inside it. Slice it in half and scoop the seeds out with your hands or with a large spoon.
You may get pumpkin goo all over your hands, but reportedly, that vitamin A-rich stuff is actually great for skin!
Important: save the seeds!
After all of the seeds and the strings are separated from the flesh, rub the pumpkin halves (or quarters if it's a big 'un) with a little olive oil and place them in the oven at 350 degrees or so to bake (with baking time depending on how thick your pieces are).
While these are baking, rinse off the seeds and remove all of the bits of string from them. You'll have some time while your pumpkin is softening in the oven.
Save a couple if you want to plant some pumpkins next year.
Toss the seeds in a little melted butter and seasoning.
The seeds can be seasoned with a variety of blends, depending on whether you'd like to go with sweet or savory. You can use salt and pepper, and even add some garlic and/or hot chili pepper. Or, do a cinnamon and sugar combination. The seeds could be tossed in soy sauce and ginger for a little Asian taste, or in cloves and brown sugar, perhaps.
When a knife slides in easily all the way to the middle of a piece of pumpkin in your oven, you are good. An hour should be fine for even the thickest pieces.
Remove these and allow them to cool.
While your oven is already hot, you can go ahead and toast up some seeds.
Spread them out on a baking sheet and toast them at a lower temperature, 250 degrees.
Don't burn the seeds!
Remove the pan from the oven every five minutes and give the seeds a stir just to be on the safe side. Baking for 15 or 20 minutes—as soon as they start to crisp—should do it.
After the large pieces of pumpkin flesh have cooled down, peel off the skin or use a spoon to scrape out the rich, orange pumpkin flesh and place it in a food processor, or mix it up with a hand mixer.
There you have it—pumpkin purée, right out of the pumpkin you selected, ready for pumpkin pies, pumpkin bread, pumpkin cheesecake, or whatever type of pumpkin dish you like.
Pumpkin is lovely in savory dishes as well.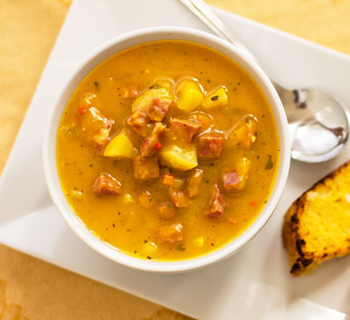 SAUSAGE AMARETTO PUMPKIN SOUP
Ingredients:
1 pound sausage
3 tbsp. butter
1 medium onion, chopped
1 chili pepper (if desired)
1 clove garlic (if desired)
4 cups pumpkin puree
2 cups chicken stock
4 cups water
⅜ cup amaretto
1 tbsp. brown sugar
2 tsp. salt
½ cup cream
Cook the sausage. Drain and set aside. Use any type of sausage you like, but for an especially wonderful soup cook up some bratwursts stuffed with Swiss cheese from Batey Farms. After cooling, slice them into disks.
Heat a large soup pot or kettle to medium heat. Melt the butter. Sauté the chopped onion. Add minced peppers and garlic. Stir in pumpkin purée. Add chicken stock, water, amaretto, brown sugar and salt. Stir. Add pre-cooked sausage.
Bring to a boil and cook on medium heat for 30 minutes Reduce heat to low, stir in some cream or milk, and you have a hot pot of fabulous orange fall sausage soup.