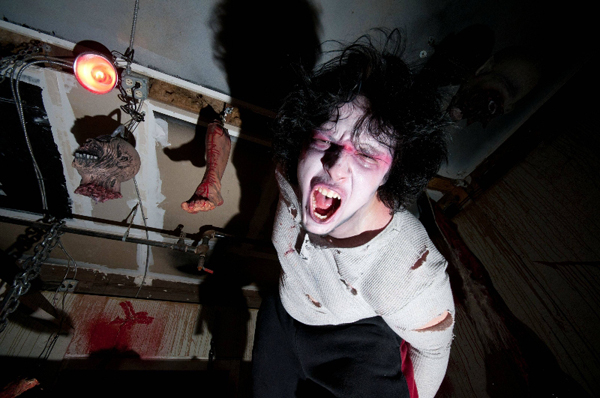 The scariest part of a nightmare is knowing you can't escape it . . . and that within a short span of time, you'll be back to that moment of perfect dread.
The landscape will be yellow and gray, and with that deadening of life, the dead things come to life. And with fall in full force, this year's haunted house season will be making sure that beasts, spirits and ghouls who want to taste the stuff you're made of will have a chance to get up close and personal.
Of course, you can tell yourself that it's "just someone in costume," but with all of the clown sightings that have swept the nation, can you really be so sure? Can you really guarantee the safety of your party as your eyes and ears gorge themselves with hellish sensations before becoming gorged upon themselves?
To help you better plan your flirtation with death, the Pulse has put together its annual running list of Middle Tennessee scares. Rip it from the mag, as it might come in handy getting in—or out—of these nests of fear.
Ready for a spine tingle? Take a deep breath, close your eyes, and just keep telling yourself "you'll make it through this."
Bloody Acres Haunted Woods
318 Big Station Camp Blvd., Gallatin, 37066
bloodyacres.webs.com
Open: Fri. and Sat., 7 p.m.–1 a.m.; Sun., 7–11 p.m. (also open weekdays Oct. 21–31, 7–11 p.m.)
Price: $15
Clarksville Zombie Hunters
3975 Marthas Chapel Road, Cunningham, 37052
clarksvillezombiehunters.com
Open: Fri. and Sat., 6 p.m.–12:30 a.m.;
Thurs., Oct. 13, 20 and 27, 6–11:30 p.m.
Attractions: Zombie Paintball Hayride, Zombie Mission, Shooting Gallery, Escape Game
Price: Zombie Paintball Hayride—$18, VIP all-access pass—$62.99
Creepy Hollow Haunted Woods
2133 Joe Brown Road, Spring Hill, 37174
creepyhollowwoods.com
Open: Fri. and Sat., 7–11 p.m. (also on Oct. 30 and 31)
Price: $20
Dead Land Scream Park
7040 Murfreesboro Road, Lebanon, 37087
deadlandwoods.com
Open: Fri. and Sat., 7 p.m.–midnight
Price: The Curse or The Portal—$15, Freak Out Puzzle Room—$5
Death Row
418 Harding Industrial Dr., Nashville, 37211
deathrowhauntedhouse.net
Open: Fri. and Sat., 8 p.m.–1 a.m., Sun. 7–10 p.m.
Price: $18
Devil's Dungeon
510 Davidson St., Nashville, 37213
devilsdungeon.net
Open: Fri. and Sat., 8 p.m.–1 a.m., Sun., 7–10 p.m.
Price: $18
Haunted Hell – Clarksville
1770 Madison St. Clarksville, 37043
hauntedhellclarksville.com
Open: Fri. and Sat., 7 p.m.–midnight; Sun., 7–10 p.m.
Price: $18
Haunted Hell – Nashville
3930 Apache Trail, Antioch, 37013
hauntedhellnashville.com
Open: Fri. and Sat., 8 p.m.–1 a.m.; Sun., 7–10 p.m.
Price: $18
Meyers Creek Haunted Woods
4734 John Bragg Hwy., Murfreesboro
meyerscreekhauntedwoods.com
Open: Fri. and Sat., 7 p.m.–11:30 p.m.
Price: $18
Millers Thrillers Haunted Woods and Zombie Paintball
1431 Carters Creek Pike, Columbia, 38401
millersthrillers.net
Open: Fri. and Sat., 7–11 p.m.; Oct. 31, 7–10 p.m.
Price: Haunted Woods or Zombie Paintball—$20, Combo—$30
Monster Mountain
273 McMurtry Road, Hendersonville, 37075
monstermountain.net
Open: Fri. and Sat., 7:30 p.m.–midnight
Price: $19
Nashville Shores Halloscream
4001 Bell Rd, Hermitage, 37076
nashvilleshores.com/halloscream
Open: Fri. and Sat., 7:30–11 p.m.; Sun., 7:30–10 p.m.
Price: $25
Nashville Nightmare
1016 Madison Square, Madison, 37115
nashvillenightmare.com
Open: Fri. and Sat., 8 p.m.–midnight; Sun., 7:30–10 p.m.
Price: $30 for all four haunted attractions
Scream Creek Haunted Woods
1765 Martins Chapel Church Road, Springfield, 37172
screamcreek.com
Open: Fri. and Sat., dark–11 p.m.
Price: Haunted Woods and House of Terror—$20
Slaughterhouse
3445 Lebanon Pike, Hermitage, 37076
fullmoonslaughterhouse.com
Open: Hours vary, see website
Price: Haunt—$20, Dinner, movie and haunted house—$40