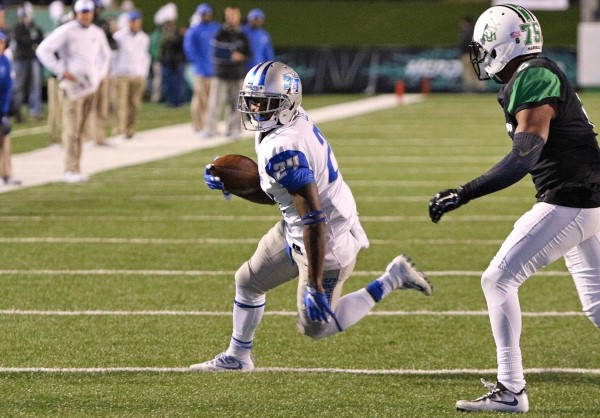 The Blue Raiders took to the field Saturday, Nov. 12, without Brent Stockstill for the first time since 2014. Redshirt freshman John Urzua received his first career start, but it would come on the road against conference rival Marshall.
After throwing an interception on MT's first possession, Urzua salvaged the first quarter to complete 10 of 14 for 119 yards and a touchdown to Dennis Andrews.
I'Tavius Mathers got in for a score in the second quarter, which put Middle ahead 17–14 going into halftime.
Unfortunately, Urzua was unable to build off his strong first quarter performance, as he completed only 11 of 23 pass attempts for 101 yards in the next three quarters.
Urzua also threw another interception in the second half. After only committing eight turnovers prior to Stockstill's injury, the Blue Raider offense has turned the ball over eight times since.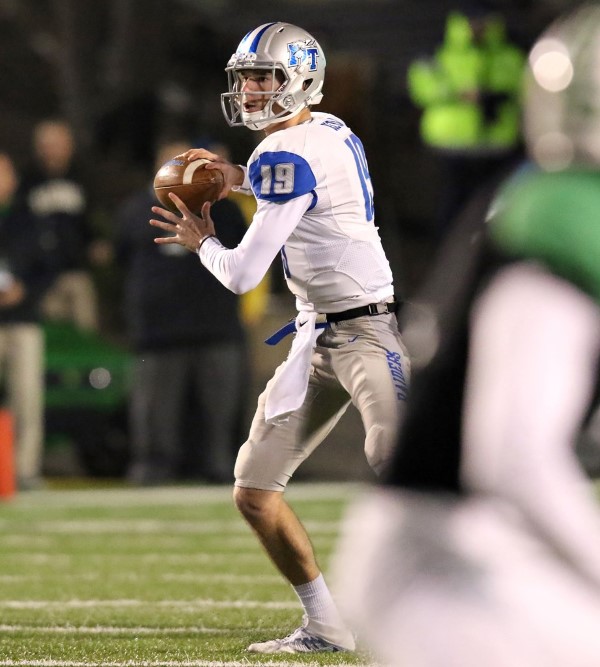 "John's gotta play better. He's got to protect the ball, that's where it starts. He's gotta play better," Coach Rick Stockstill stated in his evaluation of Urzua's performance thus far.
The Marshall defense did no favors for Urzua, as they bottled up Mathers for the entire game. Mathers was only able to muster 45 rushing yards in his 15 attempts, and that total was helped tremendously by one 27-yard run. It marked the second time in consecutive games that Mathers was unable to break 100 yards on the ground, a feat he accomplished in six consecutive games this season. It also was the first time since opening week Mathers did not gain 100 total yards.
The Thundering Herd dominated the second half as they scored 28 unanswered points on their way to a 42–17 win.
Although Marshall entered the week with the 123rd ranked rushing offense, they were able to produce 207 yards on the ground. It was the fourth consecutive game in which the Blue Raider defense allowed at least 200 yards rushing, and the sixth time this season.
"We gotta get some swagger, we gotta get some juice back, we gotta get some confidence. We're a little tentative it looks like to me right now," Stockstill said of the defense.
That run defense will need to wake up soon, as the Blue Raiders will face a potent rushing attack this week against Charlotte. The 49ers lead Conference USA in rushing yards per game, and much of that is due to the legs of senior Kalif Phillips.
Phillips currently ranks 7th in the C-USA with 828 rushing yards, and ranks 6th in yards per game.
Phillips isn't the only threat out of the backfield, however. True freshman Robert Washington averages 5.4 yards per carry as Phillips' back-up, and starting quarterback Hassan Klugh is a mobile passer who is averaging 5.2 yards per carry.
The 49ers also feature one of the best defensive lineman in the conference, Larry Ogunjobi. Ogunjobi is a prototype nose tackle and a fierce disruptor. The Senior Bowl invitee registered 15.5 tackles for loss in 2015, and has 11.5 so far this season with nine of those having come in his last four games.
It looks like the Blue Raiders have their work cut out for them this week, but they are still considered 4.5 point favorites. The game will kickoff at 1 p.m. Saturday, Nov. 19. You can watch the action on ESPN3 or listen in on WGNS 100.5 FM.