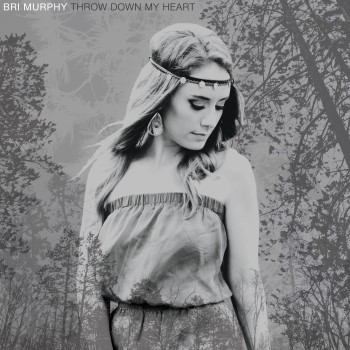 Nashville-based singer-songwriter Bri Murphy formally enters the country arena with her debut solo release, Throw Down My Heart, a six-song EP that addresses heartbreak and rejection and how to let go of it all. Since relocating to Nashville from northwest Wisconsin in 2011, Murphy has shared the stage with Chris Stapleton and Tanya Tucker, but it wasn't until late 2015 when she set aside time to pursue a solo career and record her EP.
In addition to songwriting, Murphy, who was born into a musical family, can be found playing violin, piano, guitar and mandolin as well as French horn and a little banjo. Due to her versatility, Murphy's music can take the form of alternative country, folk-rock and sometimes bluegrass from track to track, and although she lacks a definitive Southern twang, her music is at times similar to fellow country influences Brandy Clark and Kacey Musgraves.
Produced by Eli Beaird, Throw Down My Heart (crowdfunded via PledgeMusic) begins with "Loving You," a song about coming to terms with loving someone even if the relationship ultimately falters, is slightly reminiscent of early Dixie Chicks. The EP continues with healing and moving past heartbreak on "New Growth" and follows up with "All of the Scars," an acoustic ballad that tackles learning to love again, lifted up by the presence of violin.
The release comes full circle with its namesake, a slow-moving song about "leaving darkness behind" and embracing the light at the end of a long, dark tunnel. Murphy says the track came to her as a "full package" during her last night of being cooped up in a Wisconsin cabin, and, despite writing other songs during the trip that may never be heard, Murphy says "Throw Down My Heart" presented itself both lyrically and melodically within about 15 minutes. As with the other tracks, the song's placement is perfect for an album that begins with heartache and concludes on an optimistic note.
Throw Down My Heart is available on Spotify and iTunes. For more on Bri Murphy, including tour dates, visit brimurphymusic.com.