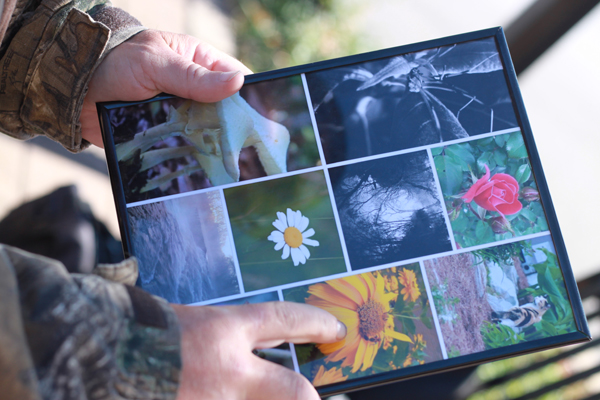 Those who have been on the Murfreesboro Public Square recently may have noticed an enterprising gentleman situated on the park bench at the corner of Main and Maple streets selling photo prints.
The photographs primarily capture settings in nature; the photographer enjoys shooting flowers, sunrises, water, insects and other animals.
Although Don Owens' hand-drawn sign identifies him as homeless, any curious art fan, farmers market customer or couple going for a stroll will realize upon approaching this man that he is not looking for a handout. Rather, he views his street-corner photo-print operation as a small business.
Owens displays a business license from the City of Murfreesboro, as most businesses in town do, and will talk about his retail management experience and desire to work his way out of his current situation, one photo print sale at a time. He speaks of the value of networking and meeting people; he has set up social media pages for his business, Hamoel Photography, and Owens knows he needs to try multiple strategies to draw potential customers to his corner.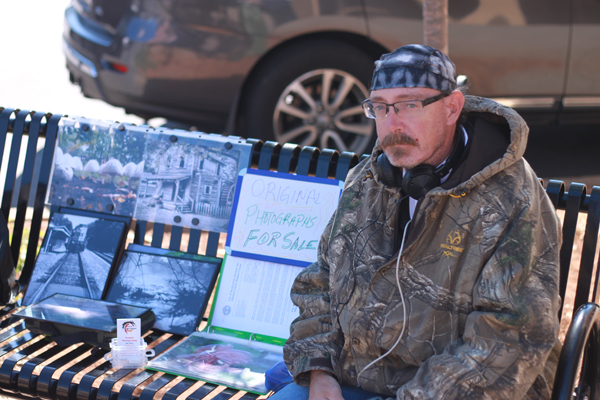 "I've been homeless off and on for about 15 years," Owens said. "Mostly due to choices I've made," he adds.
He said he has attempted to get jobs in Murfreesboro, "But you have to have a job to get a job . . . I have a management résumé as long as my arm."
Owens said he succeeded as the electronics section manager at the Cool Springs Service Merchandise, and frequently earned some nice bonus checks for his sales efforts, but after the company folded, he did not have success landing a solid job.
He now lives in his van, and is thankful for the shelter, but said he is done making the rounds of the charities in the area that work with the homeless.
"With as many organizations as we have here, there's no reason we can't get people off the street," Owens said. But many individuals, he believes, simply rely on the ministries for their necessities, do not change their lifestyle in a positive way, and they "have no goal."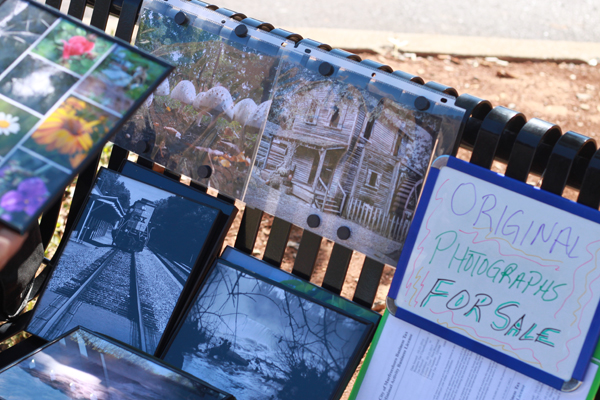 "I realized I was performing the definition of insanity," Owens said about his time continually relying on food and services through Murfreesboro charities, repeating that behavior but not seeing positive results. He realized he could not expect a real change in his life until he broke the cycle and rose above his dependence on others.
Owens now has a focus, and a belief that he can improve his life through working hard and offering a good product. One of his current goals is to pay for his own food through sales of his photo prints.
"I'm not going to Journey Home. I'm not going to Greenhouse Ministries," he said.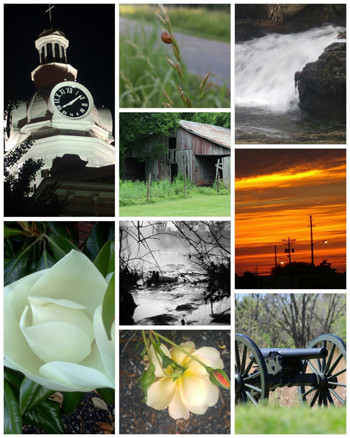 Another goal is saving for a Canon 6Ti.
Owens said he had a high-quality camera in the past but pawned it during a tough time. For now, Owens will continue shooting with his G4 phone, but he is focusing on selling prints of images he has captured.
He offers photo prints for $30, framed prints for $40, and a collage featuring multiple pieces of his work for $70. And he's a salesman about it, telling a potential buyer those prices are a "steal."
A local painter purchased a couple of prints recently with the intention of basing paintings on them, and Owens said he is excited to see the result.
He knows running a business requires long hours, and he'll not become rich overnight, but the photographer holds firmly to the idea that his photo business model can work in the Murfreesboro market with some nurturing.
"It's a small business. You have to put the time in," Owens said.
Owens, whose time in the Marine Corps took him to Panama, Libya, Columbia and Kuwait, tries to stay positive. He knows that he still lives in the land of opportunity, and that hard work can still result in the American dream.
"Even in my situation, I have it a million times better than people in some of the places I've been," he said. "People in this country have no clue."
Other possible businesses he'd like to look at launching in the future include a woodworking shop and a hemp farm.

One of his favorite elements of operating his street-corner photo shop is meeting people, talking with others in the community, trying to learn from everyone who passes by and getting plugged into their network of people.
So even if you are not in the market for a photograph to hang in your house, go talk to Don. Talk with him about art, nature, business management, world travel and society. His approximate hours for business on the Square are 4–8 p.m. on weekdays, and 8 a.m.–1 p.m. on Saturdays and Sundays.
If you do drop by, consider leaving with a holiday gift for someone.
For more on Don Owens and his photo work, visit donaldowens.zenfolio.com or find Hamoel Photography on Facebook or Twitter.