After pulling off one of the biggest upsets in NCAA Tournament history, the offseason has been a little different for coach Kermit Davis and the Blue Raiders basketball program.
"Nationally our basketball team has been recognized in some great ways," said Davis. "But we've got to remind our guys everyday about the process you have to go through every single season. So, right now we've got to get back focused on the process that its going to take to hopefully have some great success again in March."
Although they have received heavy national recognition for their accomplishments, they were not picked to win Conference USA in preseason polls. Middle received only four first-place votes, with UAB receiving the other 10. The Blazers return four starters from a team that had the best regular season record in the conference. Two of those starters were named to the preseason all-conference team.
MT also features two starters named to the preseason all-conference team—Reggie Upshaw Jr. and Giddy Potts—but they are the only returning starters.
Although the Blue Raiders don't return a lot of starters, they certainly return some experience.
Ed Simpson averaged more than 20 minutes per game last season, and will once again compete for the guard spot opposite Potts. Quavius Copeland and Aldonis Foote will also see some time in the guard rotation, and Xavier Habersham should see increased minutes as either a guard or forward.
A couple of newcomers will fill the starting spots left vacant by the graduations of Darnell Harris and Perrin Buford.
Fifth-year senior JaCorey Williams is eligible to play after sitting last season out due to NCAA transfer rules. Williams came to MT after being dismissed from Arkansas due to an off-court matter.
Williams commented that the year away from basketball was one of the best things that has happened to him, as it resulted in tremendous personal growth. He also mentioned he was able to work on his outside shot as well.
Considering his athleticism and ability to get to the basket, adding that facet to his game should prove beneficial to the Blue Raiders.
JUCO transfer redshirt junior Brandon Walters is expected to get the starting nod at center. Walters also used his redshirt year to his advantage as he significantly cut his weight. According to Davis, Walters came into the locker room last year weighing 296 and is now listed at 262. Davis also mentioned that he cut his body fat percentage by approximately 15 percent and now sits at 8 percent.
Walters will be a very different center from Darnell Harris. While Harris was a stretch five, Walters is described by Davis to be a "true center."
When asked if having the extra man in the paint could cause complications in getting to the basket, Upshaw replied, "Not really. Any time you have someone who dominates the paint it really makes it easier for you to be able to get in the paint. Once you get in the paint you can always have another guy on the offensive boards or dish it off to him for an easy dunk."
While the Blue Raiders have plenty of veterans to rely upon they will also have a talented crop of young players to provide extra depth.
Sophomore Karl Gamble, who Davis referred to as the "best freshman he's ever had" before last season, is back. Gamble is now listed at 6 feet 10 inches, an inch taller than last season, and has added some much needed bulk as well. Davis has raved about Gamble's development, so expect to see a lot more minutes from him this season.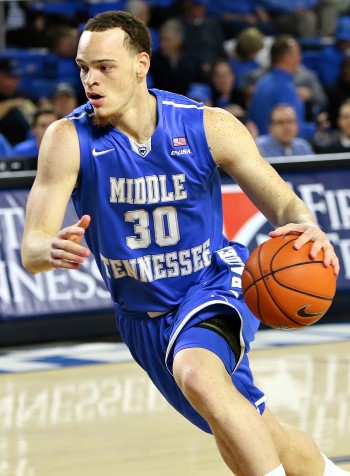 JUCO transfer sophomore guard Antwain Johnson and freshman forward Davion "Tree" Thomas have the kind of athleticism that will make it hard for Davis to keep them on the bench. Johnson and Thomas competed in the final round of the slam dunk contest at Murphy Madness with Johnson coming away as the winner, and Williams and Upshaw have both raved about Thomas' leaping ability.
Freshman guard Tyrik Dixon will also get a look to fill the starting point guard spot left vacant by JaQawn Raymond. Dixon averaged 20 points, 10 assists, and seven rebounds as a high school senior, and played on the same AAU team with likely 2017 NBA lottery pick Malik Monk.
This might be the deepest team Kermit Davis has ever coached. The non-conference schedule features a number of familiar opponents. The Blue Raiders will seek to avenge last season's losses against Murray State, VCU and Georgia State. They will also be looking to extend win streaks against Tennessee State, Toledo, South Alabama and Belmont.
MT won the CGI Great Alaska Shootout last season, but this year's preseason tournament is a bit closer to home as they compete in the Challenge in Music City, Nov. 25–27. The non-conference schedule also features a home stand against Vanderbilt and a road trip to face Ole Miss.
The Blue Raiders will open their 2016–17 season Nov. 11 at Murphy Center, when they host Milligan College. Tip-off is at 11 a.m.