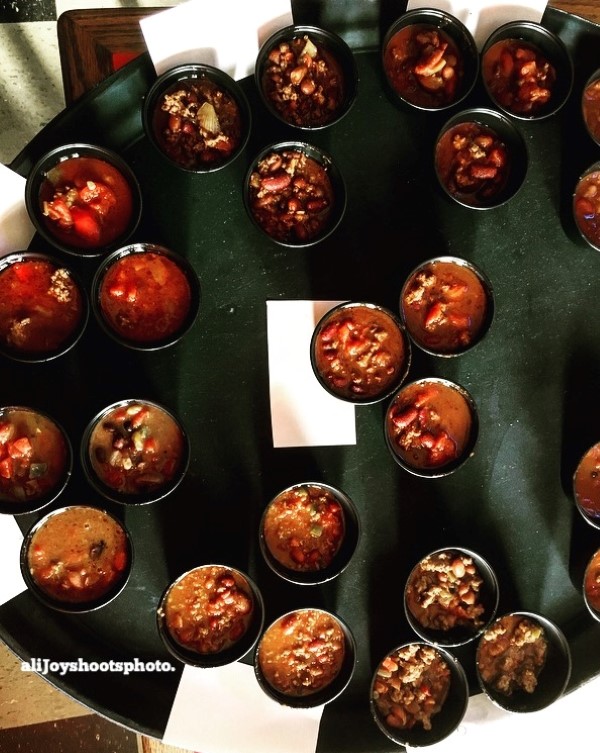 Handlebars held a chili cook-off for charity Sunday, Nov. 6, with all proceeds going to the third annual Mad Max Toy Run.
There was a wide variety of spins on the old classic chili. Some entries replaced the traditional ground beef with sausage, others went the Tex-Mex route and contained corn, and, new to this writer, a couple even utilized mushrooms.
While it was difficult to pick a clear-cut winner, it was Greg Boss who walked away with the $100 grand prize for his entry of what he titled "Taco Chili."
Why Taco Chili, you ask?
"The seasonings involved are all seasonings that would go into making a taco," says Boss. "(Taco seasonings) are different from chili seasonings. They have different peppers in them , there is cumin involved and a few other Mexican spices."
Boss also mixed some sausage in with the ground beef to set off the flavor profile.
It wasn't Boss's first rodeo. His Taco Chili is a recipe which he has been perfecting for years. He previously won runner-up at another cook-off, although he admitted to making some mistakes there. He also mentioned he was fortunate that another contestant used cabbage in their recipe. (Ew!)
The chili-cook off is just one of many charitable activities Handlebars supports. They also are currently putting on a coat drive, and you can still contribute to the toy run. Drop off coats or toys anytime at Handlebars, located at 2601 E. Main St.; they are open 24-7.