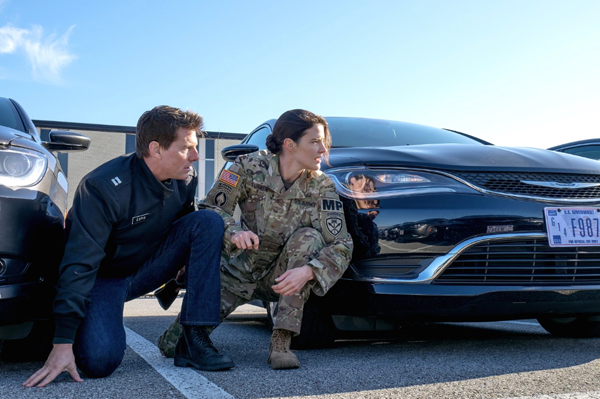 The first Jack Reacher (2012), based on the novel series by Lee Child, was a bit of an oddity. Casting Tom Cruise in the role of the 6-foot 5-inch, 250-pound titular character alienated fans of the books, while moviegoers experienced déjà vu seeing Cruise play an elite secret agent tasked with carrying out an impossible mission. Couple that with the weird yet inspired casting of Werner Herzog as the villain, and the formula for failure seemed complete. Instead, though, Jack Reacher was a better-than-it-should-be sleeper, a taut spy thriller for grownups. Thankfully, the unremarkably titled sequel follows suit.
Never Go Back sets its tone in the opening scene, as two local sheriffs show up at the aftermath of a 1-on-5 brawl at a diner, where our hero is casually finishing his meal at the bar. We know Reacher is a badass, capable of fighting off multiple assailants or surviving fire from multiple gunmen with relative ease. Though we are later shown his skills, the opening scene begins just after they have been put to use, focusing on the why, not the how. Reacher is a crusader for justice, and often that puts him on the bad side of the supposed good guys.
That sort of thing tends to happen when he busts Major Turner (Cobie Smulders) out of custody of the Military Police, making them fugitives from the Army and a shady government contractor called ParaSource in an attempt to clear her name and uncover a military smuggling conspiracy. Though the conspiracy plot is strictly boilerplate, director Edward Zwick (Glory, Pawn Sacrifice) and crew deftly handle each twist and turn, flirting with familiarity just to bait and switch ever so slightly and contorting the conventions of the genre in non-revolutionary, though welcome, ways.
Smulders shines as Major Turner, a match for Reacher in wits, rank and brawn, and their in-sync teamwork is a refreshing departure from the normal hero-saves-the-girl dynamic. Despite Reacher's tough, nigh-invincible exterior, he is commendably portrayed as a flawed, lonely man, though not so detached that he can't be defeated emotionally, if not physically. Danika Yarosh plays Sam, a streetwise juvenile delinquent with more character than that description suggests, for whom Jack Reacher obviously cares, whether or not she is his daughter. The three of them together make for a formidable and enjoyable team, yielding some entertaining moments of respite as Reacher and Turner play surrogate parents trying to give Sam parental advice in a specifically non-familial situation. It's moments like these that would otherwise be filled with ridiculous explosions (I counted one) and death-defying absurdities that make Jack Reacher: Never Go Back stand out in a field of far flashier films.