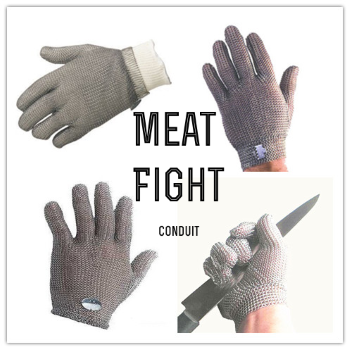 Terry McClain, the prolific mastermind behind Guiltless Cult, the Realside, the Afterdogs and many other local music projects, is venturing into darker territory with Meat Fight, his new metal/hard rock outfit. The singer, songwriter and multi-instrumentalist is joined by drummer Elliott Tanner on this new 10-track effort, Conduit, which taps into some of McClain's heaviest material to date.
Conduit begins and ends with the same sludgy vibe, but McClain's former musical endeavors haven't always been so straightforward and conventional. In 2014, he set out to record one album per month, switching from genre to genre with each release. Earlier this year, he even took to social media to craft an album entirely out of Facebook suggestions. Having listened to some of McClain's material in the past that leans toward acoustic pop-rock or blues-rock, it's refreshing to see what he delivers in a new style.
Although McClain's latest project aims to melt faces, the album isn't heavy in the same vein as Megadeth or as thrashing as Gojira. Some riffs recall sludge-metal with faint punk undertones like on "Cosmic Dissonance," but the album as a whole is too polished and isn't grimy or messy enough to fall under that label. Instead, Conduit plays like Mastodon or Iron Maiden, particularly vocally, and it's not something you'd necessarily feel the need to head-bang to. Standouts include "Downer," a track with big riffs and dynamic drumming from McClain (and the shortest cut on the album), "Your Eternal Reward" and the aforementioned "Cosmic Dissonance."
Conduit comes to a carnivorously themed close on "The Final Conveyor," which drops all the keywords you'd expect to hear from a band known as Meat Fight, with lines like The final exchange hands the destiny unified, dripping on a flame, sizzling into a slobbering mouth / By your deeds a meal by our endless need for flavor of the flesh indeed, the part we play an array of abundance and value. To tie it all together, the song comes to an appropriate ending with McClain chanting "meat" over and over again.
To listen to the release, or for more on Meat Fight, visit Bandcamp or delvinshadepublishing.com.