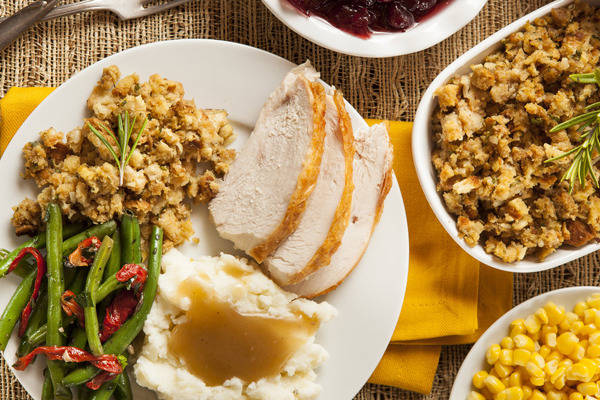 Thanksgiving dinner brings to mind an overflowing plate of turkey, a plethora of sides and a kitchen counter lined with desserts. But before the final product, there's usually a seemingly never-ending grocery list leading up to the big day. For those who wish to ditch the typical long lines and avoid the impending holiday shopping crowds, consider a locally sourced Thanksgiving meal this year, with essential items gathered from farms and restaurants in the area.
Whether you'd like to skip the chain grocery stores this season, explore healthy options or support local businesses, check out a few of our choices below. However, supplies may diminish as the holiday nears, so be sure to check in with each location for up-to-date availability.
Batey Farms, 5331 Baker Rd.
Wedge Oak Farm, 3964 Old Murfreesboro Rd., Lebanon
Thanksgiving is synonymous with turkey, of course. Last year, Batey Farms, a 400-acre family-owned farm since 1807, had 25 turkeys available, so check in with their Facebook page periodically for updates. Additionally, turkey can also be found at Lebanon's Wedge Oak Farm, a family-owned farm that raises various breeds of laying hens, guineas, meat and laying ducks in addition to turkeys.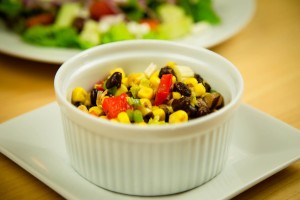 The Curious Kitchen, 1602 W. Northfield Blvd.
If there's not much time to shop around for individual products, The Curious Kitchen is almost a one-stop shop this Thanksgiving. Helena and Rachel Spensatelli, the mother-and-daughter cooking team behind The Curious Kitchen, opened the restaurant two years ago and offer cooking classes in addition to maintaining regular business hours and running the blog "Saucy Girl's Kitchen." From hors d'oeuvres to the main course to desserts, the eatery has everything from the essentials like stuffing and cranberry relish to side items like buttermilk mashed potatoes, made-from-scratch green bean casserole and mixed greens.

Through the Grapevine, 630 Broadmor St., Suite 190
Like The Curious Kitchen, Through the Grapevine pulls out all the stops for holiday meals. The restaurant and catering service offers two menus, lunch or dinner, and includes a salad, one entrée, two vegetables, assorted rolls and one dessert item for the lunch portion and an added vegetable and dessert for the dinner portion. Entrées vary from marinated pork tenderloin to roast turkey and gravy to slow-cooked roast beef. Sides include cornbread dressing, herb-roasted new potatoes, broccoli cheese casserole, sweet potato royale and more (vegetarians, rejoice). As for dessert, take your pick among red velvet cake with cream cheese icing, fudge pie, bourbon pecan pie and coconut cake.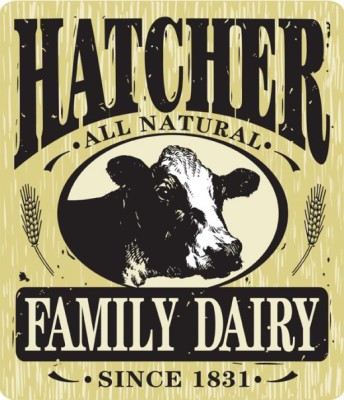 Hatcher Family Dairy, 6561 Arno Rd., College Grove
Since 1831, Hatcher Family Dairy has been comfortably located in the rural community of College Grove, Tenn. Located about 25 miles from downtown Murfreesboro, all of the farm's dairy products are made from the Hatcher family's cows. Every aspect of the day-to-day operation is carried out by a family member, from milking and feeding cows to the processing, transporting and marketing of the dairy. At Hatcher's, customers have the choice of whole milk, skim milk, 2 percent milk and buttermilk, the latter a vital ingredient for homemade Southern buttermilk biscuits or cornbread. However, if the 30-minute drive doesn't quite fit into your busy schedule, Hatcher Family Dairy products can also be found at Batey Farms.
Triple A Farms, 8322 Hwy 99, Rockvale
Like Batey Farms, Triple A operates year-round. If you're looking for fresh eggs opposed to store-bought ones this year, take a drive about 15 miles southwest to Rockvale. This family-owned-and-operated farm covers a total of 136 acres, split between its Rockvale and Eagleville locations, the latter being in the family since the early '40s. For 15 years, Triple A Farms has been growing fruits and vegetables for its retail store, with eggs available all year.
Tag'z Five Star Meats, 111 E. MTCS Rd. Suite D
If you'd like to serve homemade pies at Thanksgiving dinner without actually making them from scratch, check out Tag'z holiday menu, which can be found on its Facebook page. The delicatessen, founded 16 years ago, can typically be found serving up beef, pork, lamb and veal along with locally produced cheeses and homemade soups. In addition to locally made pies, Tag'z will also offer homemade stuffing this year.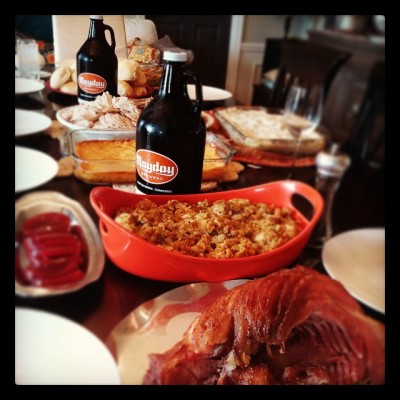 Mayday Brewery, 521 Old Salem Rd.
And last, but certainly not least, you can stock up on a different kind of holiday necessity with a couple growlers from Mayday Brewery, or "Jugs of Fun," as they are suitably referred to there. The half-gallon jug of craft beer will serve well over Thanksgiving dinner or while catching up with family and friends over dessert. According to Mayday, the jugs stay fresh for one month if refrigerated unopened. The beer will begin to deteriorate after opening, but it's still good for about 24 hours. And just in case you can't wait until the holiday to try it out, Mayday offers discounted refills on the "Jugs of Fun."
While the above choices will likely cover most elements of a Thanksgiving meal, they aren't the only places to buy local. Other eateries to consider this holiday season include:
Goodness Gracious at the Mill (5418 Murfreesboro Rd., Readyville)
Slick Pig (1920 E. Main St.)
Five Senses Restaurant and Catering (1602 W. Northfield Blvd.)
CJ's Catering (352 W. Northfield Blvd.)
Nobody's Grille (2227 Old Fort Pkwy., at Clarion Inn)