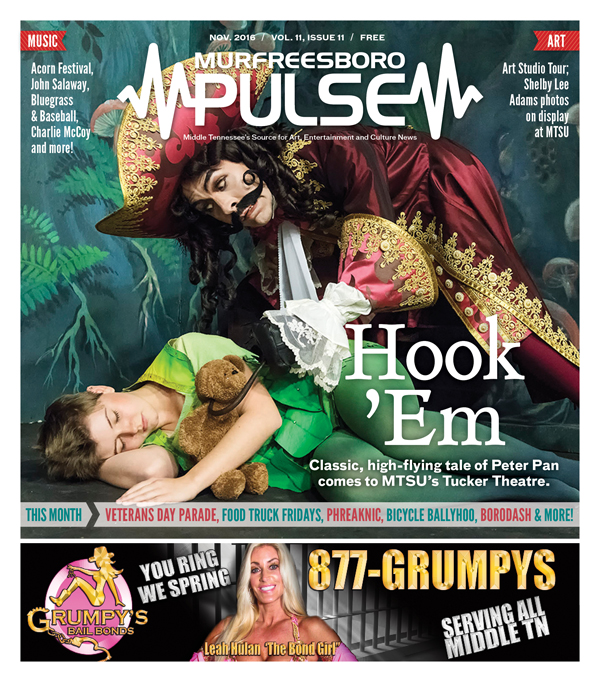 Features:

Local Album Releases
Chris Young; Cherub; Julien Baker release new material in time for the holidays.
Artist Profile: John Salaway
Upcoming performances include Gordon Kennedy; Beatles Christmas.
Art Studio Tour
Annual collaboration among local crafters is back Nov. 19 & 20.
Photos on the Corner
Don Owens tries to overcome homelessness by selling photos on the Square.
Eat Local
Murfreesboro's guide to a locally sourced Thanksgiving menu.
I Am Not Ashamed
MTSU grad helps bring story of Columbine victim to the big screen.
In Every Issue:
EVENTS
This Month: Food Truck Fridays; Turkey Tee Off and more!
SOUNDS
Local Concerts
Southern Shame, The Secret Commonwealth, Burning Las Vegas
Album Reviews
Jacques Merlino
Tennessee Scum
Music Notes
Nashville Cat Charlie McCoy visits MTSU
Oaklands Park Hosts Acorn Fest
ART
Shelby Lee Adams Photo Exhibit at MTSU
THEATER
Onstage this month:
Peter Pan; Harriet the Spy; Then There Were None; Dixie Swim Club
LIVING

Gardening:
Biological Balance
FOOD
Recipe: A Season for Squash
Restaurant Review:
Buster's Place has the beef.
REVIEWS
Movies:
The Birth of a Nation
Jack Reacher: Never Go Back
Comic: Alliance of Outcasts
Living Room Cinema
Family Dysfunction
NEWS
Navigating the System
Part IV—The six-month report of Probation and Recovery Services.
Business Buzz
Liquidation Outlet; former YMCA property sells; Autograph Rehearsal Studio
OPINION
The Stockard Report
Cope pleads guilty to insider trading.
SPORTS
MTSU Sports
Blue Raiders score win at Missouri.