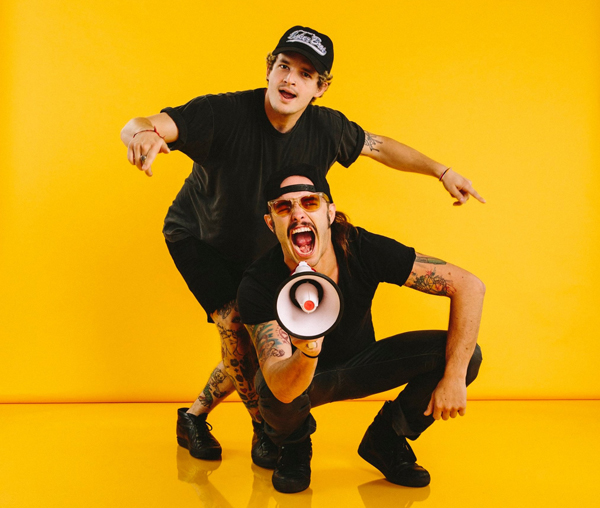 Of all the musicians who've emerged from Murfreesboro to chase success, none are as fun-loving and wild as the electro-pop duo Cherub. The team of Jordan Kelley and Jason Huber is in the midst of a continuous rise brought on by the pair's viral hit "Doses & Mimosas," which currently boasts 46 million streams on Spotify, and continuing on with their new album Bleed Gold, Piss Excellence, out now on Columbia Records.
But before the two began climbing the charts, Cherub was just two students in Middle Tennessee State University's recording industry program. Kelley and Huber met during their freshman year at MTSU and formed the band about five years later, with the two of them working in various music projects and jobs around the area in between.
"In Murfreesboro, they had an okay group of guys in a band. Jason was disappointed because they weren't serious about it," Huber's father, Brian, says in a promo for the new album. "I remember when he told me he met Jordan. It was so poignant. [He] said 'I met the guy I can actually make music with.'"
Party People
"The real magic in Murfreesboro is the house parties," Huber says in a phone interview with the Pulse.
This is a statement that many a local music fan would agree with, and one Cherub emphasizes regarding its development. As is customary for a young band in the 'Boro, Cherub cut its teeth in Murfreesboro's house show scene, using every living room audience and DIY-space headache as a training session.
"We kind of figured ourselves out there," Huber says. "[House shows] really allowed us to be experimental and feel out how we wanted to put this live show together.
"It also gave us an opportunity to deal with a whole bunch of bullshit; playing in less-than-ideal situations, but overcoming any obstacles to throw the best party possible."
Throwing the best party possible is a bit of a mantra for Cherub. The majority of the tunes are either meant to be party starters or to simply make you wanna dance. And whether they're popping champagne bottles onstage at the Bonnaroo Music and Arts Festival or dressing up as strippers in the "Doses & Mimosas" music video, the duo just exudes exuberance.
So it's no real surprise that when they're off the stage, they're still bringing a good time wherever they find themselves.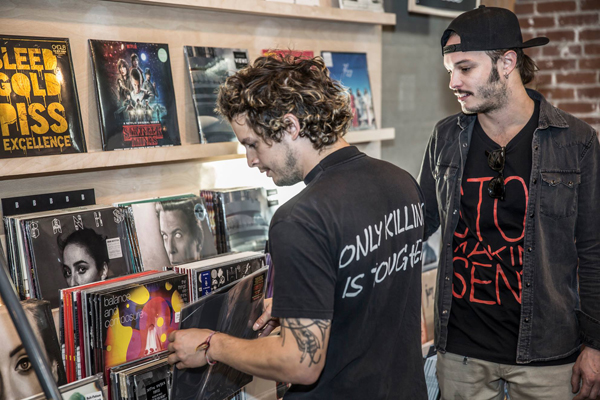 While on the road or during a down period at home, Huber and Kelley look for a way to fit some sort of musical excursion into their days, which sometimes means putting their 'Boro house show experience to use. The duo often spends their nights off hosting secret shows, spontaneous DJ sets (such as one Huber held in Murfreesboro last fall to a packed crowd of partygoers, myself included) or house parties just to keep the music going.
"There isn't really much other than music that we like to do. When we're not on tour and when we're not playing with the band, we're writing music, or playing music, or thinking about music, or doing something involved with it," Huber says. "It's like our lives revolve around that, and it's what we genuinely love to do. Some people are thrown off by us throwing a house party or something like that on a day off. But nah, man, that's the best part of our day when we get to get out there and share music with people."
Bleeding Gold, Pissing Excellence
Bleed Gold, Piss Excellence is the band's fourth full-length and the followup to its breakthrough album, Year of the Caprese. Musically, it touches on groove-based nostalgic sounds from disco and '80s pop, all while feeling profoundly youthful. It's a cohesive, front-to-back party record, but behind the scenes, its recording sessions were far from streamlined.
"This record process was the first time we went into the studio without having a batch of songs that we either had written or partially written and just went into the studio to record them," Huber says. "This time we went in with a completely blank slate, and did a lot of our writing inside of the studio. The writing and recording process for this record was about two years. . . . It was a disjointed process because we'd be in a studio for a couple weeks or a month or so, then go back out on tour, then settle back in the studio and get back into it. There were a couple main chunks of studio time that the record was written over, but it was a very spread-out process."
One of the most memorable recording sessions for Bleed Gold, Piss Excellence occurred in Atlanta, as opposed to the band's typical Nashville base. While performing at a local venue, Huber and Kelley found out they had attracted a new fan—Southern hip-hop mainstay T.I.
"The T.I. collaboration was actually one of the most organic collaborations that we've ever done," Huber recalls. "We look over at the side stage, and T.I. was standing on the side stage jamming out."
He continues, "[He] came up afterwards, introduced himself and congratulated us on the show and then invited us to make some music with him the next day. The next day he called us and forgot he made plans, so instead of cancelling on us, he invited us out to a pizza dinner with him and his family, T.I., Tiny and all the kids. Then we went bowling for a couple hours, and then went to the studio after that. It was a really organic process where people came together to make music for music's sake, and it ended up turning into something really cool."
That collaboration is "Signs," one of the album's lead singles and one of the hallmark songs in the band's discography, which is peppered with memorable collaborations with artists including fellow electronic up-and-comers Griz and Big Gigantic and former MTSU student and acclaimed singer/songwriter Natalie Prass.
"Musically collaborating in the studio, that's where a lot of the magic happens," Huber says. "As one person or as one band we can only have so many ideas. When we start collaborating with people that's when the limits get pushed and that's when weird and cool shit comes out."
Homegrown Electro
While the band's list of collaborators is ever growing, Cherub prides itself on keeping its team close and consistent. The band's support, including its producer, touring guitarist and tour manager, are all longtime friends, many of which were met at MTSU. The band's success is a homegrown movement, and as Cherub's profile has heightened, it has kept it that way.
"Our whole creative team on these records hasn't changed from day one," Huber says. "It's great that we're all still together and having the opportunity to do this and travel the world, sharing music."
Cherub will return home this month for a hyped New Year's Eve performance at Marathon Music Works, its biggest Nashville show since headlining the historic Ryman Auditorium last fall. It'll be a homecoming of sorts, and the band is ready to pull out all the stops for its local devotees.
"More so than any other show on our tours, we feel pressure when we playing in Nashville, and that's mainly because Nashville has been so supportive of us literally since day one," Huber says. "As a band coming up from Murfreesboro and have the Nashville scene be supportive to us, it's meant the world to us. We don't want to come home to Nashville and put on a mediocre show, we wanna be able to give back to Nashville and show that love back and put on something crazy and the wildest show of our tour and the most packed-out show of the tour.
"We're excited about it and want it to be the most magical night ever."
Cherub plays Marathon Music Works on Dec. 31 at 9 p.m. The band's latest album Bleed Gold, Piss Excellence is available now.