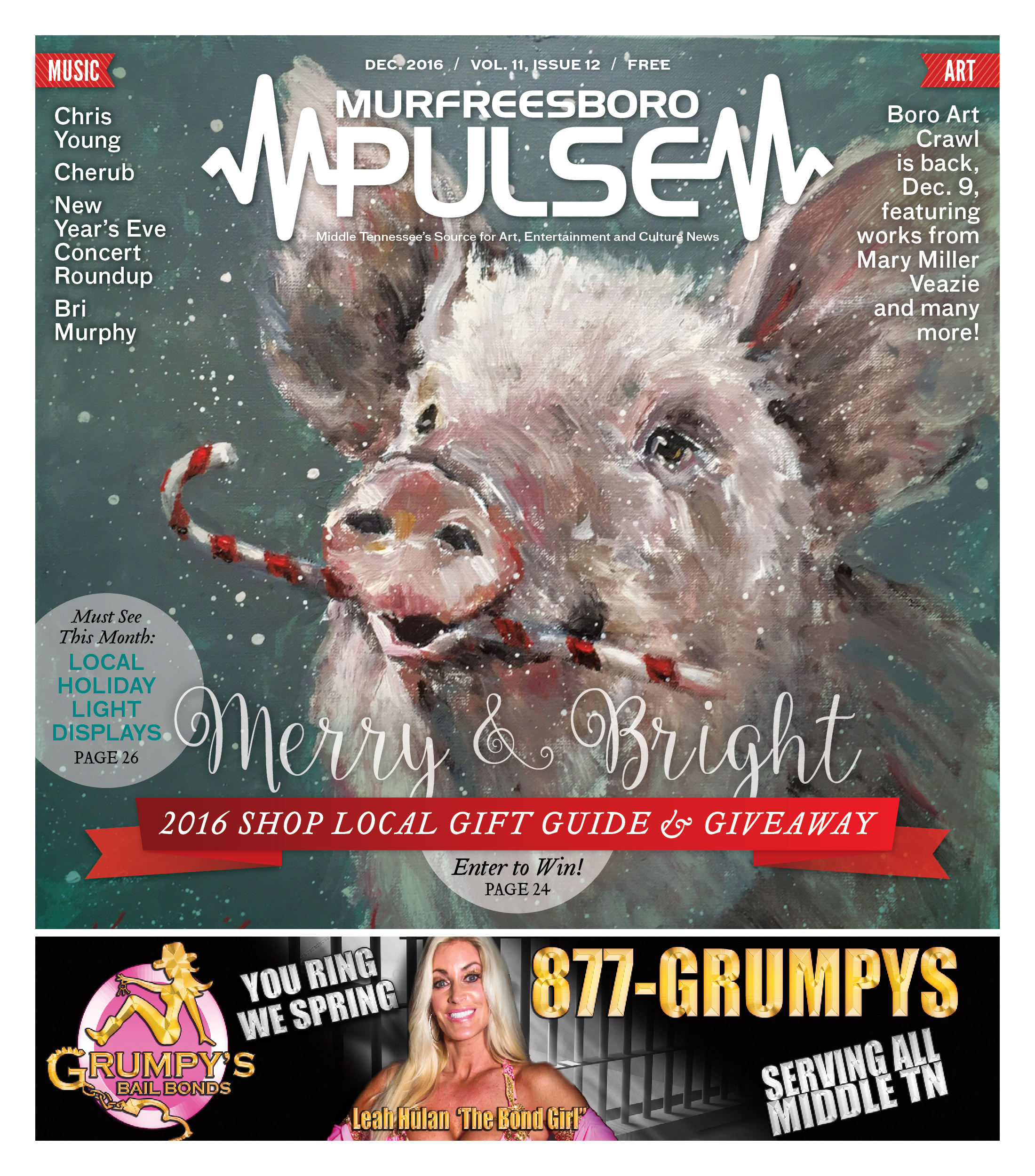 FEATURES:
Cherub
Murfreesboro duo brings tour to Marathon Music Works on Dec. 31.
NYE Concert Roundup
Middle Tennessee shows include Styx, Kacey Musgraves, Moon Taxi, and more.
Boro Art Crawl + Map
Venues throughout Downtown Murfreesboro host local work once again on Dec. 9.
Shop Local Gift Guide & Giveaway
Enter to win gifts from local retailers!
Christmas Lights Displays That Shine
See some notable light displays in Murfreesboro this year.
IN EVERY ISSUE:
December Events
Santa at the Courthouse; Nutcracker Storytime; Frosty Fun Run; Help Portraits; and more!
Sounds:
Local Concerts
Robert Eskew, Plow'd and many more!
Album Reviews
Bri Murphy, Throw Down My Heart
Meat Fight, Conduit
Music Notes
Chris Young Talks New Christmas Album
Jake Leg Stompers
Food:
Local Recipe
Red Beans & Rice with Batey's Sausage
Art
Murfree Art Gallery hosts work from MTSU students.
Theater
The Christmas Schooner at Center for the Arts
Movies:
Fantastic Beasts and Where to Find Them
Arrival
Living Room Cinema
The Gift of Knowledge: Science in Series
Book
True Stories (and other Lies) Told at City Cafe
News:
Navigating The System
Part V—Law enforcement and the first step in.
Business Buzz
Woodsviking; Rooms to Go; Fountains at Gateway and more.
Opinion:
Living Exceptionally … Well
A Seasonal Fast for the Body and Mind
Views of a Conservative
Trump Taking on TPP and Corrupt Lobbying
The Stockard Report
What A Tangled Web
Sports:
MTSU Sports
Blue Raider Football finishes season, 8-4