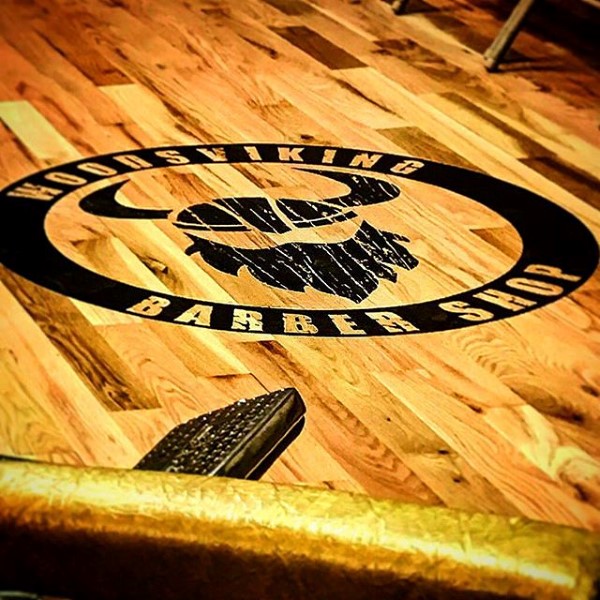 Woodsviking, owned by Shawn Templeton and Aaron Dabney, has taken over the space at 15 S. Public Square, Murfreesboro, the former home of Tip Top Barbershop. Woodsviking manufactures beard balm and oil products, and now has a barbershop of its own.
A sign on the door of the shop assures customers that Nancy Hall, long-time Tip Top employee who bought the shop from original owner Eurel Sauls after his retirement, is still cutting hair in the new shop.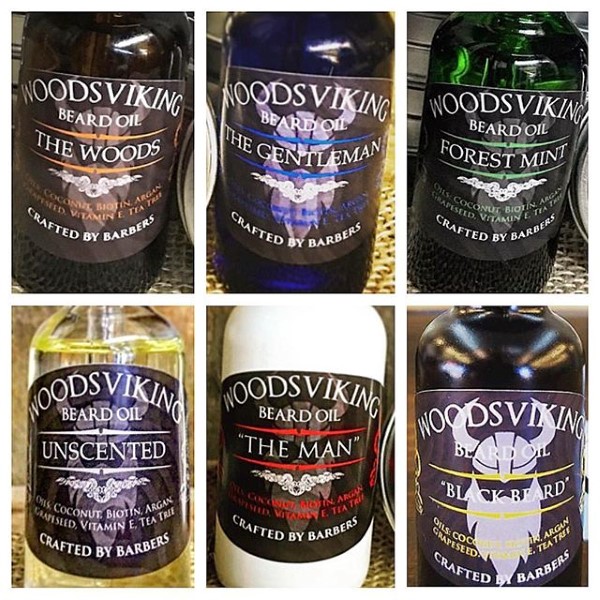 According to the Woodsviking crew regarding their beard products "Our oils are high in coconut and argan oil. We also add grape seed and tea tree. All of these oils will soften the beard and skin as well as help with ingrown hairs, irritation and dryness. Next we add biotin and vitamin E to help enrich the hair and promote growth. Lastly in all of our oils we add the essential oils that all individually have a unique smell. Our balms have all the oils mentioned but we include shea butter and beeswax to give your hair a slight hold."
Learn more about the shop and product line at woodsviking.com.
Development continues at a rapid pace in the Medical Center Parkway corridor. The large building next to the McDonald's on Medical Center Parkway near The Avenue will be a Rooms to Go. Rooms to Go, founded in 1990, has become the third-largest furniture company in the U.S., raking in more than $2 billion annually. The store's concept is to sell furniture in whole-room packages, thus saving consumers who need to furnish an entire room time and money.
Rooms to Go carries furniture lines from Cindy Crawford, Sofia Vergara, Eric Church and others.
Across the street, The Capital Corporation is leasing space in a new commercial center. Down the street at the Robert Rose Drive intersection, the company has space available in two additional shopping centers. The first of these to be completed will feature a Zoës Kitchen—a fast casual restaurant with pitas, grilled chicken, hummus, pasta salad, salmon kabobs and more—as well as a Freebirds World Burrito, a "fast casual burrito joint" and home of the Super Monster Burrito.
Betwixt the two shopping centers at the Robert Rose Drive and Medical Center Parkway intersection will be Volunteer State Bank.
Franklin Synergy Bank is constructing an office building and banking center further down Medical Center Parkway, past the hospital.
Meanwhile on Thompson Lane, next to On Target, a hotel is taking shape. This will be a dual concept by Hilton, Home2 (a pet-friendly chain of "stylish suites") and Tru, a colorful, modern spot for traveling young professionals. Tru says the lobby, called the "Hive," at each of its locations offers dedicated spaces to work, play, lounge and eat.
On Garrison Drive, across from Murfreesboro Medical Clinic, 250 employees of auto parts manufacturer M-TEK will soon move into their offices in the company's new corporate headquarters. M-TEK built the facility on 10 acres of prime real estate that the city of Murfreesboro gave the Japanese company in order to lure their headquarters to Middle Tennessee.
Near this site, the massive Fountains at Gateway project rises from the earth between Gateway Island Park and Medical Center Parkway.
Fountains at Gateway will be a Class A multi-tenant office campus and retail district, also including residential apartments and a hotel. Buildings will surround a central plaza with multiple fountains and pocket parks. The residential community overlooks Gateway Island Park. All are interconnected by a system of walkways leading to the adjoining greenway, seamlessly connecting pedestrians and cyclists.
Fountains at Gateway will include 400,000 square feet of office space, 70,000 square feet of retail space, a 100-unit apartment community and a mid-sized business hotel.
Boot Barn, a chain of over 200 stores with existing Middle Tennessee locations in Opry Mills, Brentwood and Lebanon, has begun construction on a Murfreesboro store on John R. Rice Boulevard near Tractor Supply Co. and PAWS. The Boot Barn stores stock a wide variety of western boots, equestrian boots, motorcycle boots, casual boots, work boots, caiman skin, ostrich skin, snakeskin and eel skin boots, hats, jeans, belts and other western and workwear for men, women and kids.
Children's Dentistry and Orthodontics now sees patients at its new facility on Old Fort Parkway, near Kelton's Hardware and Pet. The practice has a fun, colorful, under the sea theme, with a couple of colorful fish and an octopus overlooking Old Fort Parkway from atop the new building.
In other local dentistry news, Dr. Ronald T. Wright and Dr. Roy Thompson, both with decades of dental experience in the Murfreesboro area, will merge their practices on Jan. 1, 2017. Wright will close his office, currently located on Dow Street, and move his team to Thompson's 122 Heritage Park Drive facility.