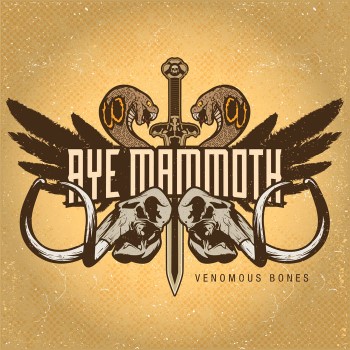 Aye Mammoth's new EP, Venomous Bones, was being recorded as we were reviewing the band's third album, Lightning and Hellfire. And now, as they're already preparing their follow-up full-length, Beast Infernal, we at the Pulse are sinking our teeth into this six-track effort.
The local hard-rock trio of vocalist/guitarist Micah Loyed, drummer Phil Stem and bassist Paul Haggard is back with a fast and hard-hitting release that taps into the classic-rock influences on their previous album while not leaving their sludge-metal roots too far behind.
Just like Lightning and Hellfire, Venomous Bones kicks off with a dramatic, grand instrumental featuring a superb guitar melody that—while different from their primary styles—is a fantastic and unexpectedly elegant composition for such a heavy group.
The core of the EP then gets underway with "Ultranaut." This just-under-three-minute cut features a driving, distorted riff, vocals that lie somewhere between Lou Reed and Ozzy Osbourne and an interestingly epic guitar solo fit for Guitar Hero. If that weren't enough, the tail end of the track features an uptempo snippet that's just begging to be fleshed out into a visceral rocker of its own.
The following two tracks (the bluesy, Deep Purple-like "Ocean Astral" and "Wyrmwitch") feature some killer solos, as well. Despite being brief, the solos on Venomous Bones are the best ones on a local release in 2016.
Closing out the EP are "Black Blood" and the outro instrumental "Testament of the Doom Slayer." The latter sees the group embracing some of the fuzzy garage-rock tendencies that have been popularized by Nashville rock bands such as JEFF the Brotherhood, and they succeed tremendously. It's definitely a sound Aye Mammoth should try out more frequently.
The only drawback with this fast and more digestible listen would be the fact that, because all the instrumentals and vocal tones are just so damn good, the lyrics really get lost in the frenzy. Besides that, this is another strong outing from the band, and it'll be interesting to see if any of these newly embraced styles show up on their next project.
Aye Mammoth's Venomous Bones EP is available on Bandcamp, YouTube and Soundcloud.