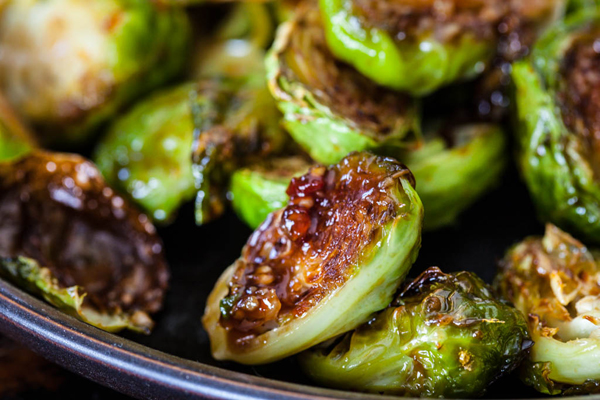 I think it is fair to say Brussels sprouts have taken their place at the table.
Whether you decide to sauté up some mushrooms and toss them together or shred them thin for use in a slaw, Brussels sprouts are incredibly versatile. Brussels sprouts' history of consumption could reach back to as early as the 13th century, but certainly to the 16th century. In any case, since they are in the cabbage family they can be treated as such.
When I make a dish of Brussels, or anything for that matter, flavor and texture are indispensable. Brussels sprouts have a bitterness that pairs well with honey. When blanched and sautéed, the sprouts' bitterness transforms to an ethereal blend of natural caramelization anchored by delicate earth.
I have made this recipe for several years, and it is always well received.
Brussels sprouts are best during the winter months. Fortunately, Tennessee has a season for every vegetable. When spring comes along, feel free to replace the sprouts in this recipe with asparagus, or with yellow squash in the summer, experimenting with flavors to accompany.
Walnut Gremolata
1 Serrano, thinly sliced
1 lemon, zested
2 cups of parsley, washed and chopped
1 cup of walnuts, toasted and chopped
1 tsp. lemon juice
1 ½ tsp. quality olive oil
3 cloves garlic, minced
Pinch of salt
Pinch of cracked pepper
Brussels
1 pound Brussels sprouts
1 tbsp. dark Balsamic
1 cup bacon, julienned
½ tbsp. butter
½ tsp. olive oil
Directions
1) Combine all ingredients for the gremolata in a bowl.
2) Heat a pot of salted water over high heat. Have a bowl of ice water ready to shock the Brussels sprouts when done. Shocking helps to retain texture, flavor and color.
3) Slice your Brussels sprouts down the center, lengthwise.
4) When the water comes to a boil, drop in the sprouts to blanch. This will take about 30–45 seconds. Do not overcook to mush! You are going to sauté them, and overcooking them will cause you to have sprout soup.
5) When a knife or fork can easily pierce the vegetable, remove the Brussels sprouts from the boiling water and plunge immediately into your ice water. Drain them.
6) In a pan, on medium heat, combine butter and olive oil. When it is almost smoking, add bacon and cook until golden brown. Add Brussels sprouts and sauté for 30–45 seconds. Do not burn them!
7) Take the pan off the stove and add balsamic vinegar.
8) Combine the Brussels Sprouts and gremolata in a bowl. Serve immediately.