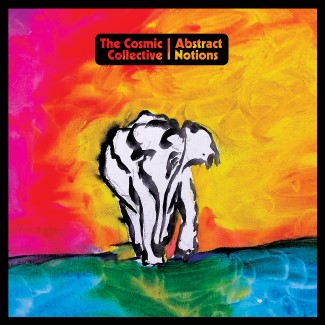 Local jazz outfit Cosmic Collective's debut full-length, Abstract Notions, is the product of five formally trained musicians who joined forces by happenstance.
The band, fronted by Nikki Michelle and joined by guitarist Alex Keiss, bassist Tyler Enslow, drummer Jed Smith and saxophonist DeVante' Buford, initially formed as a jazz combo while attending MTSU, but they decided to extend the collaboration beyond the semester. The group has since cut its teeth by performing jazz, R&B and pop covers at local shows, weddings and private events. Judging by the talent that makes up Cosmic Collective, it was just a matter of time before the members hit the studio for their first full-length effort.
Abstract Notions, an album of innovative jazz compositions, is enjoyable throughout, but its most memorable tracks strike near the beginning. The album opens with "Chapter 7," a slow-moving, vibey affair that ambles its way to the end with the help of saxophone work courtesy of special guest artist Jeff Coffin (Bela Fleck & the Flecktones, Dave Matthews Band). Michelle's voice shines through on "I Don't Know," a ballad with powerfully evocative lyrics that bring to mind singer/songwriters Sara Bareilles and Norah Jones. In a manner similar to Bareilles, her voice treads softly and delicately at first, but becomes more resounding as instruments join the mix.
The album's core material tends to blend together, as there's not a particular song that jumps out to me until the antepenultimate track, "Gotta Move On," a dreamy ballad about giving someone your all for nothing in return. The cosmic closing number, "You Keep My Head off the Ground," is another standout track.
As a whole, Abstract Notions is a fluid and melodic journey, as well as an impressive first entry to the band's catalog. Jazz fans will surely love this release, but any music junkie will find it accessible.
For more information on Cosmic Collective and band updates, check the group out at nikkimichelleandthecosmiccollective.com or facebook.com/nikkieliassings.