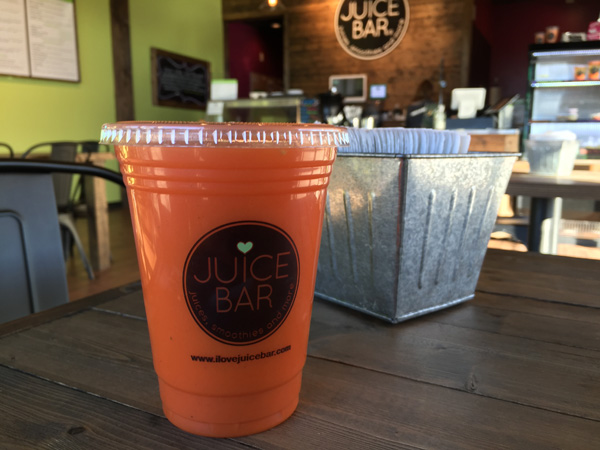 New Year's resolutions are often health-based, with fitness, healthy eating and weight loss among the most desired outcomes for the upcoming year. If one or more of these resolutions top your list, it's time to start rounding up some local establishments that cater to a healthy lifestyle.
One of the healthy options in Murfreesboro is I Love Juice Bar, a smoothie, juice and juice cleanse destination located at The Gateway Village on Thompson Lane. It opened in 2016 and is one of many Juice Bar locations to come from the Tennessee-based company.
Murfreesboro's Juice Bar—owned by Franklin resident Anthony Anderson—presents a simple aesthetic: patrons are met with a whiff of fresh fruit upon entering and the pulsing sound of Top 40 hits pervades the store. The natural light and wood tables welcome business or casual meet-ups or perhaps an alternative study spot for students during the day.
You'll likely run into Anderson, a former engineer, while stopping by, as he isn't the type of business owner who stakes out in the back of the store. He arrives early, greets everyone with a warm smile, engages in conversation and offers suggestions to new customers.
"I left corporate America to do volunteer work without the pressure of working a day job," he says, adding that he discovered I Love Juice Bar during this time period. "I can't say that I originally set out to open a juice bar or nutrition place, but I'm happy to say it all worked out in the end."
The juices and smoothies are vegetarian, gluten-free and made with natural ingredients. For health conscious customers, there's no added sugar other than what's naturally in the fruit. When people approach the counter with uncertainty, Anderson says he usually offers two suggestions.
"I'll ask, 'Do you want something that feels healthy or do you want something fun . . . something fruity or sweet that you'd want as a kid,'" Anderson says.
He suggests starting the day off with Orange You Glad, a carrot-based juice with apple, pineapple, lemon, ginger and mint that's popular among regulars, or Sweet Greens (apple, kale, cucumber, parsley, lemon and spinach), another favored juice. If you want something with a little bite, opt for the Mean Greens juice, which is basically Fresh Greens (celery, kale, spinach, cucumber, parsley and lemon) with added jalapeño.
Transitioning to smoothies, Mint to Be offers a surge of freshness with hints of mint, mango, pineapple, coconut milk and apple juice. The Doc, Anderson's favorite, contains all the essentials including spinach, kale, juiced apple, ginger, mint, strawberries, blueberries, mixed berries, banana and a dose of spirulina and probiotics for good measure.
For those with a sweet tooth, try the Berry Good and Very Strawberry smoothies. And if you really want something that reminds you of a simpler time, try the PB&J (peanut butter, banana, strawberry, flax oil and apple juice).
To the adventurous spirits: there's a mix your own option which allows customers to choose a base (carrot, cucumber or celery), two add-ins (apple, kale, spinach, ginger, lemon, beets, pineapple, jalapeño or garlic), along with the choice of parsley or cilantro, if interested. This is also possible for smoothies, with an apple juice, coconut milk or almond milk base and various fruits.
There are also a few food items on the menu, including daily soup specials (tomato basil, black bean, red lentil and butternut squash), salads and spring rolls. Like the juices and smoothies, many of the ingredients are organic.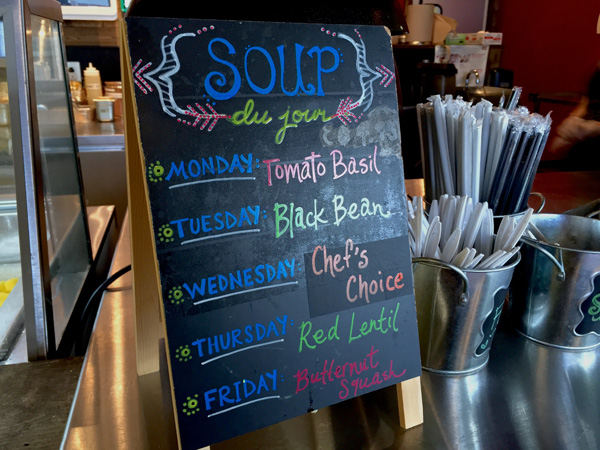 Juice Bar also offers various juice cleanses, with many patrons opting for one-, two- or three-day cleanses with the option to keep going after the third day. Anderson says a cleanse provides an immune system boost, increased energy and an overall detox.
He adds that customers often seek out juice cleanses as a solution to weight loss, and says he's even dropped some weight since he began juicing. But frequent visits to Juice Bar shouldn't be the only step in a fitness regimen, he notes.
"Think of juicing as one of the first steps" he says. "It helps take pressure off the stomach, but other things like exercising and eating right also contribute to weight loss."
In addition to living a healthy lifestyle, Anderson operates Juice Bar with three goals in mind: to "provide excellent customer service, mentor the youth and keep a steady passion for community service and outreach." He stays true to the latter goal by raising money for the Muscular Dystrophy Association, GraceWorks Ministries and the Miracle Field, a rubberized baseball field that will accommodate wheelchairs and other walking devices at McKnight Park this spring.
The Dish:
I Love Juice Bar
804 N. Thompson Lane, Suite 1J
Mon.–Fri.: 7 a.m.–6 p.m., Sat.: 8 a.m.–4 p.m.
Sweet Greens juice (apple, kale, cucumber, parsley, spinach and lemon): $6
Orange you Glad juice (carrot, apple, pineapple, lemon, ginger and mint): $7
The Doc smoothie (apple, spinach, kale, ginger, mint, strawberries, blueberries, mixed berries, banana, spirulina, probiotics): $9.75
Spring rolls: $5.95
ilovejuicebar.com