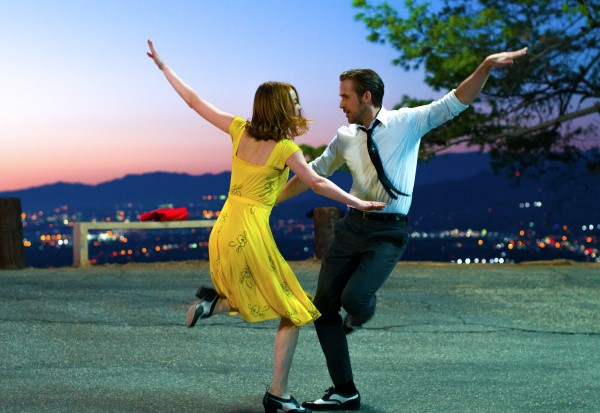 Wow. Somehow Damien Chazelle has done it. He has avoided the sophomore slump and delivered a film that is not only as good as Whiplash, but is better. That's right. In my opinion, La La Land snatches the title for best film I have ever reviewed, and I can now say with 100 percent certainty that Damien Chazelle is the next great revolutionary filmmaker in Hollywood. I have already seen this film twice in its opening week, and have every intention of making time to see it again while it's still in theaters. And please see this film in the theater! Watching this film in a packed room is why I love movies.
La La Land is the Emma Stone show. While there are still several big-time acting films I haven't seen, (most notably Jackie) I can say to this point Emma Stone's performance in La La Land is the best performance I've seen all year. Stone is asked to portray an actress trying to make it in Hollywood, and steals the show thanks to several emotional audition sequences, the final of which is easily comparable to Anne Hathaway's iconic "I Dreamed a Dream" scene from 2012's Les Miserables. Stone's counterpart, Ryan Gosling, also puts in the performance of his career. Thanks to being in previous films together like 2013's Gangster Squad, the two have wonderful chemistry, which is crucial since this is basically their film. I must also give heavy praise to the story. Usually in a big musical like this you're asked to make leaps of faith from time to time. Like Maria and Tony falling in love from across a gym in West Side Story! C'mon, right? But that doesn't happen here. The relationship between Stone and Gosling is easily earned, and the events that follow take you through every single emotion imaginable. Be prepared to rock the ugly cry, guys. Even on the second viewing, when I knew exactly what was going to happen, I was still in tears. It is a beautifully told story and shows Chazelle is just as good a writer as he is a director.
But it's far more than just the writing and acting that make this the best movie I've ever reviewed. It's the costumes. The makeup. The set design. The choreography. The editing. The cinematography. It's the care that goes into the making of this film that is simply spectacular. I must especially praise the costumes. There's a few sequences early on in particular that feature some absolutely gorgeous costumes. And then there's the opening sequence. The first song, "Another Day of Sun," is actually going to overtake the ending of Rogue One as my favorite movie moment of the year. Oh my goodness is this opening sequence utterly exhilarating. And did I mention it was shot in a single take? This opening sequence is a marvelous and iconic moment in filmmaking, and will certainly inspire a new generation of filmmakers for years to come, as will the final 15 minutes of the film, which are just as exhilarating as the first 15 minutes.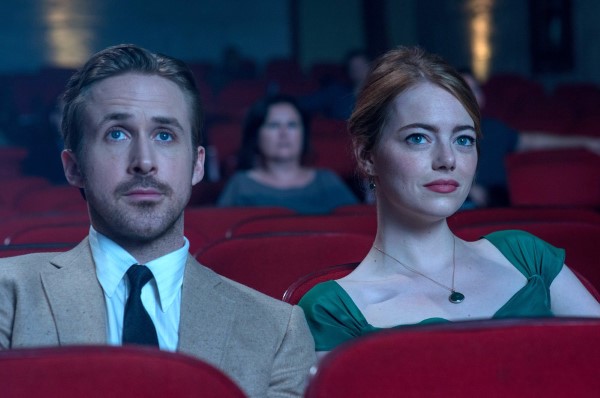 You may have noticed that I haven't mentioned one important thing for a musical: the music. That's because it is the best part of Chazelle's masterpiece. I'm not sure if it will be eligible for an Academy Award because it's not comprised entirely of original music, but Justin Hurwitz has established himself just as much as Chazelle has. He has only composed for three films, which happen to be the same three films Chazelle has directed, but each of these films feature wonderful renditions of classic tunes as well as some great new music too. The truth is I have not been able to stop listening to the score of La La Land over the past few weeks, and I found myself humming along an awful lot on the second viewing. The most important part of a musical is the music, and Justin Hurwitz hits it out of the park in this department.
If you should interpret anything from this review, it's that La La Land is a cinematic triumph, like Whiplash before it. Chazelle has done what I thought was impossible, and he does it so well that I almost feel foolish for thinking exactly that. This film is a masterpiece, and firmly sets Chazelle right alongside the legendary Martin Scorsese for the "coveted" title of my favorite director in Hollywood right now. Every facet of filmmaking is meticulously cared for, and a film like this is a wonderful reminder to me of why I am hopelessly in love with cinema.