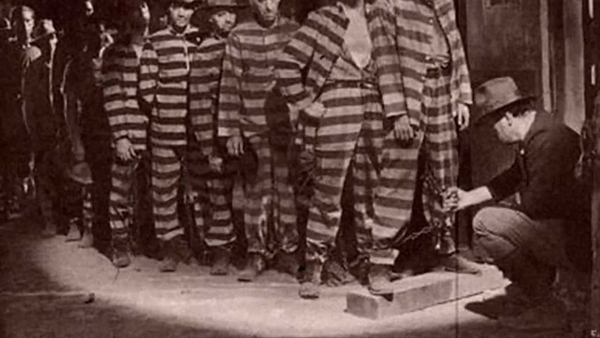 Besides 940, there is another jail in Murfreesboro; the second one, overseen by Mayor Ernest Burgess' office rather than the Rutherford County Sheriff's Office, facilitates a community-based rehabilitation model for some of Rutherford County's inmates.
Inmates of The Rutherford County Correctional Work Center (RCCWC), also known as The Workhouse, located at 1720 S. Church St., have either turned themselves in within a month of being court-ordered by a county judge to do so, or have been transferred from 940 to serve their sentence after a classification staff within 940 reviews an inmate's transfer request and finds a need for the inmate at RCCWC, according to newly appointed RCCWC superintendent Bill Cope.
Either way, the offender or inmate's case must be considered non-violent by either 940's classification staff or one of the county's judges.
Being processed into the single-story Workhouse is much like at 940 (which was discussed in part 7), but instead of the naked squat-and-cough, fresh inmates remain clothed and are made to walk around an eight-foot-tall black pole that's actually a mobile X-ray machine supplying a 360-degree scan of a person to show if contraband is hidden within their body, much like Transportation Security Administration (TSA) scanners do at an airport. The other difference in processing in at The Workhouse is an obligatory (instead of optional) shower during which the incoming inmate is sprayed with a delousing agent by one of the correctional facility guards before given their gray jail clothes and orange Crocs replicas as well as a white mesh laundry bag filled with the same hygiene products and writing essentials as at 940. Mattresses are distributed in the pods.
There are no cells in The Workhouse pods, but the pods are about the same gymnasium size with two stories within them. The first floor is reserved for dining tables where inmates eat and watch television when permitted, two open bathroom areas at the far end of the first level made up of four curtained shower stalls and four waist-high cinder-block toilet stalls each, and a separate recreation room where inmates can get books, play cards and work out on a couple of pieces of gym equipment. There are a couple of flights of metal-grate stairs, one at each end of the room, that lead to a cemented loft overhanging half of the first floor. An array of about 25 to 30 two-high, gray metal tray bunk beds resembling those in a camp cabin or a barracks, as well as five or six single metal tray beds along the railing, is all that is up there. There are frosted windows on the ceilings of the pods to allow in daylight.
Bill Cope, the newly appointed superintendent of RCCWC, invited me into his office a couple of weeks after he took over for Bernard Salandy (who was reassigned to jail administrator at the Sheriff's Department at 940 at the end of January 2017) to further understand the inner workings of The Workhouse outside of my own experience as an inmate there. One of the focal points of the conversation was to understand both the difference between a Sheriff-run jail and a Mayor-run jail, as well as how they work together and separately during the last three years since my incarceration at 940, but to do so at this particular time in Rutherford County history involves a delicate touch in the face of all that has happened recently in the jail's administrative climates.
"Historically, [The Workhouse] has always been a separate entity," said Superintendent Cope, explaining the history of the Rutherford County Workhouse that started in the late 19th century as a debtor's prison out on County Farm Road and later moving to its current location on the 1700 block of South Church Street, all the while evolving into what it is today.
However, the two jailing facilities are connected within the criminal justice process. When someone is arrested in Rutherford County, that person is taken to 940, where it is up to a judge or a "classification staff" to permit them incarceration at RCCWC, according to Cope.
The two correctional facilities are also financed by the county, the state of Tennessee and by the inmates themselves, but not in similar fashion.
According to County Commission records from October 2016, it costs Rutherford County $63 a day to house one inmate. From my records, and according to Superintendent Cope, $20 of the $63 is paid for by the inmate at both RCCWC and 940, the total of which is added up ($20 per day of incarceration) when the inmate is processing out of either facility and sent to the county clerk's office at the judicial building to be added to the inmate's court costs. For the remainder of the $63: to preface, committing a felony offense is considered a major offense whose consequences are overseen by the state of Tennessee, while a misdemeanor offense is considered a minor offense whose consequences are overseen by the county. Our two jails house inmates convicted of both felonies and misdemeanors, but only for up to 11 months and 29 days, just under the one-year mark, as the one-year-and-longer felony sentences are served in state penitentiaries rather than county jails.
According to Cope, The Tennessee Department of Corrections "pays a rate for each state inmate" which helps fund only felons housed at 940 and RCCWC while misdemeanor cases are left to be funded by Rutherford County, whose money is kept in the general fund. Remember, this breakdown of $63 is for one day only.
At the time of our meeting on Feb. 17, 2017, there were around 140 inmates serving sentences at The Workhouse, with a "low percentage of state [felony] cases here [who are] serving 'county' time with a state sentence on the back. [That] is why they'd be here," explained Cope. The ten or so inmates of the 140 currently housed was an example of the low percentage mentioned. The Workhouse's maximum capacity is 250 inmates. 940 houses all other felony inmates outside of the small percentage housed at RCCWC.
While an inmate at 940 in March of 2014, a few inmates of the pod in which I was housed discussed one method for becoming an inmate at The Workhouse, but ended their conversation with, "Good luck with that, though," emphasizing the difficulty of being transferred during the climate of 940 at that time.
While an inmate at The Workhouse in August of 2016, I spoke with an inmate who was able to successfully transfer from 940, but only during the final week or two of his sentence before it was considered completed and he was to be released.
"I can't comment on what Arnold was doing, but it's a time for healing and moving on," said Superintendent Cope.
And healing and moving on is exactly what RCCWC offers its inmates, as Cope stated that he and former Superintendent Bernard Salandy worked closely together over the last decade to develop a similar view on how to operate RCCWC, which—according to RCCWC's goal and mission statements on rutherfordcountytn.gov—provides "inmates with solid work ethics and programs with the objective of releasing them back into our communities with . . . the skills necessary to lead a law-abiding, productive life . . . without sacrificing public safety . . . [and with] a clear direction of their future . . . by providing structured educational, vocational substance abuse and work release opportunities."
How an inmate accomplishes this once they are processed into the Workhouse is influenced by the type of case they are involved in, the length of their stay, what they do for a living outside of incarceration, what's available or "needed" of them at the Workhouse, and even an application process submitted to the RCCWC review board made up of volunteer citizens of Rutherford County if the skill set and sentence-length of the inmate fits the board's needs.
Each pod seems to exist for a reason as Cope's view that jail "shouldn't be a warehouse for human beings, [but to] educate them for when they get out."
When an inmate arrives, they are housed in a transitional pod for the first two weeks while they are being classified for work detail and then moved into one of several other pods, which are reserved for on-compound labor, work-release labor, a disciplinary pod for inmates who act up, and a "very structured therapeutic community," where educational, drug and alcohol rehabilitation, and faith-based programs take place at the opposite end of the RCCWC compound from the classification, work, and disciplinary pods, according to Superintendent Cope. Everything from finance to Yoga classes goes on at that end of RCCWC, and there are graduations for those completing educational feats there, too.
One pod is for inmates helping to maintain the prestigious American Correctional Association-accredited RCCWC compound. According to Cope, every jail in the state is under the watch of the Tennessee Correctional Institute, the state correctional facility organization that decertified 940 in December of 2016. Only five percent of the jails in Tennessee are ACA accredited, which is a federal organization that holds a higher standard of operation to jails across the country. Cope stated there could be a bug in a light fixture and the ACA would notice.
Pods exist to specifically house off-site work detail, such as the Community Service Work Crew, which goes out into the Murfreesboro, Smyrna and La Vergne areas every day to pick up trash along the roadsides and provide maintenance work for municipal buildings. There is also housing for inmates involved in the Sanctions program that have special skills and qualifications to be reviewed by the RCCWC's volunteer committee of citizens for release into more fine-tuned and specific jobs around town.
"We partner with about five companies in Murfreesboro [who employ inmates in the sanctions program], transport them there, make sure they get in, leave them for eight hours, and pick them up. [The inmates] wear ankle monitors with GPS [tracking] on them and we can tell if they step foot out of the door," explained Cope.
The disciplinary pod exists for those who don't conform to the goals and mission of RCCWC. While I was there, there was a fight between two inmates after a series of back-and-forth pranks went too far for them to handle and ended up with one of them giving the other a black eye. Another time an inmate cracked a joke at the expense of one of the guards while lining up to go outside on a sunny day. That stuff happens there. Inmates are accessible to one another, joking around as best they can while in a pod all day, and even the staff gets in on that from time to time as everyone tries to keep good morale, because the Workhouse "is run in the style called 'Direct Supervision' [where there is a much greater amount of] staff/offender interaction. You get to know these guys not out of fear, but professionalism," said Cope.
"You get some knuckleheads occasionally," he added.
I asked, "So, you do give tours?"
"[To] anyone who wants to see the inside of the jail and see what a good one looks like. I want to show off the best jail in Tennessee," Cope responded.