Rick Stockstill and the Blue Raiders coaching staff finished wrapped up their 2017 recruiting class on Feb. 1, and it has stoked a lot of excitement amongst the coaches. According to rivals.com, this year's class is the best under coach Stockstill since his 2008 class which was ranked 64th nationally. While this year's national ranking of 72nd may not impress some fans, Coach Stock is not concerned with that.
When addressing the ranking of JUCO transfer defensive back Octavis "O.J." Johnson, who was a four-star recruit committed to South Carolina coming out of high school, Stockstill stated, "I really don't get into stars, I couldn't care less if O.J. was a one-star or four-star. It doesn't make any difference. He's a good football player. He'll have a chance to contribute to this team."
Johnson is just one of many defensive recruits of which coach Stockstill is excited. Raheme Fuller is a big, athletic cornerback listed at 6′ 3″ who, in a matter of a couple weeks, flipped his commitment from MT to FIU then back to MT.
D.Q. Thomas is currently listed as a linebacker, but likely will convert to safety before he sees his first action in a real college football game. Steve Ellis, MTSU recruiting coordinator and cornerbacks coach, compared Thomas to Blue Raiders legend Kevin Byard.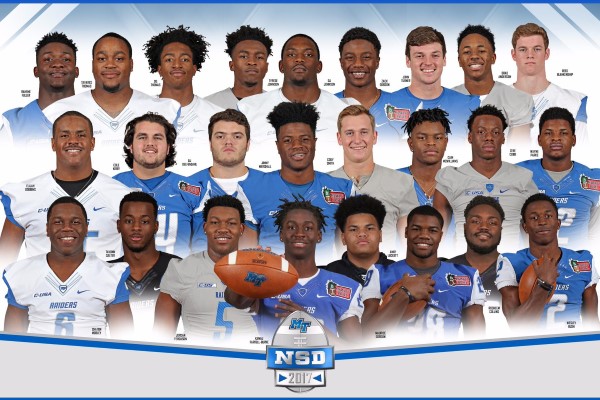 The Blue Raiders also added a number of linebackers which Stockstill described as big, fast and versatile players who may also be used utilized on the defensive line as edge rushers.
On the offensive side of the ball, four offensive lineman were added, each projected to be able to fill any position on the line as needed.
To run behind them, the Blue Raiders brought in two very different running backs. Brad Anderson is a small, speedy back who scored two 99-yard touchdowns in a single game in high school. The other is Maurice Gordon, a 5–foot-10-inch 200-pound back who brings a combination of speed and strength.
John Turner is a local quarterback prospect out of Smyrna. He will compete with John Urzua for second-string, and may be the heir-apparent under center.
Brent Stockstill has had a lot of success throwing to targets listed at 5′ 9″ inches or shorter, but this class has provided him with a few larger targets.
Zeke Cobb is a 6-foot-3-inch wide-out who was targeted by Wisconsin and received an offer from Mississippi State. Cobb was also an all-region selection in track for the high jump, and has red-zone threat written all over him.
Jimmy Marshall is another addition who stands a chance to make an immediate impact. Listed at 6′ 5″ inches and 216 pounds, Marshall has all the measurables of a great wide-out. He also lettered in basketball, baseball, and track in high school. Not only did Marshall receive state accolades in football, but also in basketball and was even invited to the Future 150 Camp.
Perhaps the highest profile recruit of the 2017 class is Zack Dobson. The receiver's highlights went viral when he was seen leaping over on-coming defenders. Dobson doesn't have the size of the aforementioned additions to the receiving corps, but he will certainly be an immediate, and much needed, threat in the return game. He could also compete early as a slot-receiver.
Zack's younger brother Zaevion also received national attention, as he laid down his own life to protect two female friends from gunfire in 2015. In honor of Zaevion, Ty Lee, who wore number 24 last season, will change his number. Zack will now wear number 24, the same number his brother wore before his tragic passing.
Only time will tell which of these new additions will make an immediate impact. As coach Stockstill stated, "They will determine if they play or not. They will determine if they redshirt or not. If they're good enough to play, they'll play."