Jo, Beth, Meg and Amy—Louisa May Alcott's four little women—take center stage this February as Springhouse Theatre Company presents Little Women. Adapted for the stage from Alcott's beloved novel, this timeless and enduring classic about the March sisters' journey from childhood to maturity during the American Civil War has thrilled generations of readers since the novel was first released in 1868. Audiences will enjoy experiencing the coming of age of the sisters—Meg, the eldest; Jo, the high-spirited tomboy; Amy, the self-centered beauty; and gentle Beth—as well as their beloved Marmee and their acerbic Aunt March.
Little Women runs for three weekends, Feb. 10–11, 17–18 and 24–26. Showtimes are 7:30 p.m. on Fridays and Saturdays, with a special 3:30 p.m. matinee on the final Sunday.
Springhouse Theatre is located on the campus of Springhouse Worship & Arts Center, 14119 Old Nashville Hwy., Smyrna. Tickets are available at ticketsnashville.com. For tickets or more information, call (615) 852-8499 or visit springhousetheatre.com.
______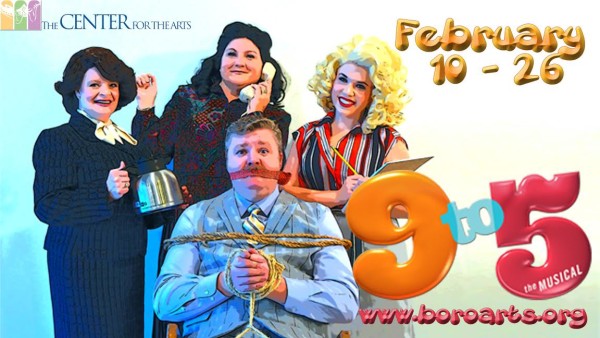 The Center for the Arts presents 9 to 5 The Musical, running Feb. 10–26. Written by Dolly Parton, the musical revisits her 1980 classic film for an adaptation that will have audiences laughing and cheering. Like the movie, 9 to 5 The Musical focuses on the struggle of three women in the workplace: Violet, who is strong, independent and constantly overlooked; Judy, the new hire who just wants to pick up the pieces and fend for herself after the unexpected demise of her marriage; and Doralee, the straightforward Texan who is determined to prove she is more than meets the eye. Standing in their way is Mr. Hart, the "sexist, egotistical, lying, hypocritical bigot." Together, these women overcome the odds and learn what ingenuity, persistence and friendship can do.
Tickets can be purchased at boroarts.org, by calling (615) 904-2787, or by stopping by the Center's box office at 110 W. College St. in downtown Murfreesboro. Prices are $15 for adults, $13 for seniors, students and military, and $11.00 for children. Performances will be held at 7:30 p.m. on Fridays and Saturdays and at 2 p.m. on Sundays.