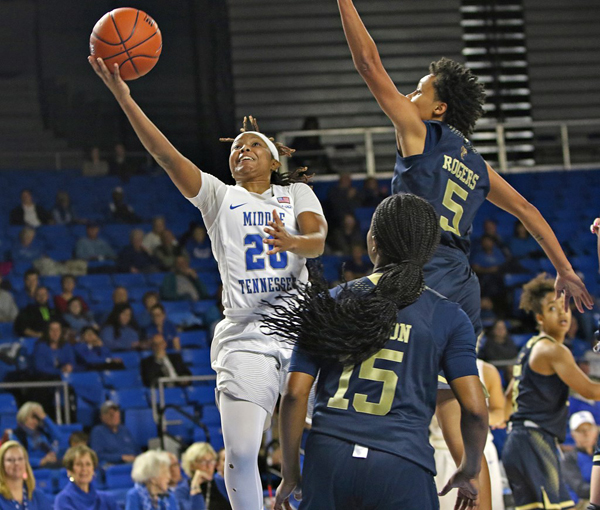 True to coach Rick Insell's design, the non-conference schedule was not especially kind to the Lady Raiders. Middle finished the 2016 calendar year with a sub-.500 record, but January is when those tough games prove their worth.
The team tipped-off the 2017 conference schedule in Birmingham against UAB. Although they trailed nearly the entire game, the Lady Raiders took their first lead in the fourth quarter. Thanks to 10 fourth-quarter points from Ty Petty and seven from Alex Johnson, MT clinched their first conference win of the season.
Petty finished the game with 29 points, but it was the 14 she scored in the first half that cemented her legacy in the annals of Lady Raider basketball. Petty joined the 1,000-point club in dynamic fashion when she sank a buzzer-beating three-point shot going into the half.
Remarking on her milestone, Petty stated, "I am humbled to be part of such an exclusive group. I'm sure it will mean more to me later but right now I am most excited about how our team played to win this game today."
Coach Insell addressed Petty's accomplishment as well.
"She's a winner. It's that simple. Ty came up big today and led our team. She's a great leader. She has had many remarkable moments in her career and today was another. Not too many people make the 1,000-point club. Ty is one of those few and she's also one of the top point guards to ever play at Middle Tennessee."
The Lady Raiders returned to Murphy Center for a two-game stand against two Texan foes, Rice and North Texas. Each game required Middle to fight back from a second half deficit, and each also included 20-point efforts from Alex Johnson.
The Lady Raiders topped Rice 71–61 and bested North Texas 60–52.
MT was able to stretch their win streak to five games when they traveled to Marshall. Petty and Johnson once again posted 20-point performances each. Junior Abbey Sissom also came up big as she racked up a career high nine assists while committing only one turnover.
However, it was freshman Charity Savage whose sole basket may have been the most crucial. Savage secured an offensive rebound and hit the put-back shot as time expired in the 3rd quarter. That basket put the Lady Raiders back on top where they stayed through the rest of the game.
Riding a five-game winning streak, the Lady Raiders took to E.A. Diddle Arena to face hated rival WKU. Unfortunately this one would not turn out to be the hotly contested game one might expect from a rivalry.
Middle scored only 15 first-half points, which led to a 17-point deficit at halftime. The third quarter saw that deficit grow to as much as 33 before the Lady Raiders responded with a 22-point fourth quarter while holding WKU to just nine. Yet, the damage had already been done as the Lady Toppers ended the game with a 66–51 victory.
However, when the Lady Raiders returned to Murphy Center against Florida International, they showed how well they can respond to crushing defeat.
MT jumped out to a quick 18–7 lead in the first quarter, and the lead continued to grow from there. Despite Petty playing reduced minutes due to a minor injury, the Lady Raiders polished off the Panthers 95–43.
Alex Johnson again surpassed the 20-point mark, but it was Rebecca Reuter who really stole the show. Reuter tied her career high of 18 points, and eclipsed her career high rebounding mark with 12. Reuter set both marks last season against FIU. Reuter also matched her career high in steals with three.
Speaking of career highs, the Lady Raiders' following game versus Florida Atlantic featured a monstrous one.
Alex Johnson poured in 37 points, topping her previous high of 30. The game was only close through the first quarter, as MT separated themselves from the Owls in the second quarter to give them a 55–34 advantage. Petty chipped in another 21 points, while Sissom again served as the efficient playmaker with six assists to one turnover. Those supporting contributions helped Johnson led Middle to an 87–69 victory over the Owls.
The Lady Raiders returned to the road against Southern Miss; however, turnovers and a poor shooting night from beyond the arc became their undoing.
Middle shot just .222 percent from the three, and committed 24 turnovers. The bulk of those turnovers (11) uncharacteristically came from Petty.
Johnson was one of the only bright spots of the game as she scored 25 points on 9-of-10 shooting. Despite her efforts, MT suffered just their second conference loss 81–61.
However, the Lady Raiders responded well, once again, in a road game versus LA Tech.
The Lady Techsters kept the game close through three quarters, as they trailed by only one going into the fourth, but a 34-point surge by Middle secured a comfortable 79–65 victory.
While the Lady Raiders in general responded well after the rough showing at Southern Miss, perhaps the best response was from Petty. She led all scorers with 26 points and added five assists with just one turnover. Johnson chipped in 23 points of her own to bring her 20-point game streak to four.
After posting a 7–2 record in the first month of conference play, the Lady Raiders are in good shape in the conference standings. They are currently locked in a three-way tie for first place with Charlotte and WKU.
The Lady Raiders return to Murphy Center on Feb. 2 as they host Texas-San Antonio. Tip-off is scheduled for 7 p.m.
For tickets and more on Blue Raider athletics, visit goblueraiders.com.