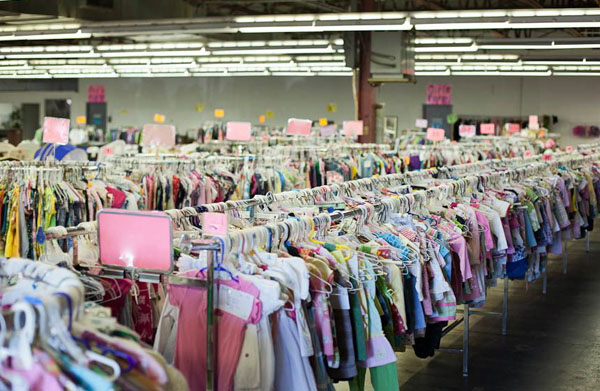 Precious Angels Children's Consignment Sale, owned and operated by Angela Bauer and Jennifer Sherrod, may only be open for business about eight days each year, but by no means do the owners get the rest of the year off.
A great deal of preparation, organization, promotion, cleanup and processing goes into each one of the twice-yearly pop-up consignment sales. The Precious Angels owners must ensure inventory is collected and organized, that shoppers know about the sales and show up to them, that all purchases are recorded properly, that unpurchased inventory is returned to its owners, that the temporary store is torn down, that checks are issued to their consignors, and that the facility is reserved for their next event.
The sales, held each spring and fall at the Mid TN Expo Center on Middle Tennessee Boulevard, allow families to place some some money back into their pockets from clothing that no longer fits their children, from toys that have been neglected, or from strollers or car seats that no longer serve their needs.
"A lot of people think that we're a permanent storefront," Bauer said. "But being seasonal, and not having to pay all year long for a permanent storefront, we're able to provide better pricing."
It truly takes a village to make the consignment sales happen each year.
Bauer and Sherrod invite those in the community to sell their children's items at the sales. Those who would like to participate as a consignor pay a $12 fee, label their own items, and when the dust settles after the event, will earn 70 percent of the total amount for which their items sold.
However, those who wish to keep a larger percentage of their sale total can sign up to help staff the Precious Angels sale. The more shifts worked, the higher the percentage of your items' sale price you get to keep.
Those who assist with the sale as a volunteer or consignor also get early access to the sale prior to its opening for the general shopping public.
The duo held its first edition of the Precious Angels Consignment Sale at the Boys and Girls Club, and later moved to the Mid TN Expo Center near Church Street, a facility run by Swanson Companies. AT&T recently took over that space, and Swanson then moved the Mid TN Expo Center to the Fred's shopping center on Middle Tennessee Boulevard, the current home of Precious Angels Children's Consignment Sales.
Now, many area families with young children keep the sale in mind all throughout the year, and will set aside toys and clothing in preparation for the next Precious Angels event.
"Keep your eyes open for the dates," Bauer said. "Make sure you don't miss it."
Bauer took the time to share a little more of what Precious Angels is all about.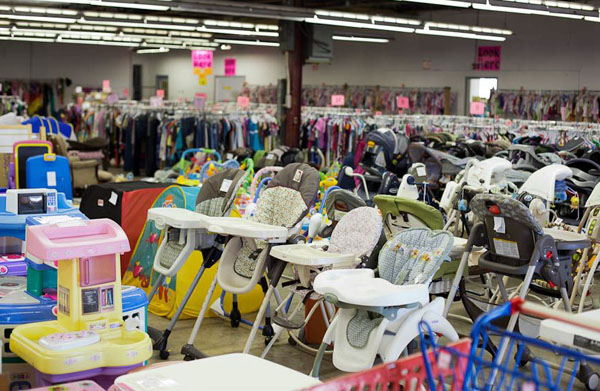 Murfreesboro Pulse: How did you get into the children's clothing consignment business?
Angela Bauer: We would frequent other sales for our own children. We just loved going to other ones. One came up for sale in our town when I was a worker; I overheard Kim Lane saying her consignment sale was going to be for sale.
I went back to Jennifer—we were just friends at the time—and I said, "What would you think about running this sale?"
[After the upcoming spring 2017 Precious Angels sale] it'll be seven years exactly. That will make 14 sales [that Bauer and Sherrod have operated together].
We like it. That helps, that we like it a lot. We're always trying to make it the best we can.
What's your favorite part of running Precious Angels?
You get the very first pick. It's the ultimate shopping experience!
We love the people [and] getting to know the consignors, making friends and acquaintances.
Seeing the faces over and over. We can see the same people sale after sale, and watch their kids grow up. It's a sad time when the kid becomes a teenager and we don't see [these repeat customers] anymore.
It benefits the community. We're glad to be a service like this for people who need or want to find a deal. We're happy we can present this atmosphere for them.
What's your least favorite part?
The public days are really long, hard, 16-hour days. At the end of that we're really sleep deprived and really tired.
We're perfectionists, so if there's anything that goes wrong, any bumps, Jennifer and I are both similar personalities, we can be stressors. We want everything to go perfectly and smoothly, and sometimes we can both get stressed. But other than that, there's not much that we don't like.
What businesses and people were an inspiration to you?
Me and my partner really inspire each other.
We're part of a big nationwide association of sale owners. We pay attention to that page on Facebook. A sale owner created that page, and invited others, and now a lot of people who run sales all over the country are part of that.
Conversing with our workers, our consignors and our shoppers. If there's something they'd like to change, Jennifer and I try and listen. We talk a lot with our volunteers, and sometimes they'll bring a different perspective.
Kim, the original Precious Angels owner [was important]; the business model was pretty much established when we bought it.
What are some of the challenges you have overcome (or are still working on overcoming) in growing your business?
Keeping a good location. We've had to move a few times. Keeping a good location that has enough parking.
Having enough volunteers.
Keeping people informed about when sales are, and letting them know that this model can be more profitable for sellers than some of the other consignment options in the Murfreesboro area that can literally give the seller a nickel for a shirt.
Acquiring new clientele, keeping high standards. Making sure that what we take in is held to a high standard. Especially when you have other people checking items.
How are you getting the word out about your business?
We have an email blast that we do electronically.
We have a Facebook page that we both post on a lot.
We have a postcard that we send via normal snail mail.
We also put out flyers by hand. Our team will take a stack of flyers to day cares, pediatricians, playhouses, jump houses and other businesses around town. We have a sponsor that does the other side of the flyer, Children's Dentistry and Orthodontics. My kids went to the dentist there, and I noticed they advertised a lot. I asked them if they'd like to advertise on the back of the Precious Angels postcards . . . Dr. Mallette and Dr. Faiz have helped us with the cost of printing those flyers and have been on there ever since.
Who are your customers?
Moms, dads, even grandparents. Grandparents sometimes want to get items for their own house. It's a whole family affair.
Sometimes aunts and uncles. We have teachers and daycare owners who come for toys for their classrooms or businesses.
What is your advice to someone starting a business?
Do something you love to make it seem not like work, which is why we like our business so much.
Try not to stress.
Enjoy your relationships with your clientele. Take really good care of your customers and your workers.
If you are going to have a business partner, make sure it is your best friend.
~~~
The next Precious Angels Consignment Sale will be held April 26–29, 2017, at the new Mid TN Expo Center, 1660 Middle Tennessee Blvd., Murfreesboro. For more information on Precious Angels, visit facebook.com/kidsale or paccs.net.