Ladies and gentleman, boys and girls, children of all ages, the Train Daddy proudly brings to you sports news, life lessons and politically incorrect talk. It's a recipe for success, or maybe just a recipe for one strange article; regardless, it's my style, and as I near a decade of writing for the Pulse, I want to thank you!
This article, this amazing paper, wouldn't be possible first and foremost without the hard work behind the scenes: a grizzled Captain Mayo and his beautiful wife, Madame Mayo (along with little Junior), started this thing, and the wheels on the Pulse go round and round because of the Mayo family.
I am humbled that people read the words I compose for every issue. If I can make a few folks smile, laugh and think, well, that's a bonus, because I simply enjoy creating these masterpieces.
I have learned one thing over the years—no matter what you say, someone will always cry foul. I could say "up" and the critics would say "down," or I could say "yes" and the critics would say "no." There will always be critics, but critics make loyal readers, so thank you, too!
Critics will always complain in an attempt to fit their narrative. In years past I even had a critic claim they would castrate me because of my vocal disdain for baseball. Time keeps going, yet baseball still sucks, and folks, I still have my balls!
All aboard! Train's out the station. Let's start with an "uppity 80-year-old" taking on the MMA. It's upsetting that Hollywood isn't more diverse in terms of thoughts and opinions. Hollywood preaches the importance of diversity, and then slams anyone who disagrees with Hollywood. Besides Tom Hardy being a bad ass, it's upsetting.
Recently Meryl Streep used the Golden Globes as a stage to bash President Trump and attack sports, implying the game and its fans are a waste of time. The old hag stated Hollywood is crawling with foreigners and if Trump kicks them out we would only have MMA and football left for entertainment. She then went on to state that the MMA is not the arts.
Yeah! Isn't ironic that Meryl is pleading for unity and non-discrimination, then goes and discriminates against an entire league full of diverse athletes. The MMA literally is a league that celebrates male and female athletes from around the globe. These people work for years practicing the meticulous skills (yes, arts) that are Mixed Martial Arts, and they come from around the globe to showcase their skills in America. Honestly, the MMA is even more diverse than Hollywood, but you don't see those athletes preaching to the rest of this country as if their ideals and word are final.
President of the UFC Dana White stated he didn't expect "uppity 80-year-old" Meryl Streep would be in the demographic and have love for the MMA.
______
On to a new subject—something we all love, something we aren't divided on, and something that brings us all closer together. Is that possible? Yes, it's March Madness, folks!
I always get the blues after the Super Bowl, but it will be OK, the madness of March is soon to be upon us. I am no NBA fan. Big names and big contracts control the teams, not the coaches or owners. Team unity in the NBA is usually defined by the mood of the superstar; as long as LeBron is happy and treated like a king, the Cavs will be OK.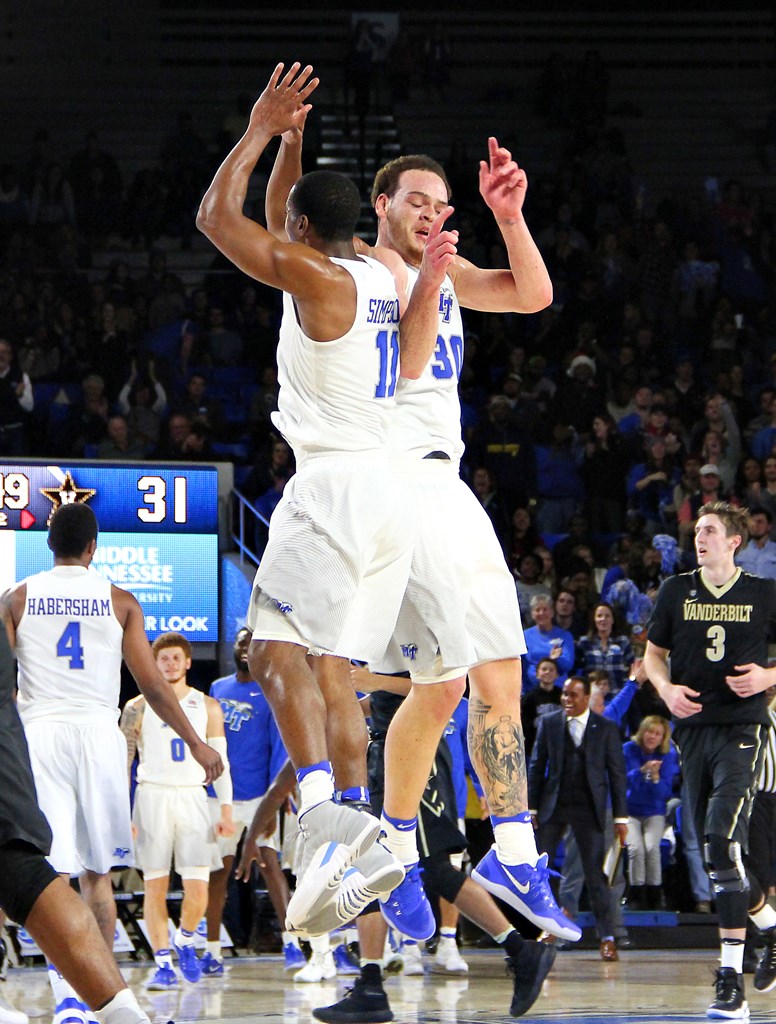 College basketball, on the other hand, is special. Anyone, anytime, can make a name for themselves or their program. The world wasn't aware of Steph Curry until he led his 2008 Davidson team to the Elite 8. A star was born. I love the Cinderella stories that blossom from the tournament. In 2006 George Mason, an 11 seed, made it to the Final 4, knocking off Michigan State, NC and Connecticut. In 2011 VCU had to win a play-in game to even qualify for the field of 64 teams, ultimately losing to Butler in the Final 4. In 2013 Florida Gulf Coast—"Dunk City"—and the Wichita State Stingers both danced with Cinderella in their own rights.
Let's not forget what the hometown MTSU boys did last season. Basketball historians from Harvard to Yale to the pits of hell all agree, MTSU knocking off Michigan State was the biggest upset in NCAA tournament history.
13 million brackets were turned in last season, and 23 percent of them had Michigan State the lone survivor of 64 teams. More money was bet on Michigan State than any other team in Vegas last year, and MTSU broke all their hearts.
Show your support for MTSU as they dominate Conference USA. Many folks believe this season's team to be the most talented team the school has ever put on the court. Coach Davis has the team winning, and winning generates attention and brings new fans to the arena. This team deserves more bodies in the stands, playing quality basketball. Don't be surprised when they surprise the world again this March. Show your support, Murfreesboro—MTSU has taken the reins as the state's best college basketball program.
I was inspired after reading an article about superfan Fred Lovelace. The 88-year-old Murfreesboro resident and MTSU fan has witnessed over 1,000 games and sits courtside at every Murphy Center game. He was even witness to the inaugural game versus Vandy in 1972. I tip my hat to fans like Lovelace, who deserve to be courtside when MTSU succeeds; he is as much a part of the history and success of MTSU as any other factor.
Come March we will pull out that Sharpie and prepare to do battle with friends and family, all in hopes of having the perfect bracket. Millions fill out brackets and throw down a little money—it's damned patriotic! The NBA is a long, drawn-out dunkfest full of no-call walks. College basketball manages to stay pure and true to the game—the passion, the defense, sharp shooters, the fans and the fact that any given game a superstar can be born.
______
Back to the controversy! Let's move onto ESPN, who suspended/fired tennis announcer Doug Adler for comments he made about Venus Williams during an Australian Open match.
Race baiters around the globe took to the internet to bash Adler for comments most certainly taken out of context. ESPN took sides, appeasing the morons and suspending Adler.
During the match, as Adler was praising Venus and her aggressive style, he stated, "You see Venus move in and put the guerrilla effect on." Due to racial sensitivities and Venus being an African American some people assumed he meant "gorilla," not guerrilla. ESPN suspended him from all remaining gigs, stating he should be more careful with word selection. Have we become this sensitive?
Adler apologized for the misunderstanding, later clarifying he meant "guerrilla," a Spanish word used to describe badass warriors. Adler, a former tennis pro and long-time tennis announcer, had used the term in past matches—proof there was no malice or intent to do anything more than expand vocabularies. It appears broadcasting has become a dangerous word game. Don't misspeak or the race baiters will have your job.
The louder than loud ESPN analyst Stephen A. Smith is under fire again. Usually I am the one dumbfounded by Stephen's statements, but this time I applaud him for being sensible.
Smith recently used MLK Day to defend African-American leaders and celebrities who meet with Donald Trump and receive backlash. Smith used his show First Take to fire back at people calling these African Americans Uncle Toms and sellouts for nothing more than a meeting. Just a week prior, Steve Harvey was ridiculed after meeting with Trump to discuss partnering with HUD nominee Ben Carson in an attempt to help restore America's inner cities.
Smith inquired, "Has anyone thought about what impact it could have if Trump spoke to LeBron? How about Steph Curry? Mike Tomlin, Tony Dungy, Chris Paul, Adam Jones?" he continued. "What then? Will they be sellouts too, just for meeting with the man?"
Smith has made crazy comments in the past, retracted many and crossed the line numerous times; he has had a long career and is on TV every day. It's refreshing seeing Smith use his platform as an African American to say something so sensible. He never said you have to like or support Trump; he only made a common-sense statement.
Thank you! Such stupidity and such divide for no other reason than people being stubborn. Open communication without condemnation would be so much more beneficial for race relations in America. This single comment has more weight behind it than anything Colin Kaepernick attempted to do this season, disrespecting the flag.
______
The Train Daddy is rolling into the station . . . let's wrap this thing up. As I say every issue, be thankful you live in America. If you're unhappy, live your life following the 5 F's: Faith, Family, Football, Food and Friends.
Can we all just get along? For me personally, I hold close to my family, my friends and my intelligent yellow lab, Molly. Maybe I am out of the loop. I am thankful for what I have, and I dream towards what I want. You can call me ignorant, uninformed, benighted, unknowledgeable, whatever you want. But if people would stop whining and start helping those in need with actions rather than words, this country would be a better place.
Choo-choo!