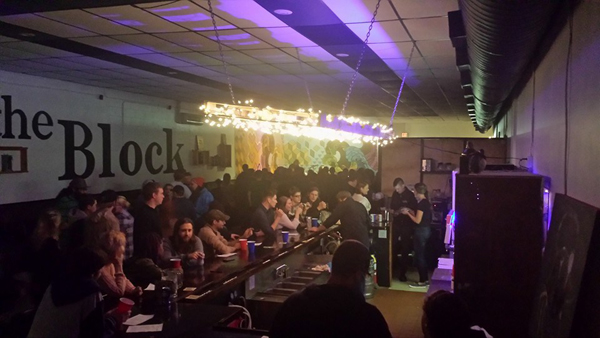 Local restaurant and venue The Block is now permanently closed, according to the proprietor.
"It is with a heavy heart that we must now announce our imminent closure," a restaurant representative announced in a Jan. 25 Facebook post. "Today we found out, despite our fundraising efforts, our lease has been terminated as of the end of the month."
Since opening in October 2015, the venue—located at 123 SE Broad St. in the Discovery Plaza shopping center and owned and operated by Manny Santana—has been a go-to spot to see local and touring bands perform, in a addition to showcasing local artwork and preparing locally sourced dishes.
Facing the possibility of closure, the restaurant launched a GoFundMe campaign on Jan. 4 with the hopes of raising $5,000 to keep its doors open. Despite an immediate influx of donations and business after the campaign was announced, fundraising efforts stalled at just over $3,000.
"There was a slight boost in business for the days after we had originally made the rallying cry, but that fell away to nothing again," the post continued. "We've hardly served any tables, unfortunately, during our recent lunch or dinner services."
Locals' reactions to the closure were mixed, with many attributing the closing to poor location or advertising. Regardless of the reasons, many were disheartened to know that a beloved local spot for culture was being shuttered.
As for an eventual return of the $3,000 raised, that's unlikely, as the money went towards already curated bills.
"The funds raised were basically spent as they came in to pay back bills so we could continue to be open for the time we have been," the representative posted to Facebook. "We may regroup and come back in a different form some day, but for now we have no definite plans."
All tier rewards for donating, such as drum lessons, a private party and homemade soap, will be honored. All currently scheduled shows have been moved to Autograph Rehearsal Studio, 1400 W. College St.