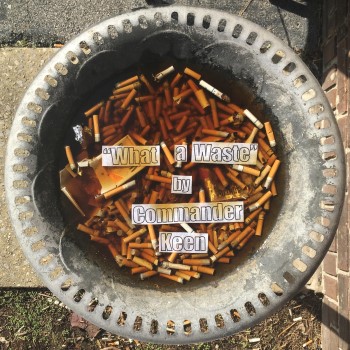 Named after a '90s video game of the same name, Commander Keen wields a sound that encapsulates sweaty house-show moshing and staying up 'til dawn for the sake of good music and friends. The trio, now Cookeville-based but active in the Murfreesboro scene over the years, began recording its debut in the summer of 2015, though the effort fell flat and band members decided to start from scratch. A year or so later, with the help of engineer Nick Ohren, What a Waste packs a punch with nine tracks spanning just 20 minutes.
With Blake Marlow on guitar and vocals, Matt Billings on bass and Zach Ramsey handling percussion, "Die Hard II" kicks off the album with a scuzzy guitar buzz that lingers throughout the release. Marlow's sing-scream vocals, paired with catchy riffs and thunderous drums, recall that of Nashville garage rock duo JEFF the Brotherhood with early Diarrhea Planet thrown in for good measure. The second track, "Carolina Avenue," is a college mantra about staying up all night that ends with a solid minute of relentless shredding. "The Pit" lives up to its name with a mental image of headbanging in the pit. Next up is the anxious, piano-riddled "Yr Heart," followed by "Low Budget Dreams" and "Good Sport Game."
The album as a whole is one big party, but it also captures the sobering reality of post-graduation unease with lyrics like If I live to be older than 23, box me up and send me down the line on "Die Hard II" or Try to grow up / But I'm stuck in this rut for good on the album's closer, "Die Hard I."
Albeit short, What a Waste is a solid release that drives home part of the college experience (if a combination of drinking, smoking and live music is your thing). It's fun, raucous and, at times, a little outlandish, but it's worth checking out, especially if you follow the local house show circuit.
If you want to catch the band in Murfreesboro or a nearby town, head to their Facebook page for show updates. To listen to Commander Keen now, visit commanderkeenband.bandcamp.com.