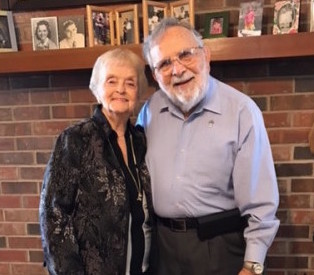 What is it that can keep a marriage together for 74 years? Not just being married, but being adored, honored and respected by each other? According to Murfreesboro's most precious couple, Ted (92) and Bea (90) Cromer, "living this long doesn't hurt!" All humor aside, Psalm 91 became the life chapter by which to live and love each other. Whether together or separated by circumstances, they made a vow to each read that chapter in the Bible every single day!
"He that dwelleth in the secret place of the most High shall abide under the shadow of the Almighty."
Their union and life together deserves to be made into a book or movie. For now, I will give a snapshot of what I feel this marriage has accomplished in order claim "Living Exceptionally Well."
Ted and Bea met at a church auxiliary gathering in Muskogee, Okla., when they were only 15 and 13, respectively. They were sweet on each other from the start. Both were raised in families that had a strong Christian foundation. They dated for three years, enjoying bicycle rides, long walks, talks, family gatherings, games and meals together. They knew they were right for each other because they both felt it deep down. The elements that encouraged their union were the support of their families and church friends, and being led by their trust and deep faith in God. Ted was to join the Navy in early 1943, so they wanted to be married before he left for boot camp. Due to their ages, the law wouldn't allow them to marry in their hometown. That didn't stop them. A family member learned of a way they could marry in Joplin, Mo. So off they went to the home of the clergy that would marry them on Christmas Eve of 1942. Bea remembers the house was beautiful with the Christmas tree lit and the smell of sumptuous home cooking in the air. It was a small, intimate setting complete with just the immediate members of their families. Yes, they were both virgins when they married.
Ted left for the Navy within a month. Bea kept busy with family chores and being home-schooled, since she, as a married woman, wasn't allowed back in public school. Later she was allowed to attend the school but in a private room where she could self-study. Neither of them graduated from high school, but both received their GEDs, then went on to receive masters degrees. Ted has four degrees from SW Baptist Seminary, including a doctorate of ministry. Their daughters joked they should write a book titled "How to Put Your Parents Through School," since they were in school the entire time the girls were growing up. Once their daughters, Janis and Tedi, were grown, they left them in the States to answer the call to serve in Monrovia, Liberia, West Africa. They lived there for 15 years, though they anticipated living there until they retired. They made an incredible impact in that area by starting 79 churches and teaching the locals to read and write. They helped write the Bible in the native Bassa language. They even had quite the surprise when the Africans prayed in their native style for Bea to conceive. They gave birth to a boy in 1970 and named him Dehru—"God's promise." This part of their journey ended when Bea and Dehru had to escape Monrovia, leaving Ted under house arrest. They had to wait months to find out if he was dead or alive. Relief came when they received a call telling them he was in New York City and on his way home.
Throughout their entire lives their love and trust of God never wavered. Ted had several opportunities to make more money, but when they prayed for direction God steered their life ship in more profound ways. They never doubted they were doing exactly what they needed to be doing.
So what are some of their "secrets" to living exceptionally well? Trust in God. Spend real time with family. Sit down and do family things together like play games, talk about life, listen to each other, don't compete. Love and trust each other and be accepting of one another. They have lived what they call a "natural life" that included no drinking or smoking, lots of walking and time outdoors. They have always eaten well—and included big dips of ice cream. They kept their family life stable. When asked what advice they would give to those wanting to get married today they didn't hesitate. Couples should be sure it's real love. Do not marry too young. Don't rush into it. Get to know each other. Really know each other. Make a life commitment but keep it spicy, and add a lot of love. Learn to say "yes, dear." Learn to agree, and really listen to each other. This openly affectionate and loving couple still looks forward to being close to each other each day. They start and end each day with a hug and a kiss. He makes her bed each day and she sits up every night until he falls asleep before retiring. They say that if they had it to do all over again, they wouldn't change a thing.
They reside with their daughter Janis and son-in-law Chet, who enjoys coffee at the table with them every day. To get more insight to this smart, sweet and loving couple you can tune in to TED SED on Facebook and catch some glimpses of living life exceptionally well. There are many levels of love and like but this one has to be pretty high on the chart!
Pray (God first). Love. Live. Repeat.