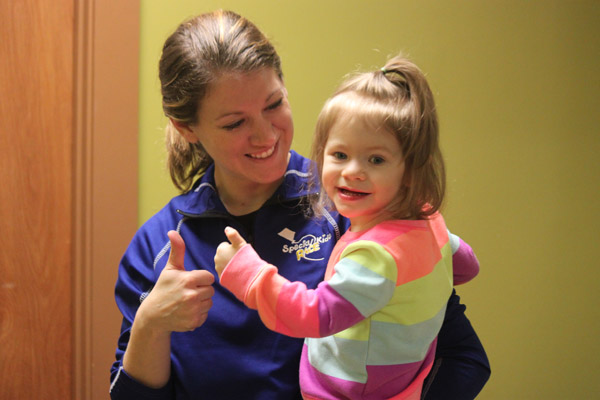 She comes across as shy when you first meet her, but, within minutes, her smile lights up the room and she's ready to show off all she knows and can do.
Holland, this year's Special Kids impact race partner, was born in January 2014 at 25 weeks. She was premature and weighed only 1 pound, 6 ounces. Her first 89 days of life were spent in the NICU. She was diagnosed with failure to thrive when she was a year old, after having feeding difficulties that eventually led to her receiving a Gastrostomy feeding tube (G-tube) in order to receive nutrition. Then, at 2 years old, she was also diagnosed with cerebral palsy.
Special Kids is a nonprofit therapy and nursing center for children with special needs. The Murfreesboro-based ministry started with one child in 1998 and has grown to serve over 3,000 children from 18 counties in Middle Tennessee.
Holland's family discovered this organization in the fall of 2016 as they were researching options and realized they had other acquaintances whose children have also been treated at Special Kids. The peer-modeling program in the Nursing Center was a large part of the appeal for Holland's mom and dad, Megan and Daniel, and they knew that it would be beneficial for Holland. She now receives physical, occupational, speech and feeding therapies and is also part of the Special Kids nursing program.
"Wow!" shared Holland's mom, Megan, to describe one word on the progress Holland has made since starting Special Kids. Holland has learned new words and can now speak in complete sentences. She has also improved her mobility skills and is trying new foods. Holland shares a unique bond with her new friends in the peer-modeling group at Special Kids, who motivate her to advance in the nursing program.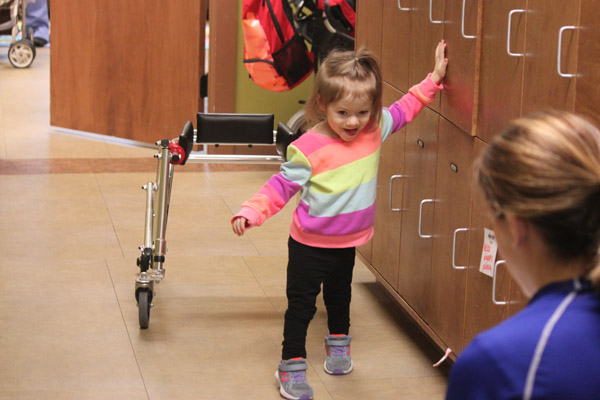 Holland is just one example of the positive influence Special Kids can have on families of special needs children. Each child that enters a program at the facility hopes to experience progress much like Holland has done. Special Kids is able to make this growth possible because of fundraising events like the annual Special Kids Race.
Each year, the Special Kids Race is held as a fundraiser for the Therapy and Nursing Center. Race participants, teams and even individuals not running or walking can additionally help children with special needs by joining Impact Special Kids, an online fundraising community that helps supporters turn their fundraising ideas into a reality. Impact members can participate as individuals or create their own team. Every dollar raised goes towards offering services to all of the kids—not one child in particular.
The 6th Annual Special Kids Race will be held on Saturday, April 8, 2017, at Murfreesboro Medical Clinic. Space is limited to 3,250 registered participants in this huge event. Runners and walkers will have the opportunity to join in one of three race distances—15K, 5K or 1-Mile Family Fun Run. The event welcomes all levels of participants and encourages the whole family to get involved.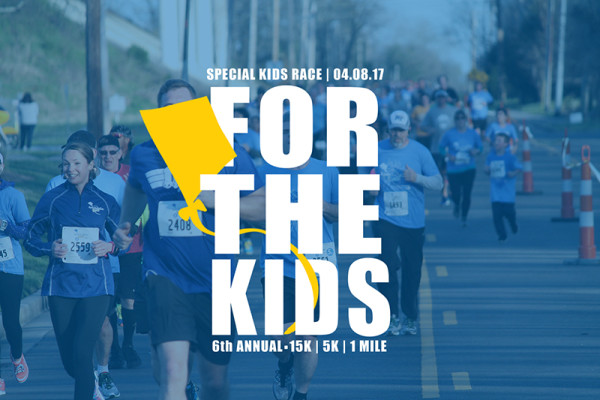 "We are looking forward to our sixth year of this event," says Stephanie Folkmann, Special Kids director of development. "In addition to our impact program, we will also continue our program for businesses to become involved called the 'corporate challenge.' Our hope is that the community and businesses will take hold of these fundraising opportunities to come together for the kids."
The corporate challenge encourages businesses to pay for their employees' registration and to commit to raising funds for Special Kids.
Another way of helping the cause is to participate in the race at the underwater treadmill facility, Beyond Aquatics. The underwater treadmills are in heated, four-foot-deep pools. The benefit of the underwater treadmill is that it takes 80 percent of the weight off the person walking. So, for those unable to walk in the regular race, this is a good way to show support.
To register for the race, or discover more information about impact fundraising, visit specialkidsrace.org. Race sponsorships are available for local businesses to join MMC in supporting the event. To learn more about sponsorships, contact Stephanie Folkmann at sfolkmann@specialkidstn.com or (615) 893-4892.