Therefore, since we are surrounded by such a great cloud of witnesses, let us throw off everything that hinders and the sin that so easily entangles. And let us run with perseverance the race marked out for us. ~ Hebrews 12:1
Run: a three-letter, one-syllable word that has had a profound influence on Russell and Kachina Rodden's life.
In July 2016, the husband-and-wife duo released Embers, a four-song worship EP under the moniker Free Run.
"While we were dating, I went through a period of time at my apartment when I prayed and asked God to speak to me," Kachina says. "I heard 'run fervently,' which isn't a word I hear or use often. . . . I later went back to Hebrews 12:1, and I knew right away that's what it meant."
Kachina later discovered that the word had also appeared frequently in Russell's life through various scriptures. So when the couple's pastor mentioned the word "run" while praying for them one day, Kachina says they took that as a sign.
"It's something that has been confirmed in our life over and over," she says. "It's not about running away from from anything—it's about us having all of these people running along beside us."
Russell and Kachina, now in their third year of marriage, met as servers while Kachina worked on a bachelor's degree at MTSU.
"We were friends for about a year and a half before we ever started dating," she explains.
Even though she admits to eventually falling for Russell, she says it took time because she didn't want to get distracted or slip into a routine.
"I decided that I was going to stop pursuing any kind of relationship and instead focus on my relationship with God," she says. "I was reading more, praying more, and then I started to see myself again."
However, one night after a Christmas sweater party, Kachina went home and asked God to show Russell what steps to take if he wanted to take the lead," she says. "That night he texted me, and the next day he asked me on a date."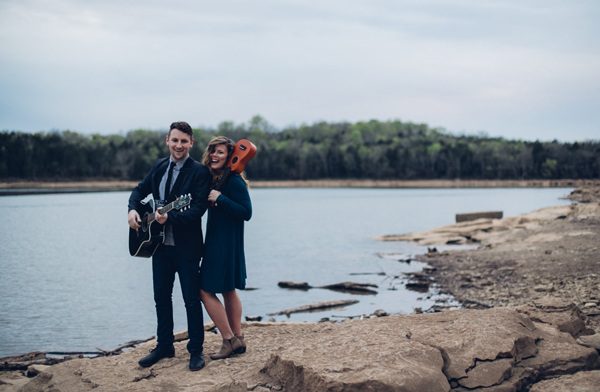 The couple dated for four months before Russell proposed, and they decided to tie the knot three months later.
"We knew it was meant to be," Russell says. "So we thought, 'Why not jump right in?'"
In addition to securing the guest list, choosing a venue and planning a reception—the typical wedding planning rituals—Kachina and Russell checked an additional item off the list before the special day arrived. The couple co-wrote a song, a sweet bluegrass tune with upright bass accompaniment, to perform at the wedding.
"Songwriting is something we wanted to do from the beginning," he says. "We started out writing together for our wedding, but it just happened naturally after that."
Not only does the couple share a musical chemistry, but music is a vein that intersected in both Russell and Kachina's lives at an early age.
Russell spent his early childhood in Texas and Oklahoma, where his mother, a formally trained vocal performer, helped weave a musical thread into his life. After relocating to Murfreesboro at age 11, he became involved in his church's band, where he sharpened his piano skills and learned how to play guitar and drums.
Kachina, on the other hand, grew up in Wayne County, Tenn., where she and her three sisters sang at church and family reunions. Her father's musical past, one that included a performance on the Grand Ole Opry stage, inspired her to explore songwriting.
"I began writing as a teenage girl who didn't exactly know how to express herself," she says. "I then focused on worship music because that's when my relationship with God began to grow and progress."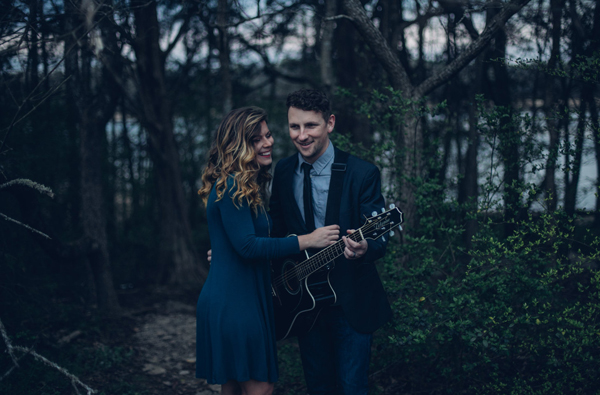 Now, Kachina and Russell teach music to the youth group at Turning Point Church, where Russell is a youth pastor. With music a recurring theme in the couple's life, Kachina decided one year to surprise Russell with the beginning of an album savings fund.
"In the past, I had recorded things on my computer," Russell says. "This time, we decided that if we were going to make an album, we needed to go all in and go for it."
With the guidance of friends in the music business and a successful Kickstarter campaign providing the funding, the husband-and-wife duo settled into two studios, Franklin's Castle Recording Studio and Brentwood's Fox Mountain Productions, to record the album along with several musicians.
"There are some songs on the album that are joyful that allow you to celebrate his love, and there are also songs that are pleading with [God]," Kachina says.
"We felt like we were pretty authentic with the songs that we've shared," Russell adds. "A couple of them are pretty honest, like the title track that basically says, 'I'm not where I want to be.'"
In May, Russell and Kachina will welcome a new addition to the family. In the meantime, Kachina says they hope to return to the studio to record a few more songs for their next project.
Embers is available on Spotify and Apple Music.