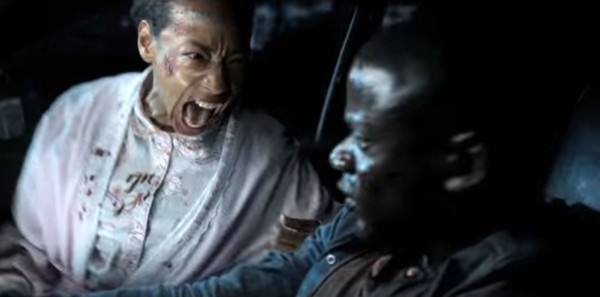 Get Out is writer/director Jordan Peele's one and only directing credit. Best known for his collaborations with Keegan-Michael Key in the show Key & Peele and the action/comedy Keanu, in which the two play suburban African Americans posing as gangsters to steal back the titular kitten, Jordan Peele has carved a niche for himself as a hysterical, genre-loving voice whose comedy explores the all-too-human grey areas between black and white. Get Out is no exception, aside from the genre. A horror/thriller of its time, Get Out is every bit as thrilling as Peele's comedy is hilarious, and above all, an astounding debut.
As simple a pitch as "a horror Guess Who's Coming to Dinner," the bare-bones premise belies its depth of possibilities. When Chris, a photographer, is invited to meet his Caucasian girlfriend Rose's parents for a weekend at their upstate estate, his apprehensions are echoed by his friend Rod and lovingly assuaged by Rose. When he meets Missy and Dean Armitage, they appear to be a welcoming, typical New England couple, Dean a neurosurgeon who likes to travel and Missy a psychoanalyst who specializes in hypnosis. After she hypnotizes Chris against his will (so he'll stop smoking), Chris begins to notice odd occurrences around the house; the groundskeeper running at night and the housekeeper staring at herself blankly in the mirror, as well as the fact that they are both African American, a fact that, Dean assures Chris, he knows and hates how it looks. Chris will soon realize that it more than "looks bad."
The eminently likeable prick Bradley Whitford and the stony, steely-eyed Catherine Keener are perfect as Rose's parents. His casual "my man's" and "you know what I'm sayin's" reek of forced effort. Allison Williams (Girls) is the perfect foil, the "rebellious" daughter who out-liberals and out-bohemians her parents by bringing home an African American boyfriend, but her penchant for fighting Chris's battles for him, though misguided, comes from a place of love. Daniel Kaluuya (Sicario, Black Mirror) takes it all in stride, conveying a lot while saying a little. He plays a man trapped between cultures with a natural cool.
The only weak link, and it's not even enough to subtract a sliver of a star, is Caleb Landry Jones as Rose's brother, who twitch-fiddles his way through every scene looking like a freaky, freckled Culkin. He's annoying but fun to hate, which may very well be the point. In an interview, Jordan Peele said his primary goal was to entertain. With Get Out, he succeeded brilliantly. This movie is suspenseful without being suffocating, political without being preachy, funny without being forceful and, perhaps most substantially, fun without being fluffy.