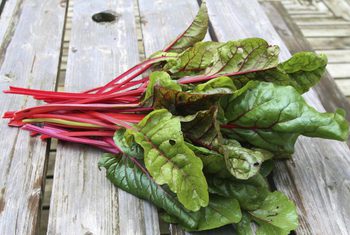 I made this recipe one night this winter and it was exactly what I needed. It was that proverbial "stick-to-your-ribs" kind of food. The kind of dish that engages the trifecta of childhood: cheese, pasta and cheese.
But this version is a bit more grown up with the addition of the Swiss chard and wine. For the Swiss chard I wanted to try something that would retain as many nutrients as possible so instead of sautéing it I simply mixed the noodles and mushrooms with the raw chard and baked it. It came out slightly wilted and full of flavor.
As with any recipe, this one is totally up to your discretion. If you don't enjoy chard, throw in some squash. The only thing I ask is that you use something that is in season, and your effort will equal your happiness while eating it. For those of you who enjoy wine, I would recommend pairing this with a Pinot Grigio. The spice and heavy cream will be offset by the crispness of the wine. If you don't partake in wine, an IPA works well too. The hope here is that the drink cuts through the fat and allows you to  eat more, prepared to face the cold wrapped in a blanket eating some cheesy pasta bake, like an adult.
Italian Sausage, Swiss Chard and Mushroom Bake
Serves 3–4
Ingredients:
1 lb. pasta noodles of choice
1 shallot, chopped
2 cups heavy cream
1 ¼ cups of Parmesan cheese
1 cup of white wine
1 lb. Batey Farm's Spicy Italian Sausage (see note)
4 ½ cups tightly packed Swiss chard ~ 2 bunches, Julienned
2 ½ cups sliced button mushrooms
2 ½ cups of sliced shiitake mushrooms
1 tsp. red pepper flakes
Salt and pepper to taste
Instructions:
Pre-heat oven to 350 degrees
To make the pasta: bring 4 quarts of water with 1 tbsp. of salt to a boil and then follow manufacturer's instructions.
Brown Italian sausage and drain off 90 percent of the fat, reserving just enough to sauté mushrooms. (*Note: I like to use the loose sausage, not in the casing. If you can only find sausage in casing, simply remove it from its casing.)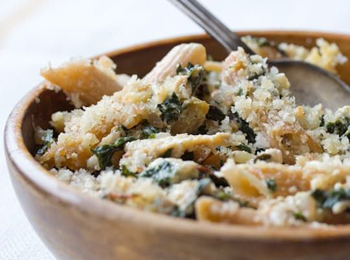 In the same pan used for Italian sausage, sauté mushrooms and shallots for 5–8 minutes, or until the mushrooms begin to release water.
Add wine and simmer for three minutes or until the alcohol is cooked out.
Add cream and simmer for three minutes.
Add 1 cup of Parmesan to cream, wine and mushroom mixture, stir to combine and not stick to the bottom of pan. Turn down heat to low and simmer for an additional five minutes.
Season with salt and pepper. (*Note: remember to use the salt sparingly as the Parmesan is salty, the water will salt the pasta and the sausage might be salty. Season, taste and re-season as needed.)
Combine mushroom mixture, Italian sausage, noodles and Swiss chard in a large bowl and stir to combine.
Pour into a baking dish and sprinkle remaining Parmesan on top with red pepper flakes and bake in oven for 20–25 minutes or until the dish is bubbling around the edges.