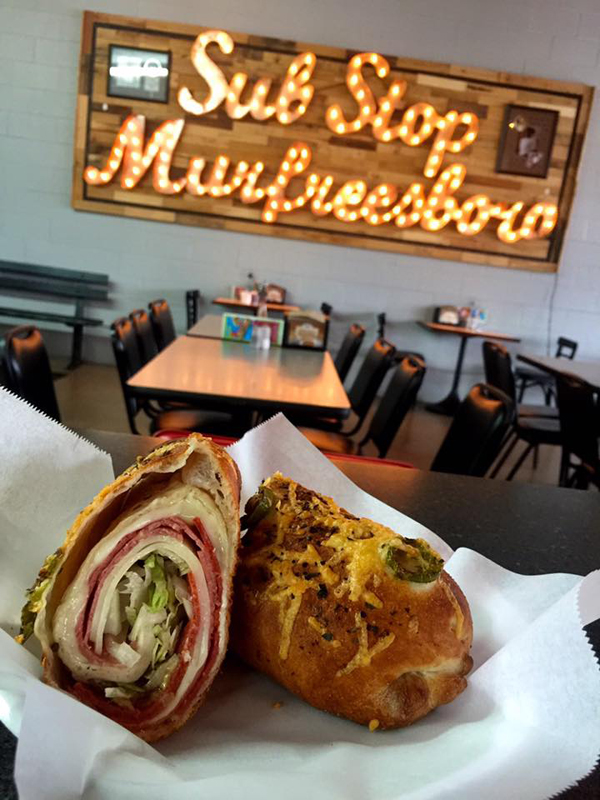 In case you have not noticed the bright pink building that sits across from City Hall on Vine Street just off of Broad Street, that is the home of Sub Stop, a long-running downtown Nashville lunch spot which now calls downtown Murfreesboro its home.
Sub Stop has become a popular lunch destination for hungry people from all walks of life in Murfreesboro.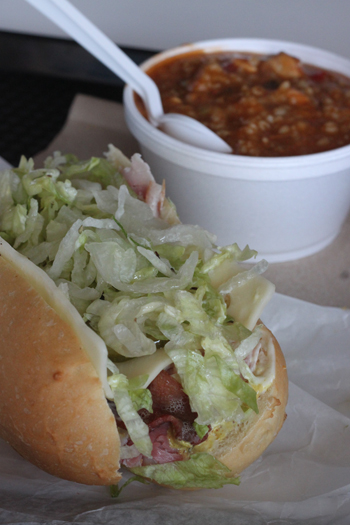 Travis Millwood purchased the business from the Grizzard family before relocating the sandwich shop to Rutherford County in 2015.
Now, each day, the lunch crowd files into the Murfreesboro eatery and places orders for sandwiches and soups. With local residents and business professionals chatting, Sub Stop staff calling out order numbers and country music wafting from the speakers, the noise level can be a little high during lunch hour and the place may not be ideal for a quiet business meeting, but the environment is friendly and welcoming, and sunlight pours in through the large windows.
When ordering a sandwich, guests can opt between white, dark or rye bread, go with a full footlong or half-sandwich size, choose their sub variety and toppings, and finally order the sandwich cold or toasted. Go with a classic like ham and cheese, a meatball and mozzarella, a veggie-only combo or the legendary chicken, bacon and ranch. Sub Stop offers a cheese sub, with the diners' pick of Swiss, American, mozzarella, smoked cheddar, hot pepper and provolone cheeses, and ordered toasted, this could make a nice play on a grilled cheese.
"The club was very good; they load these babies up!" commented one patron, Mindy, after enjoying her sandwich. Her only advice: "Order double bacon."
The bread is delivered pillowy soft, and a sandwich ordered "all the way" at Sub Stop means topped with lettuce, tomato, pickles, onion, oil and vinegar and oregano, but there are plenty of other veggies and condiments to select.
Sub Stop sandwich options also include submarine variations of the traditional Philly cheesesteak and the Reuben; those who enjoy the classic versions of these sandwiches will point out that they are not exact replicas, but still many enjoy the pepper steak or the Reuben sub choices at Sub Stop.
"What a sandwich!" Sub Stop diner Brett said after consuming a Reuben sub with its tender corned beef, mild Swiss cheese, sauerkraut and thousand island. "Man, it was tasty!"
In addition to the sandwiches, Sub Stop also offers a rotation of soups, ideal for a quick, hot lunch.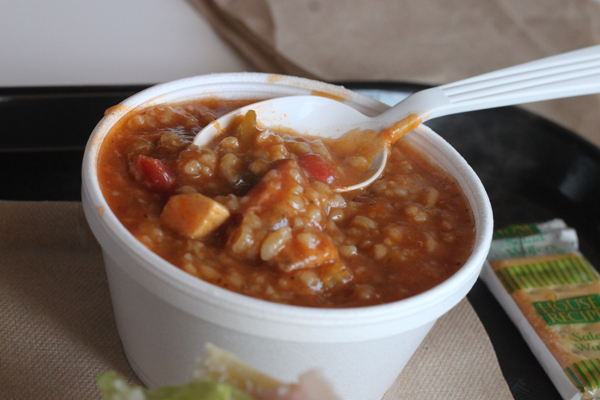 Many enjoy the chicken gumbo with andouille, a tasty dish with just a little spice to it.
"I cried the day I ate my last Sub Stop in Nashville and I cannot believe that as luck would have it, they would bring it to me here in Murfreesboro," Ashley Pope commented on Sub Stop's social media shortly after the restaurant opened in Murfreesboro in late 2015. "I was so worried that it would be different, something would be off . . . but at first bite, I was home. So grateful that we have not lost this true Nashville treasure."
The Sub Stop pizza has also become a hit. The pizzas, available as 10-inch or 16-inch pies, are served on a thin but chewy crust, light on the sauce but quite generous with the cheese and toppings, based on various reports.
"My favorite pizza in town, hands down," Bobby Turman Jr. said. Sub Stop "is a regular stop for me and the wife."
Another diner, who stopped in to try out the restaurant with a large party, called the Ultimate Meat pizza "some of the best pizza we've ever had."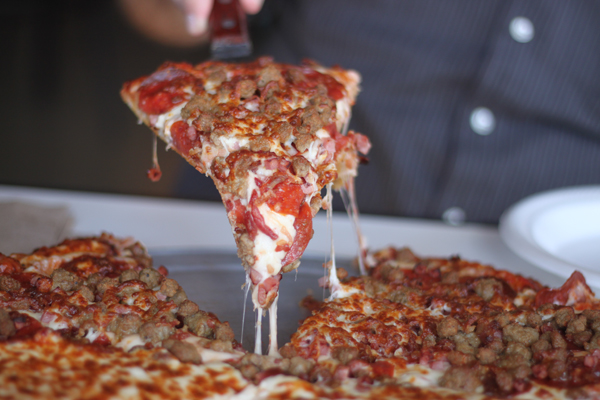 Still, a few diners say the Murfreesboro establishment has still not fully captured the magic the Nashville eatery did. Others will say the $9 sandwiches are a little pricey for what you get.
"But they have rent to pay too," one restaurant industry veteran acknowledged, and overall Sub Stop has received great reviews from the people of Murfreesboro.
Sub Stop does offer delivery during lunchtime (with no added charge), which is a plus for many, especially when multiple people in an office want to order lunch.
But the best option may be to venture into the pink building for yourself and join the lunch crowd one day.
"The soups are amazing, the sandwiches are huge," commented Karen, a patron from Murfreesboro. "The pasta salad and potato salad are amazing, and desserts are fabulous."
THE DISH:
Sub Stop
Address: 306 W. Vine St.
Hours: 10:30 a.m.–6 p.m. Monday–Saturday
Phone: 615-546-4656
Prices: Italian; Chicken, Bacon and Ranch; Pepper Steak and Mozzarella or any premium submarine sandwich—$4.89 (half), $8.79 (whole)
Bowl of Creamy Potato with Bacon, Crab Lobster Bisque, Chicken Gumbo with Andouille, Chicken Tortilla or any soup—$4.49
16" Ultimate Meat; Hawaiian; Chicken, Bacon and Ranch or any Sub Stop Pizza—$16.99
Online: facebook.com/substopboro