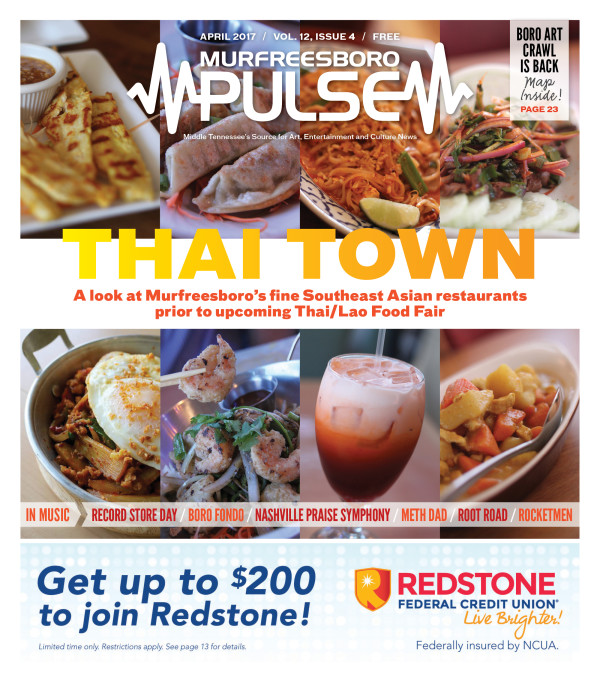 FEATURES
BORO FONDO FESTIVAL
Three-day bike and music fest returns to Murfreesboro, April 20–22.
THE ZOMBIES
Fifty years after its recording, band performs legendary Odessey and Oracle album at TPAC this month.
WELCOME TO THAI TOWN
April 29 Thai-Lao Food Fair celebrates Southeast Asian food and culture in Rutherford County.
SAFETY FIRST
Local Truck Driver Institute partners with Truckers Against Trafficking initiative.
SPORTS FOR ALL
Endure Athletics offers area homeless children life skills via the opportunity to participate in sports.
___ IN EVERY ISSUE ___
EVENTS
THIS MONTH
Music Mingle, Pioneer Days, Tai Chi Day and more!
SOUNDS
LOCAL CONCERTS
Harper and the Bears; Judas East and more!
Album Reviews:
Meth Dad
Root Road
Living
GARDENING
Helping your plants to flourish
ART
BORO ART CRAWL
Features works from Bill Barnes, Carol Berning and many other local artists
THEATER
A Murder is Announced
MOVIES
Life
Kong: Skull Island
LIVING ROOM CINEMA
The art of deception—in art
NEWS
ADVENTURES AT ASHWOOD COVE
Family tests survival skills during bomb scare
HIGHER EDUCATION
Tennessee Reconnect makes community college free.
NAVIGATING THE SYSTEM
The Abyss: Arrest warrants active for ten percent of population
BUSINESS BUZZ
Shangri-La; Veda's Flowers; Taco John's; PhatKaps
SPORTS
MTSU SPORTS
Blue Raiders win another first round NCAA game but fall in second round to Butler.
Sports Talk
Some inspirational athletes
OPINION
THE STOCKARD REPORT
Family files lawsuit against Rutherford Juvenile Detention.
VIEWS OF A CONSERVATIVE
Where is the proof that Russians hacked DNC server?
MONEY PULSE
Homebuying tips