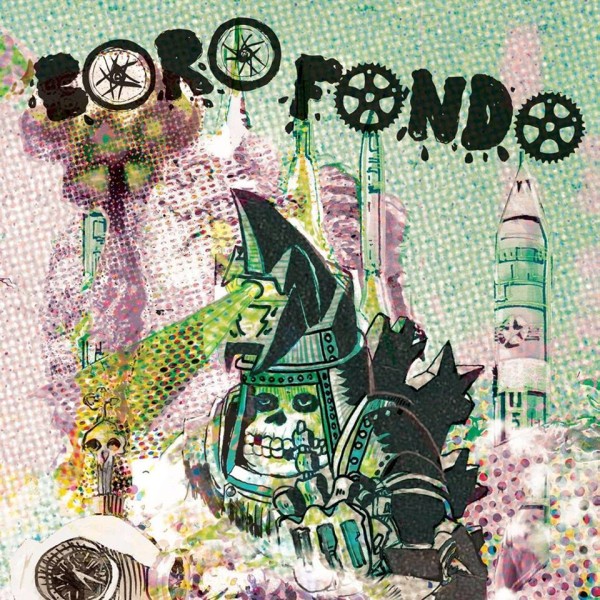 Springtime in the 'Boro brings many things: stormy weather, blooming trees (and consequently allergies), JazzFest and graduation ceremonies.
In the midst of it all is one of Murfreesboro's most music-centric and bicycle-friendly festivals, Boro Fondo, held April 20–22. Now celebrating its fifth year, Boro Fondo is a three-day event that combines aspects of the local culture and music scene at various venues across town.
In March, festival organizers rolled out the 2017 lineup in a zany fashion, with six Facebook announcement videos commentated by the one-and-only David Liebe Hart. Hart, who in the past made several appearances on Tim and Eric Awesome Show, Great Job!, provided a unique interpretation of each band.
This year's lineup features more than 70 acts, including many local and Pulse favorites, as well as touring bands from all over. But unlike previous years, the festival will kick off Thursday afternoon and come to an end late Saturday night, unlike the event's former Friday-to-Sunday arrangement.
In addition to music, Boro Fondo shines a light on local culture, with art vendors, various workshops and show setups at locally owned businesses. This year is already shaping up, with 400 people having RSVP'd via Facebook and more than 500 others interested.
So whether you want to cool off with a brew at Mayday Brewery, hide away in Middle Earth-themed restaurant The Green Dragon or pedal to and from various house show venues, there will be options aplenty.

Here are a few festival highlights to consider before packing up your backpack for the big weekend:
Acoustic Afternoon
Thursday kicks off as a field day of sorts, with all-acoustic performances, sports and activities, featured art and workshops. Get out of class early? Swing by for performances by SOS 1995, Maccabee, Apathy Wizards and the Eggplant Faerie Players, the latter a vaudeville circus troupe hailing from Ida, a 200-acre Middle Tennessee LGBTQ community of performers, artists and gardeners.
Friday Night Unites Brews, Art and Music
Friday is stacked with back-to-back shows at The Green Dragon and Mayday Brewery. Before settling in at Mayday at 9:30 p.m., check out day shows by Oh Grandpa, Aye Mammoth, Ashes of Folly, the Strumms and more from 3:30–9 p.m at Green Dragon. If there's still fuel left in you, head over to Lazarus House on Ewing for a couple late-night performances.
Saturday Kick-off
Prep for Saturday's all-day excursion with a host of local bands like Thunder Frog, Retro Pinocchio and others. This is the time to relax, hydrate and "pimp your bike." The location is currently TBA, but check the Boro Fondo Facebook page for updated details leading up to and during the event. After the first show, swing by the Boro Bar and Grill for Tomato Face and Apache Jericho. Other Saturday acts include the Acorn People, Natalie Madigan (the latest signee for Match Records, MTSU's record label), Mouth Reader, Sheep Shifter and about 30 others.

BORO FONDO 2017 LINEUP and SCHEDULE:
Thurs, 4/20
Pete's Field, 216 Eastland Ave.
2:30–6:30 p.m.
Inert, Ripped From the Roots, SOS 1995, Maccabee, Those of the Noble, The Eggplant Faerie Players, Delaney Dean, Apathy Wizards, GRASS2MOUTH
Liquid Smoke, 2 N. Public Square
7:30–11:30 p.m.
Roosevelt's Rough Riders, Charge the Atlantic, Bent Vent, The Quintessential Jude, Slurpasaur, The Mad Gear, Zobrodome, Ghost of Mars, Pure Land
Fri, 4/21
Green Dragon Public House, 714 W. Main St.
3:30–9 p.m.
Third Motion, Quinn Cicala & the Norwegian Backpackers, D'Vonna Taylor, C Is for Cadaver, Old Fox Road, The Good Routes, Oh Grandpa, Aye Mammoth, Ashes of Folly, The Strumms, Negra, Flummox
Mayday Brewery, 521 Old Salem Rd.
9:30 p.m.–12 a.m.
SixNip, True Fear, Regular of the Obscene, Skullkin, Zug, Bad Culture
Lazarus House on Ewing
12:30.–1 a.m.
Ripped from the Root, Peace Patrol
Sat, 4/22
(location TBA)
12–1:20 p.m.
The Hollows, Thunder Frog, Allison Drive, Retro Pinocchio, XYON
The Boro Bar and Grill, 1211 Greenland Dr.
2–3 p.m.
DUO!, Jam Force Five, Tomato Face, Apache Jericho
MPD House on Middle Tennessee Blvd.
3:30–4:30 p.m.
Mothyards, Chad Downing, Sterfry, Warlokk
Mercury Area
5:10–7:10 p.m.
Fischer's Kitchen, O'Summer, Cull, Mouth Reader, Heinous Orca, The Acorn People, Genie, Child of God
Ramona's Crack (a.k.a. Dicon Alley), 115 E. Lytle St.
8–8:30 p.m.
Jayme B., Illuminate
The Alley on Main, 223 E. Main St.
9–9:20 p.m.
Medusa's Disco, Natalie Madigan
Garage Bar, 405 N. Front St.
9:40–11 p.m.
Tank Rats, Knuckle Dragger, Bled to Submission, Abyss Walker, Sheep Shifter
MOAB, 710 Memorial Blvd.
12:10–1:30 a.m.
Betty Vou Plait's Seed Circus (burlesque), Gaffer Project, TAYLS, Day Drive, Slider, trans*