The MTSU Lady Raiders did not get their name called on Selection Monday; however, it did not signal the end of the 2017 season.
The Lady Raiders were able to extend their season into the Women's National Invitational Tournament (WNIT), where they met Morehead State in the first round.
Holding the higher seed, MT got the honor of playing in front of their home crowd. While the Lady Raiders led the entire way in the 67–58 win, they never were able to gain a comfortable lead.
It was the usual suspects who led the way for Middle, as Alex Johnson led all scorers with 26 points and Ty Petty chipped in 22. Johnson also matched her career high of 12 rebounds, earning herself yet another double-double on the season.
In spite of the victory, coach Rick Insell expressed his disappointment in his team not matching his lofty expectations.
"This was not a very good exhibition of basketball by our basketball team," Insell said. "Our fans deserved better. I am appreciative that we won and we found a way to play another game, but this was not the type of basketball we pride ourselves on at Middle Tennessee. We will get back to work Friday and Saturday and prepare for a good Wake Forest team in the second round. We will have to play much better against them Sunday."
Insell was much more pleased when that Sunday game rolled around. The game was close throughout until the Lady Raiders went on a 12–0 run in the fourth quarter. Wake Forest closed the gap, but could never regain the lead as MT won 73–66.
Petty and Johnson each scored 28 points, and each also had three assists. Accounting for their points and assists, Petty and Johnson contributed on 93 percent of the Lady Raiders points. Petty also led all players in rebounds with nine.
Unfortunately, the road ended for the Lady Raiders, and Ty Petty, when they went on the road to play Georgia Tech. The Yellow Jackets led the whole way—by as much as 25 points—as they held MT to just 35 percent from the field. Petty was the only Lady Raider to score in double figures as she poured in 21 points, dished six assists, and snatched five steals in a full 40 minutes of play.
Representing the Lady Raiders has meant as much to Petty as she has meant to Murfreesboro.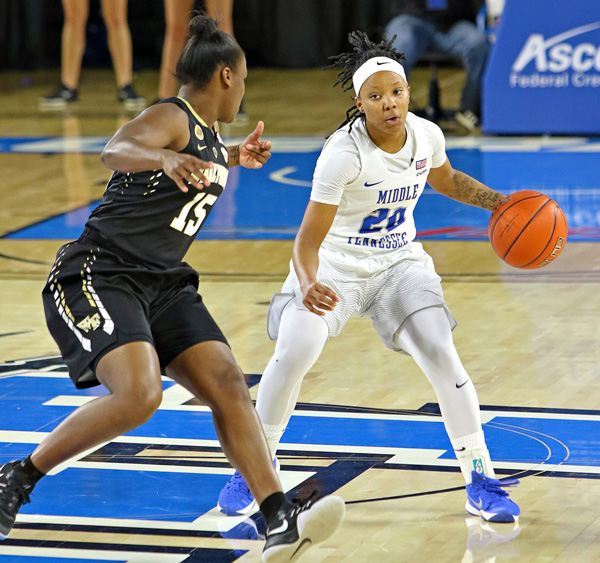 "I am going to miss it," Petty said. "Representing this university and program while playing with all of my teammates has been something I will cherish forever. I can't thank all of my coaches and all of the fans enough for what they have meant to me. Coach Insell has helped me grow so much as a person and a player. I just didn't want to see it end, so I gave everything I had until the very end."
Petty will forever be remembered for her tenacity and leadership on the court. She finishes her career with 1,453 points, 540 assists, 355 rebounds and 198 steals.
Barring any unexpected roster changes, Petty will be the only loss going into the 2017–18 season. However, the impact of that loss will be huge.
Katie Collier seems to be the most likely choice to step into the Petty's role. Collier, who will be a junior next season, has struggled when given the opportunity to contribute.
The rest of the starting lineup will be intact.
Johnson's position is unquestionably secure, but other players may have some push from the player behind them on the depth chart. Rebecca Reuter and Gabby Lyon will likely rotate as they have over the last two seasons. Each player has had moments of dominance and they have nearly split minutes evenly since 2015.
Kayla Allison will certainly apply pressure for a starting wing spot. Abbey Sissom will be difficult to supplant, however, considering her defensive contributions. Jess Louro, who missed the WNIT with a broken wrist, showed great development in her sophomore season, but will need to continue that development to stay in the starting lineup.
Jordan Majors was expected to figure in as a factor this season, but she suffered a season-ending injury after just four games. She is expected to be a significant contributor next season.
Current freshmen Charity Savage and Shayla Middlebrooks received playing time late in games this season, but stand to make a larger impact next year.