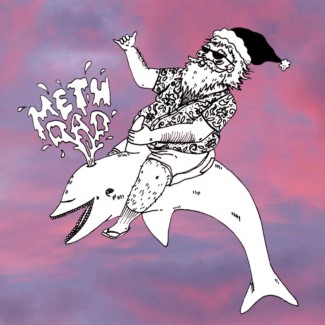 When I first moved to Murfreesboro, the one local artist friends told me I needed to hear was Meth Dad. Meth Dad is the super-weird, super-brilliant electronic project of Tyler Walker. Walker started recording under the pseudonym in 2008 while he was a student at MTSU.
Meth Dad has a new full-length entitled SWAT DRAMES due out sometime later this year, but first let's revisit his 2013 effort, Posi Vibes.
The 32-minute album is filled to the brim with glitzy, bright and fun electronic compositions. The sound is far from a trashy EDM party and is more in line with a down-and-dirty house rager.
Just imagine if Passion Pit made songs optimized for a intoxicated late-night basement show. That's the kind of dreamy party music Meth Dad is all about.
The listener is immediately thrown into this vibe with the opening two tracks. The lead track, "Tittiekittie" is a glowing pop song with chanting vocals that sound like a drunken singalong over 808s and starry synths. "Swimmers" is a dreamy love song, with zany vocals providing its earworm hook of I want to want you, to want to want me, too.
Another highlight of the nine-track album is "Stay Posi." As the title suggests, it's the most uplifting song on Posi Vibes. It's all about smiling big, keeping spirits high and just being there for your friends.
Now while the songs I've mentioned and not mentioned are solid, the true crown jewel of Posi Vibes is the infectious "No Parents."
The song is an all-too-short two-and-a-half minutes that gives you an onslaught of bright electronics, catchy melodies and exhilarating energy. Its entire feel fits Murfreesboro's youth culture too perfectly.
Sleep in 'til noon and eat breakfast at 3
We act how we want and be who we'll be
We travel the world and bring our whole crew
Cause life is for living and that's what we'll do
It's lyrics like that just encapsulate the mindset of being young in a college town like Murfreesboro. You've got big dreams, you're finding yourself and, most of all, you just wanna have fun. From its sweet love songs to its trippy bangers, that's what Meth Dad's Posi Vibes is all about.
Posi Vibes is available on Bandcamp, Spotify, iTunes and Amazon.