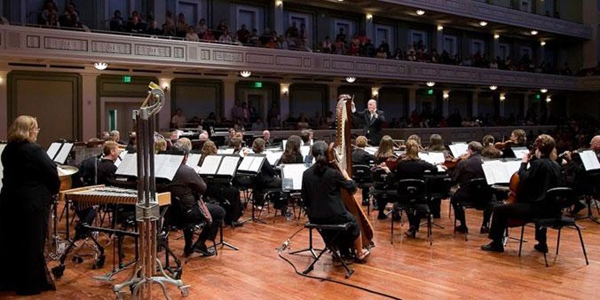 Now celebrating its 15th anniversary, the Nashville Praise Symphony will bring its rousing and inspirational sound to Murfreesboro for the only time this year as the 50-piece orchestra wraps its 2016–2017 season at St. Mark's United Methodist Church (1267 N. Rutherford Blvd.).
The NPS, directed by internationally known arranger/orchestrator and music leader Camp Kirkland, applies its extraordinary virtuosity to a repertoire dominated by hymns both classic and contemporary, along with patriotic favorites and special instrumental features. Augmented by a rhythm section consisting of electric guitar, bass and drum kit, the NPS offers the power and grandeur expected of any big-city symphony along with a versatility that allows for a broadly appealing presentation.
Every area performance by the Nashville Praise Symphony is free to the public but doubles as a free-will fundraiser for various ministries. Donations made at the Murfreesboro concert will benefit Woodbury-based Renewed Life Ministries Outreach, an organization helping restore men detoured by ongoing life struggles. The concert begins at 6:30 p.m.