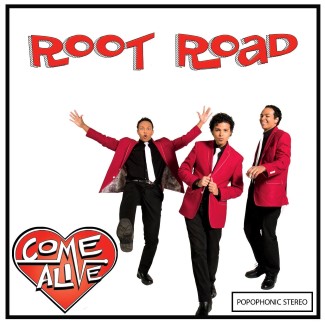 Fans of The Beatles and soulful pop will dig Root Road, a local three-piece with a Christian background and positive messages.
The band consists of brothers John, Anthony and Nathanael Gilkes, who all moved to Murfreesboro from Ohio in 2008. They've cut a couple releases including the full-lengths I Am Here and Masterpiece, a three-track mini EP and the solid holiday single "Christmas Time."
While those are decent releases in their own right, Come Alive really ups the standard for the group. There's a higher production quality and a fresh sound on this 30-minute, eight-track record, indicating that the band is heading in the right direction.
There are two prominent aspects of Come Alive: powerful vocals and the band's love of '60s pop.
On the influence front, Root Road (presumably) really likes The Beatles. The opener, "I Believe I'm Free," has a happy, horn-filled arrangement right out of the Sgt. Pepper's Lonely Hearts Club Band songbook. It even has a silly spoken word section a la "Yellow Submarine."
You can also hear this on the instrumentally strong "Smooth Sailing." The trio delivers some beautiful, subdued harmonies akin to Abbey Road's sublime "Because" with lyrics such as Goodbye stormy haze / Hello sunny rays.
Those harmonies are one of the group's strongest qualities. The group is full of vocal talent and chemistry, as displayed on "It's Been A While," a moody, melodic cut reminscent of The Who's "Behind Blue Eyes."
Elsewhere on the album, the soulful, acoustic guitar-driven "Forbidden Love" will stick in your head, while other highlights include the title track's outstanding solo vocals, featuring multiple band members, and some interesting harmonica playing on the somber "Parallel."
The only true rough spot on Come Alive is the closer, "That's the Way." The band goes for a generic, boy-band-like contemporary Christian sound, and it just ends the release on a "meh" note.
But overall, while you can clearly hear Root Road's influences, their latest album has what it takes to make the brothers' careers come alive.
Come Alive is available on Spotify, iTunes, Amazon and CD Baby.