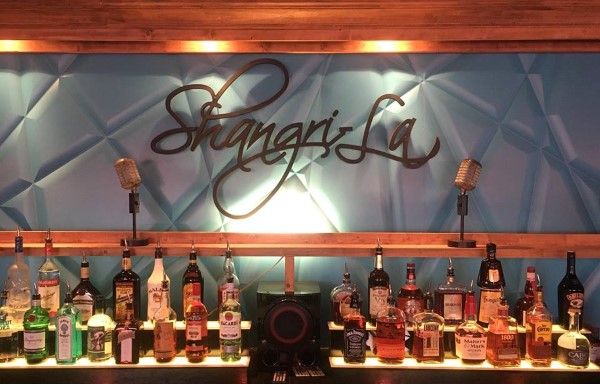 Christa Fly and Timothy Hopkins have transformed the bar space at 1208 S. Lowry St. in Smyrna (the former site of Willie's Wet Spot).
Now known as Shangri-La, the freshly renovated and painted establishment provides a comfortable place to relax and have a drink, and Shangri-La will always be offering a fresh, homemade sangria, according to the business' social media posts.
Shangri-La hosts live bands on its stage on weekends.
Additionally, Travis Millwood, owner/operator of Sub Stop, is working with the Shangri-La staff in developing that establishment's menu; Millwood is reportedly working on a new location of his own, in Nashville.
___
Hattie Jane's Creamery, the ice cream and coffee division of Puckett's Grocery, is now open for business next door to Puckett's on Church Street on the Square.
___
A mother/daughters team has purchased the downtown Murfreesboro building at 27 S. Public Square.
Pat Patterson, along with daughters Vickie Watts, Rhonda Hingst and Kim Reynolds, aim to open Veda's Flowers and Gifts later in April.
Watts, who has had a long career in the floral industry, says the business will offer delivery of flowers for funerals, weddings, anniversaries, birthdays and any occasion the customers wish. She looks forward to arranging delphiniums, stock, orchids and other flowers in her new work space.
The shop wants to customize its flower deliveries, Hingst noted, saying the shop, named after their grandmother, Veda Francis Conner (1922–88), will offer a "higher line of flower arrangements," nice baskets to place them in and a selection of home décor and gift items.
Learn more about Veda's at vedasflowers.com.
The building, located at the corner of Maple Street and South Public Square and built around 1900 according to its owners, formerly housed Gold Star Guidance Center and Will Fraley's law office.
Fraley now practices with Jordan Laxton at Fraley and Laxton, 509 W. College St.
___
Big Lots will move just across the parking lot of its current Broad Street Center location, and will soon take up a portion of the former Kmart building.
The site of the Kmart, located at the intersection of Broad and Clark streets, has sat empty for a year, and discount retailer Big Lots, along with other tenants, will soon move in.
Big Lots sells a variety of furniture, toys, home and garden supplies, electronics, food and other items.
___

PhatKaps, which runs a store in Antioch selling footwear, hats and clothing, has opened a second location at the corner of Main and Walnut streets in downtown Murfreesboro, across the street from The Alley and Concert Musical Supply. The bright and roomy space at 224 W. Main St., billed as a "worldwide lifestyle boutique,"  is open Monday through Saturday, 10 a.m.–7 p.m.
___
Zoe's Kitchen is now open on Medical Center Parkway, offering hummus, kabobs, salads, wraps and other Mediterranean-inspired selections for local diners.
___
The Murfreesboro Jonathan's Grille will open on April 4, according to jonathansgrille.com.
The Middle Tennessee-based restaurant and sports bar company has current locations in Franklin, Green Hills, Bellevue and Mt. Juliet, with a Hendersonville location on the way. Expect a variety of steaks, fish, burgers, pizza, flatbreads, quesadillas and more on the Jonathan's menu.
___

Taco John's has announced plans to open 20 locations in the Nashville and Chattanooga areas over the next four years, including one near the Broad and Church intersection, close to the spot where a KFC once sat. The City of Murfreesboro has unveiled plans to "daylight" a portion of Town Creek, which once flowed near this area, but currently flows through underground pipes and culverts. A Checker's will also be constructed in the area.
Taco John's vice president of franchise development has called Tennessee a "priority area" for the business and said that "there is room for another option" in the market, which currently only has one major taco chain.
Taco John's, headquartered in Wyoming, offers hardshell, softshell and street-style tacos and Potato Oles (seasoned tater tots), that can be dipped in nacho cheese if desired.
___
Sweet products from Artful Doughnuts, a local doughnut shop owned by Scott and Nancy Broden, can now be obtained at the Premiere 6 movie theater concession stand.
___
In an example of an independent business finding lasting success in Murfreesboro, Coconut Bay Cafe recently celebrated its 18th anniversary with its annual customer appreciation event. Loyal patrons packed the house on Tuesday, March 28, and enjoyed a variety of free food and drink, karaoke and giveaways. The establishment, near Stones River Mall, offers burgers, wings, pool, darts, sports, trivia, bike nights, karaoke and all sorts of fun.
___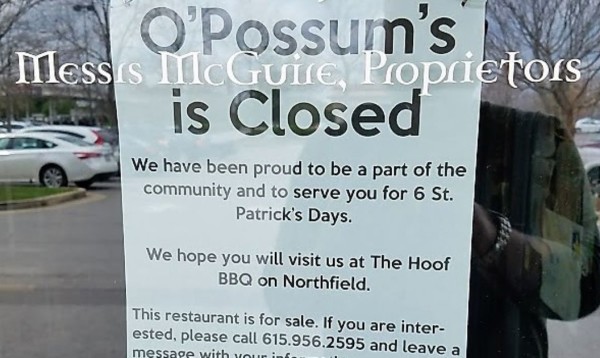 A week after St. Patrick's Day 2017, Murfreesboro's favorite Irish pub, O'Possum's, announced it would close its doors. While the public outcry was intense over the sudden announcement, and while the small north Murfreesboro pub and brewhouse—which was located in the Kroger shopping center on Memorial Boulevard—was often packed to capacity on weekends, management said the midweek business was just not enough to support the place.
Though the McGuire family, which owned and operated O'Possum's, will continue to run The Hoof at 352 W. Northfield Blvd., social media comments immediately following O'Possum's' closing revealed that many local diners preferred the corned beef and cabbage, bangers and mash, and fish and chips from that establishment over the barbecue offerings of The Hoof. Questions continue to swirl over the sudden closing (not the least of which involve the extraordinary use of three apostrophes in the possessive case of O'Possum's in the previous sentence . . .), including where the displaced staff members will find employment.